Adams Center Car Insurance
Get the most competitive quotes on Adams Center, NY auto insurance by shopping with multiple insurance providers at once. Just enter your Adams Center, NY zip code above and we will compare quotes for you from the top car insurance companies in Adams Center.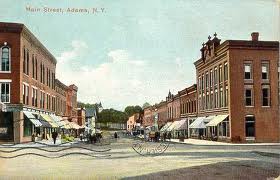 Alternatively, you can view a listing of auto insurance agents in Adams Center below and contact him/her yourself.
Local Auto Insurance Agents
*We are not affiliated with any of the agents listed below
Worden Insurance Agency
12767 Us Route 11, Adams Center, NY 13606
(315) 583-5621
Main Street America, Mercury, Kemper
---
ANPAC Agency
10384 Us Route 11, Adams, NY 13605
(315) 232-3300
ANPAC
Agents: Elizabeth Umstead, James Cheney
---
Macilvennie & Brown Insurance & Financial Services
10868 Us Route 11, Adams, NY 13605
(315) 232-4593
Allstate, NY Central Mutual, Safeco, Travelers
---
Leatherstocking Agency
17481 Us 11-2r, Watertown, NY 13601
(315) 788-8803
Travelers
---
Sherry Ayen
18455 Us Route 11, Watertown, NY 13601
(315) 782-5688
Nationwide
---
Nancy McCabe
18849 Us Route 11, Watertown, NY 13601
(315) 788-9000
Allstate
---
Nancy Moore
18987 Us Route 11, Watertown, NY 13601
(315) 785-8011
State Farm
---
AAA Insurance
19482 Us Route 11, Watertown, NY 13601
(315) 788-5250
AAA
---
Haylor Freyer & Coon
1402 Washington St, Watertown, NY 13601
(315) 782-3090
Harleysville, Main Street America, NY Central Mutual, Safeco, Selective, The Hartford, Kemper, Travelers
---
D.K. Conklin Insurance Agency
1150 Holcomb St, Watertown, NY 13601
(315) 779-8422
The Hartford, Travelers