High-Risk Driver Insurance in New York
Last Updated on September 16, 2021
New York is a dangerous place to drive. Our high population and busy roadways make driving a nightmare for some. It is no wonder that the state of New York constantly ranks as one of the most accident-prone states and also one of the highest states to insure your vehicle. If you have been made one of these accident or traffic violation statistics one too many times, you may now be considered a "high-risk driver" to insurance companies. And if you are a high-risk driver, then you probably know how difficult it is for you to purchase insurance.
The reason why automobile insurers classify drivers into categories such as "high risk" and "low risk" is because they want to know how likely it is that they will make a claim. Car insurance companies in New York like insuring drivers with good driving records who pay their bills on time and never file claims. To them, these types of drivers are much less of a headache and cost less money.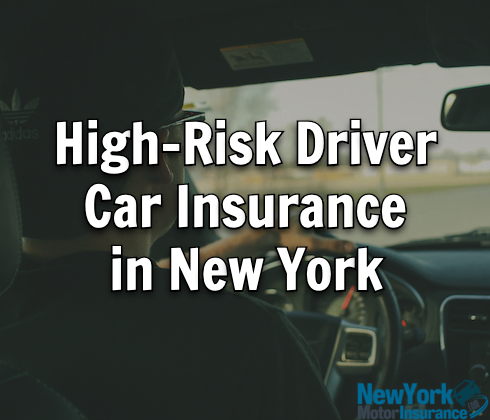 Let's take a deeper look at high-risk auto insurance in the state of New York. Choose the topic you would like to read about below or continue scrolling down to read about auto insurance for high-risk drivers from the beginning.
Buying High-Risk Auto Insurance in New York
If you have gotten into a bunch of accidents that are your fault, if you were convicted of a DUI or reckless driving, or if you have a lot of speeding tickets, however, insurance companies will not be too thrilled to accept your business. But that does not mean that insurance will be impossible for you to come by. Many insurance companies will still happily accept you as a customer (albeit usually for an expensive rate).
The first step in finding an insurance company that will accept your business is to scroll up to the top of this page and enter your zip code to get quotes from different New York auto insurance companies. By doing so, you will compare rates for high-risk auto insurance from many different competitors so that you can choose the cheapest rate possible for yourself.
Unfortunately, for some New York residents, however, the average insurance company will still refuse to offer you coverage. Thankfully, as a New Yorker, there are still a bunch of options for you. Continue reading below to learn about them.
What Are the Best Insurance Companies for High-Risk Drivers in NY?
As a high-risk driver, you'll pay higher rates for car insurance with any company. However, insurance companies treat driving history in different ways. Some insurance companies ignore a single accident or speeding ticket, for example, while other insurance companies punish drivers harshly.
Fortunately, by shopping around and comparing quotes, you can pay the lowest possible rates for car insurance anywhere in New York – even as a high-risk driver. Here are some of the best car insurance companies for high-risk drivers in NY:
USAA
If you qualify for USAA membership, then you can access affordable car insurance premiums, strong claims satisfaction, and great customer service even as a high-risk driver. USAA membership is restricted to military members and their families. USAA charges higher rates to high-risk drivers, but you still might pay much less than you would with competing insurance companies.
GEICO
GEICO is America's second-largest insurance company. Their base rates are already low in New York. As a high-risk driver, your insurance premiums jump significantly with GEICO, although you could still pay lower rates for car insurance overall.
State Farm
State Farm is the largest insurance company in the country, and State Farm insures thousands of drivers across the state. As a high-risk driver, you'll pay higher rates with State Farm, although rates are competitive with other companies at the top of our list.
Erie Insurance
Erie is popular and well-rated throughout New York. High-risk drivers can take advantage of discounts like bundling discounts and multi-vehicle discounts to lower costs further, although you'll still pay more as a high-risk driver in New York.
MetLife
New York-based MetLife has insured policyholders across the state for over 150 years. The company continues to be an effective option for high-risk drivers in New York, although drivers that are particularly high risk may be denied coverage.
Nationwide
Nationwide insures medium and high-risk drivers across New York, offering relatively competitive prices on liability coverage, full coverage, and other insurance coverage. Although they're not as affordable for high-risk drivers compared to the top options on our list, Nationwide is still one of the best options for high-risk drivers in New York.
Progressive
Progressive will not offer coverage to extremely high-risk drivers, although the same applies to most other companies on our list. Request a quote from Progressive to see if they offer cheaper high-risk car insurance than the companies listed above.
Liberty Mutual
Liberty Mutual insures thousands of drivers across New York, including drivers with all levels of risk.
Allstate
Allstate is a highly-rated car insurance company known for competitive prices and average customer service and claims satisfaction. They're not as cheap for high-risk New York residents as the options above, although they may still be the right option for you, depending on your record.
New York Central Mutual
New York Central Mutual is one of the more expensive options on this list for high-risk drivers in New York, although they still offer competitive premiums compared to other providers. Consider requesting a quote depending on your unique driver record and other factors.
NYAIP
The New York Automobile Insurance Plan (NYAIP) is a state-run insurance system that assigns high-risk drivers to insurance companies across the state. If you are unable to get car insurance from any of the providers listed above, then you can obtain valid coverage through the NYAIP. It's part of New York's insurance laws, and you can obtain minimum liability coverage at a reasonable price regardless of risk. We will talk about NYAIP in further detail below.
How Much Does High-Risk Insurance in NY Cost?
The average driver across the state of New York pays roughly $1,632 per year for car insurance. Rates vary widely, however, based on your ZIP code. Drivers in more populated areas tend to pay significantly more for car insurance than drivers in rural areas.
As a high-risk driver, you pay 40% to 100% more for car insurance, on average, than other New York drivers.
A New York driver with a single at-fault accident, DUI, or similar serious incident will pay roughly $2,284.80 per year for car insurance, or about 40% more than the average driver.
If you have two, three, or more incidents on your record, then you could pay 60% or higher rates for car insurance. You are at the upper spectrum of high-risk drivers, and you will pay $3,482 per year or more for full coverage car insurance in New York.
At a certain risk level, insurance companies no longer provide full coverage car insurance to drivers (or they charge exorbitantly high rates for car insurance).
As a higher-risk driver, you may need to obtain car insurance through the New York Automobile Insurance Plan (NYAIP), which provides basic liability insurance at an inflated price. For some high-risk New York drivers, the NYAIP is the only option to legally drive in the state. Expect to pay anywhere from $1,200 to $3,000 per year for NYAIP car insurance as a high-risk driver in New York.
Remember: the more you shop around, the more you can save on car insurance in New York. The prices listed above are averages, and even high-risk drivers can save hundreds by comparing quotes from multiple providers.
The New York Automobile Insurance Plan (NYAIP)
If you are deemed to be too "high risk" that no other auto insurance company wants you, there is still hope. The New York Automobile Insurance Plan (NYAIP) will cover you. The NYAIP is a special insurance department in New York state that guarantees insurance coverage. Think of it as a "last resort" insurance plan for motorists who have been denied coverage due to too many accidents or traffic violations. If this sounds like yourself, you might want to give the NYAIP a call.
Be forewarned, however, getting insurance from the NYAIP should be a last-ditch effort. The coverage offered by the NYAIP is sub-par and is more expensive than the average rates. In 2012, the average NYAIP premium was listed at $2,283. It is basically a program to make sure that high-risk drivers are given the option of having insurance so that they do not create an even bigger legal mess if they are forced to drive without it. As of this year, records show that over 90,000 New York residents get insurance through NYAIP.
How Can I Get Out of the High-Risk Pool?
If you do not want to be deemed as a "high-risk driver," as you obviously should, you should follow some simple steps.
Don't get traffic tickets or violations
Don't get into accidents
These things are probably pretty obvious to you. Safe driving leads to lower insurance rates. If you already made one too many mistakes, however, and you are considered to be a high-risk to insurance companies, how do you get out of it? How do you clear your good name?
Let's take a look at some of these methods:
Complete safe-driving or driver's ed courses. You might think that these classes are for 16-year-old kids, but adults can re-take these courses to get points removed from their driving record and be put back into the good graces of insurance companies.
Contest old traffic violations in court. If you believe you were unfairly charged with something, go back to court and fight it. Sometimes, even if the court does not support your claim, the judge might be nice and remove it from your driving record just for showing up in court!
Apply for the "Point and Insurance Reduction Program" (PIRP). One of the many perks of being a New York resident is the many government services we have at our disposal. The Point and Insurance Reduction Program is a government-sponsored defensive driving class that you can take online. After enrolling at completion, you will receive a 10% discount on your auto insurance rates and get up to four points off of your New York driving record.
Additional Resources