Car Insurance for Students in New York
Last Updated on November 23, 2020
New York is home to hundreds of thousands of students, from those who are attending the local community college to international students who have traveled to attend New York's most prestigious universities. Let's take a brief look at how car insurance works for students in New York, and learn about the key points for those who are coming to New York from somewhere else to study.
Choose the topic you would like to read about below or continue scrolling down to read about car insurance for New York students from the beginning.
Car Insurance for Students who are New York Residents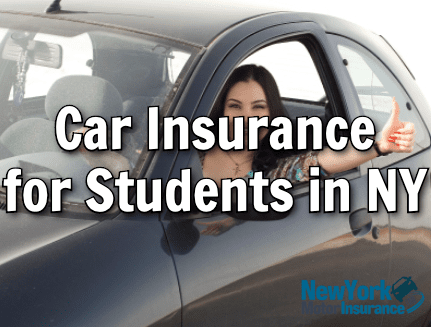 For those that call New York home, there is nothing different about regular auto insurance and that which will be required for a student, no matter where in the state they might be attending school. Provided that the student has a New York driver's license, they will be able to obtain car insurance like any other driver and by making a quick call to the insurer can have the address changed to match their new city of residence.
That being said, it's worth checking for any discounts or incentives offered by auto insurance companies that are targeted at college students. Most insurers offer some form of academic or student discount – even though the total cost of car insurance is generally higher for younger drivers. This also holds true after graduation as insurers rush to try to earn new business from potential life-long customers.
New York Car Insurance for Students from Out of State
Those moving to New York from out of state to study need to be aware that auto insurance laws vary from state to state, and the laws in New York may be significantly different. The most important distinction is that New York operates under "no-fault" insurance, which means that when an accident occurs, each driver's insurance company pays out for medical treatment costs, property damage, and injuries to passengers. This is vastly different than states that operate under "tort" auto insurance laws, which allow drivers to sue the driver who is considered the "at fault" party in the accident.
Students moving in from out of state should also pay special attention to where they live and how much auto insurance costs in that particular area. Insurance rates fluctuate from ZIP code to ZIP code, and there are areas in every city that are considered to be a higher risk than others. If car insurance is expensive near the campus, a quick call to an auto insurance agent can help in finding less expensive areas to live.
What Are the Best Insurance Companies for Students in NY?
Some insurance companies welcome students, while other companies charge students higher rates. Students can help balance an insurance pool, but they are also riskier to insure.
Fortunately, some insurance companies have a proven reputation for offering good coverage to New York students at a competitive price. We've highlighted some of the best car insurance companies for students in New York below.
USAA: If you qualify for USAA membership, then USAA is one of the best car insurance companies for students in New York. To qualify for membership, you or an immediate family member needs to be an active-duty or retired member of the military (or a USAA member). Students in New York who obtain car insurance through USAA can expect good customer service and claims satisfaction at a surprisingly reasonable rate.
GEICO: GEICO is one of the best car insurance companies for young drivers in most states – including students in New York. As one of America's largest car insurance companies, GEICO insures students across the country. Although customer service and claims satisfaction is average compared to competing providers, GEICO maintains competitive car insurance prices for students across New York.
New York Central Mutual: New York Central Mutual is a highly-rated car insurance company known for competitive prices and strong customer service across the state. Although they're not as cheap for students as other insurers listed here, New York Central Mutual is one of the state's best options for students for overall.
State Farm: State Farm is America's largest insurance company and they have a strong presence across New York. Expect to pay competitive rates with State Farm in New York while enjoying average customer service and claims satisfaction.
MetLife: MetLife insures customers across the country, although the New York-based insurance giant has a particularly strong presence in the state. For students, MetLife is one of the best options for pricing, customer service, policy offerings, and claims satisfaction.
Travelers: Travelers is an ideal option for students in New York. Although prices aren't as cheap as they are with providers above, Travelers maintains slightly better-than-average customer service and offers students a range of policy options.
Nationwide: Another insurance giant, Nationwide is popular among students and non-students across New York. Expect similar service and prices to GEICO, Travelers, State Farm, and other major insurance companies on this list of the best insurers in New York.
Progressive: Progressive is America's third-largest insurance company, and they're known for offering competitive rates to students in New York. By taking advantage of good student discounts and other options, drivers can save considerably on car insurance anywhere in New York.
Erie Insurance: Although it's not available across the country, Erie Insurance is popular throughout New York and surrounding states. The company is frequently among the top-rated major insurers for claims satisfaction and customer service. Students may pay slightly higher rates with Erie than they otherwise would. However, you can lower rates by taking advantage of good student discounts, bundling discounts, and other opportunities.
Liberty Mutual: Liberty Mutual is a large insurance company that insures thousands of drivers across New York. It's not as popular with students as other insurers on this list, although Liberty Mutual continues to have a strong presence among students in New York City and other parts of the state.
Car insurance isn't cheap in New York, and it's particularly expensive for students. But by requesting a quote from the companies above, students can get the best coverage at the cheapest possible price.
International Students and New York Car Insurance
International students typically have a tougher time obtaining car insurance while attending their studies in New York State due to not having a US driver's license. While it is legal for insurance companies to sell insurance to foreigners, many will decline to do so or charge additional fees in order to offset the risk of insuring a non-resident driver.
Students can check with the New York Department of Motor Vehicles (DMV) to find out more about whether or not they will qualify for a New York driver's license. If it's possible to get licensed, this step is highly recommended and can save a significant amount of the total cost of car insurance.
Good Student Discounts
If you are a student with good grades and a clean driving record, you could qualify for a good student discount. Most insurance companies require a 3.0 GPA or a "B" average at either high school or college to get this discount. You'll also need to be a full-time student and under age 25.
To qualify, you sometimes need to submit your report card or academic transcripts for verification. Once you qualify, you'll mostly get the industry standard, which is a 5% to 15% discount off your insurance premiums.
Students and Rental Car Insurance
Students – whether local, domestic, or foreign – generally have little trouble renting a car and obtaining rental car insurance, provided they have a driver's license and a credit card. The one issue that a student may run into is that nearly all rental car companies require their drivers to be 25; drivers under this age can expect to pay an additional daily fee to be allowed to rent a car.
Other "Need to Know" Facts for Students in New York
No matter who the person purchasing car insurance is or where they come from, New York law requires that certain insurance policies be purchased in order to legally drive in the state. This includes Bodily Injury Liability insurance, Personal Injury Protection coverage, Property Damage Liability coverage, and finally protection against uninsured or underinsured motorists, known as UM / UIM insurance.
There are a number of additional auto insurance policies that can be added to provide a wider spectrum of coverage, including collision, comprehensive, death and dismemberment, and more. These can be discussed with an insurance professional or auto insurance agent to determine whether or not they are a fit. To read more about the types of insurance in New York, click here.
NewYorkMotorInsurance.com has our team of professional staff members hard at work sourcing the best possible deals for car insurance. To get started with saving money on YOUR auto insurance, scroll to the top of this page and enter your ZIP code in the form. It's that easy!