Car Insurance for Teens
Last Updated on October 6, 2020
There are few privileges that offer as much freedom as earning a driver's license and stepping behind the wheel of a car. Along with this privilege comes a huge amount of responsibility, and risks which are partially negated by the car insurance that every driver is required to purchase before being legally allowed to drive. Below we'll share some car insurance tips and advice for New York teens and first-time drivers, including how to save a bit of money when purchasing it for the first time.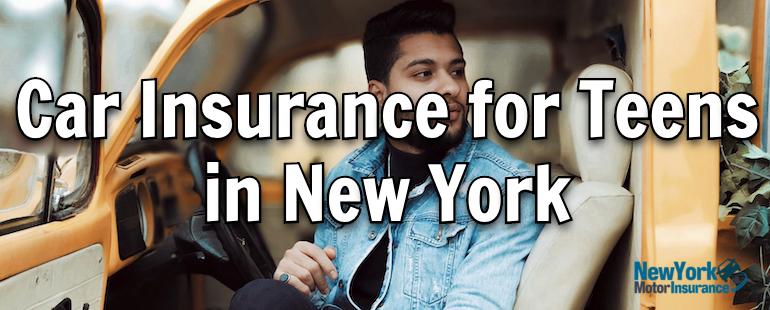 New York State Automobile Insurance Requirements
For the purposes of this article, we will assume that our readers have already obtained their New York driver's license and are legally allowed to drive in the state. From here, the driver's car must be registered, have license plates, and have adequate insurance coverage to meet the state's mandatory minimums in these four areas:
Personal Injury Protection: $50,000 minimum
Bodily Injury Liability Coverage: $25,000 per party / $50,000 per accident
Property Damage Liability Coverage: $10,000 per accident
Uninsured / Underinsured Motorist Coverage: $25,000 per party / $50,000 per accident
Note that these are minimum amounts; many drivers will choose to purchase additional coverage if they have room in their auto insurance budget.
Be Prepared to Pay a Bit More for Auto Insurance
Unfortunately, numerous studies have proven that new and younger drivers are significantly more likely to be involved in an automobile accident than more experienced drivers, and for this reason, you should be prepared to pay more for auto insurance coverage. Insurers are in the business of managing risk, and the only way to offset a higher-risk customer is to charge them more than a lower-risk customer would pay.
There are still a number of ways to reduce the total amount of your annual auto insurance bill, including driving a used or older car, having an anti-theft device installed, and maintaining good grades. Speak with an auto insurance agent or with your insurance company of choice to learn about other ways of bringing insurance costs down.
Average Insurance Rates for Teen Drivers in New York
The following table shows the average auto insurance rates for teenage drivers on their own policy in New York State.
Age
Annual Insurance Rates
16
$5,369.60
17
$5,542.77
18
$4,509.16
19
$3,368.45
Source - The Zebra
The following table shows the cheapest auto insurance companies in New York for families wishing to add a teenage driver to their auto insurance plan. One column shows the rates with a teenager added, the other column shows the rates without a teen. The cheapest company, in NY, is GEICO, which charges an average of $3,571 annually for car insurance to families with a teen driver.
| Insurer | With Teen | Without Teen |
| --- | --- | --- |
| GEICO | $3,571 | $2,094 |
| USAA | $3,713 | $1,327 |
| New York Central Mutual Fire | $5,312 | $2,771 |
| Travelers | $6,482 | $3,222 |
| State Farm | $6,489 | $2,481 |
| Progressive | $7,148 | $2,367 |
| Allstate | $7,562 | $3,831 |
| Source - Value Penguin | | |
Leverage Discounts as you Graduate and Move to College
Auto insurance companies are always looking for ways to incentivize their customers to stick around for the long term, and these incentives usually come in the form of discounts for reaching some form of a milestone. High school graduation and/or acceptance to college is an area where some insurers offer discounts, while others will offer discounts for academic or sports performance in college as well. Check with each auto insurance company on your shortlist of providers to see which has discounts that will apply to you.
Safe Driving and How it Impacts Car Insurance Rates
It likely goes without saying that safe driving habits are important, but what many new drivers fail to realize is that driving safely can quickly translate into huge savings on car insurance. Insurers are quick to reward those who drive accident and ticket-free each year, with the savings usually starting after the first or second year of having auto insurance with that particular company. Each additional year that a driver's record remains clean will bring about further savings as an incentive to continue to drive safely. For those individuals who are looking to get the best possible auto insurance for the lowest cost, it pays to be a safe driver.
Stay Away from Driving while Under the Influence
Finally, stay away from driving after drinking alcohol or using drugs as it can cause significant damage to a young person's license, driving record, auto insurance, and more. On top of the loss of any car insurance discounts and a huge rise in premiums, teenagers and young drivers charged with DUI/DWI can also end up seeing jail time, massive fines, and loss of driving privileges. A first time DUI/DWI offense in New York carries a fine of up to $1000, up to one year in jail and a license suspension for at least 6 months. New York law also has special provisions if there is a passenger aged 16 or under in the car; in this situation, DUI/DWI charges are upgraded to a felony and can mean fines of up to $5,000 and/or up-to four years in prison. It simply isn't worth the risk. So ensure that you have a designated driver if alcohol is in the plans.
Here at NewYorkMotorInsurance.com, we're excited to see teenage and youth drivers get on the roads to enjoy the freedom that comes with driving. Our team works hard to sort through the various auto insurance companies, digging for the very best car insurance deals available. To get a completely free price quote for your car insurance, scroll to the top of this page and enter your ZIP code to get started!