Albion Car Insurance
Last Updated on August 18, 2012
Get the most competitive quotes on Albion, NY auto insurance by shopping with multiple insurance providers at once. Just enter your Albion, NY zip code above and we will compare quotes for you from the top car insurance companies in Albion.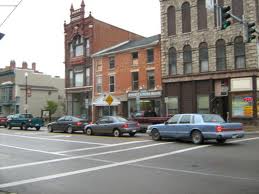 Alternatively, you can view a listing of auto insurance agents in Albion below and contact him/her yourself.
Local Albion Auto Insurance Agents
*We are not affiliated with any of the agents listed below
Albion Agencies, Inc.
30 N Main St, Albion, NY 14411
(585) 589-4477
Erie, Progressive
Albion Agencies, Inc. provides auto, home, business, life, and long-term care insurance in Orleans County and the surrounding area. We've been around for a while (the agency has been in my family since 1919). We feel that our people are our greatest asset – courteous professionals who know that you expect and deserve the very best.
---
MetLife Auto & Home – Albion
121 N Main St Ste 240, Albion, NY 14411
(585) 589-5146
MetLife Auto & Home
---
A & D Insurance Agency
458 West Ave Ste 2, Albion, NY 14411
(585) 589-9881
Foremost, MetLife Auto & Home, NY Central Mutual, The Hartford
---
Orleans Agencies
3150 Oak Orchard Rd, Albion, NY 14411
(585) 589-5692
NY Central Mutual, Travelers
---
Michael W Southcott
13630 Ridge Rd W, Albion, NY 14411
(585) 589-6236
Main Street America
---
John Patrick Stone Agency
46 Public Sq, Holley, NY 14470
(585) 638-6355
Nationwide
---
James S Sullivan Agency
31 Mechanic St Ste F, Holley, NY 14470
(585) 638-6313
Allstate, Hanover, Main Street America, Mercury, NY Central Mutual, Safeco, Sterling, Travelers
---
Slack Insurance Agency
441 Main St, Medina, NY 14103
(585) 798-2530
Foremost, NY Central Mutual, Travelers, Utica National, Mercury
---
Eaton Insurance Agency
424 Main St, Medina, NY 14103
(585) 798-2033
MetLife Auto & Home, NY Central Mutual
---
Garrick Insurance Agency
534 Main St, Medina, NY 14103
(585) 798-2660
Allstate, NY Central Mutual, Travelers