Alexander Car Insurance
Get the most competitive quotes on Alexander, NY auto insurance by shopping with multiple insurance providers at once. Just enter your Alexander, NY zip code above and we will compare quotes for you from the top car insurance companies in Alexander.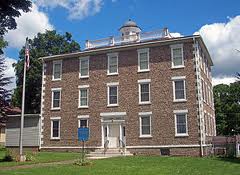 Alternatively, you can view a listing of auto insurance agents in Alexander below and contact him/her yourself.
Local Alexander Auto Insurance Agents
*We are not affiliated with any of the agents listed below
Gephart Agency
10724 Alexander Road, Alexander, NY 14005
(585) 591-2889
Main Street America, Merchants, MetLife Auto & Home, NY Central Mutual, The Hartford
---
A/C Associates of NY
121 Prospect St, Attica, NY 14011
(585) 591-3910
Erie, Mercury, NY Central Mutual
---
Main Street Insurance Agency
120 Main St, Attica, NY 14011
(585) 591-1590
Hanover, Main Street America, Merchants, Mercury, NY Central Mutual
---
MetLife Auto & Home – Attica
37 Main St, Attica, NY 14011
(585) 591-1385
MetLife Auto & Home
---
George-King-Boss Agency
35 Main St, Attica, NY 14011
(585) 591-2222
Main Street America, NY Central Mutual, Sterling
---
Tompkins Insurance Agencies
14 Market St, Attica, NY 14011
(585) 591-0262
Allstate, Cincinnati, Encompass, MetLife Auto & Home, NY Central Mutual
---
Main Street Insurance Agency
37 Market St, Attica, NY 14011
(716) 591-1590
Kemper
---
Harris Hill Agency
224 Ellicott St, Batavia, NY 14020
(585) 343-0798
MetLife Auto & Home, NY Central Mutual, Kemper
---
Marathon Insurance & Realty
30 Center St, Batavia, NY 14020
(585) 343-8609
Mercury, Victoria
---
ANPAC Agency
41 Liberty St Ste A, Batavia, NY 14020
(585) 343-5010
ANPAC
Agents: Bruce Porter, James H Wright, Jared Hyatt, Jenny Lundberg, Philip Embury, Stephen Porter, William Swick