Auburn Car Insurance
Last Updated on October 24, 2013
You can find the city of Auburn, New York in Cayuga County, and it is located near the north part of Owasco Lake. Living near the Finger Lakes means there will be plenty of outdoor activities for the over 25,000 residents of this city, and the city was first incorporated all the way back in 1848. An interesting fact about this city is that it was actually located in Iroquois territory before the Europeans decided to claim it as their own.
Auburn is home to plenty of historical sites, and you will be able to enjoy more than just the Finger Lakes when you are in this town. One of the main reasons that tourists find themselves in this city is that it has the house that Harriet Tubman lived in while she was operating the Underground Railroad. The main street in town is State Street, and this is where you will be able to find all of the biggest shops and restaurants. Once you drive into the main part of the city, you will be able to walk along this street to find everything you need.
If you live in Auburn or you are planning to visit the city in the near future, then you need to make sure that you have coverage in the form of auto insurance. While no one expects to get into an auto accident these days, the fact is that hundreds of these accidents happen around the country on a daily basis. To make sure that you don't get yourself into financial trouble while driving in Auburn, you should check into the insurance quotes available at newyorkmotorinsurance.com.
Get the most competitive quotes on Auburn, New York auto insurance by shopping with multiple insurance providers at once. Just enter your Auburn, NY zip code above and we will compare quotes for you from the top car insurance companies in Auburn.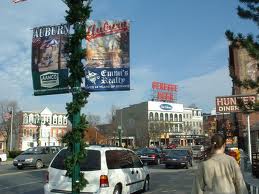 Alternatively, you can view a listing of auto insurance agents in Auburn below and contact him/her yourself.
Local Auburn Auto Insurance Agents
*We are not affiliated with any of the agents listed below
Robert C Dempsey Agency
100 Genesee St Ste 2, Auburn, NY 13021
(315) 702-8250
Kemper, Main Street America, NY Central Mutual, Safeco, Selective, Travelers
---
NII Brokerage
11 Dill St, Auburn, NY 13021
(315) 253-0055
Travelers, Victoria
---
MetLife Auto & Home – Wunder Agency
55 Market St, Auburn, NY 13021
(315) 252-0694
MetLife Auto & Home
Finding an insurance company to meet your needs is hard enough but finding an insurance agent to help you meet your needs can't be left to chance. Call today.
---
Adams & Son
44 South St, Auburn, NY 13021
(315) 253-8461
Chubb, Foremost, NY Central Mutual, Safeco, The Hartford
---
Nolan's Insurance Agency, Inc.
33 William St Ste 6a, Auburn, NY 13021
(315) 255-0037
Erie, Progressive, Wayne Mutual, Foremost
Automobile, home protector, motorcycle, boat, snowmobile, garagekeepers, business owners, contractors, landlords, umbrella, workers compensation, disability & life insurances.
---
Bommersbach & Logue Agency
2 Easterly Ave Ste 1, Auburn, NY 13021
(315) 252-5163
Foremost
---
The Carmody Agency
32 E Genesee St, Auburn, NY 13021
(315) 252-7208
Harleysville, Main Street America, MetLife Auto & Home, NY Central Mutual, Travelers, Union Mutual
---
Tompkins Insurance Agencies
86 North St, Auburn, NY 13021
(315) 253-4310 ext 42020
Misc
---
DPW Agency
72 South St Ste B, Auburn, NY 13021
(315) 253-9756
Foremost
---
Garbe Associates
201 Genesee St, Auburn, NY 13021
(315) 252-9141
Nationwide
---
Bergan & Young
34 Mary St, Auburn, NY 13021
(315) 253-6207
Harleysville, Main Street America, NY Central Mutual, Safeco, Sterling, Travelers
---
Brian P Daley
89 Grant Ave, Auburn, NY 13021
(315) 252-3413
Allstate
---
Edward Feeley
213 North St, Auburn, NY 13021
(315) 252-3164
Allstate
---
Tom Ferlenda
7257 Owasco Rd, Auburn, NY 13021
(315) 253-0000
State Farm
---
Mary Andrews
171 Grant Ave Ste 4, Auburn, NY 13021
(315) 255-9000
State Farm
---
Aversa Agency
265 W Genesee St, Auburn, NY 13021
(315) 255-2200
Merchants, MetLife Auto & Home, Kemper, The Hartford
---
Ronald C Daggett & Associates
354 Grant Avenue Rd, Auburn, NY 13021
(315) 253-9900
Travelers
---
Moran, Moran & Dauphin
360 Grant Avenue Rd, Auburn, NY 13021
(315) 258-8300
Foremost, Main Street America, NY Central Mutual, Safeco, The Hartford, Travelers, Victoria
---
RG Wright Agency Inc.
6369 Half Acre Rd, Auburn, NY 13021
(315) 252-7561
Erie, Adirondack, MetLife Auto & Home, Travelers, Utica National, Progressive, GMAC
Professional full line insurance agent prepared to help you find the best price and coverage for automobile insurance in Auburn, NY.
unknown distance
Brendt Johnson
Po Box 1094, Auburn, NY 13021
(315) 282-7416
ANPAC