Aurora Car Insurance
Last Updated on February 3, 2013
Get the most competitive quotes on Aurora, New York auto insurance by shopping with multiple insurance providers at once. Just enter your Aurora, NY zip code above and we will compare quotes for you from the top car insurance companies in Aurora.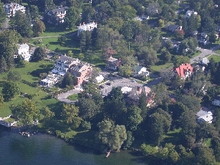 Alternatively, you can view a listing of auto insurance agents in Aurora below and contact him/her yourself.
Local Aurora Auto Insurance Agents
*We are not affiliated with any of the agents listed below
The Gardner Agency
145 Cayuga St, Union Springs, NY 13160
(315) 889-7325
Harleysville, Main Street America, NY Central Mutual, Travelers, Union Mutual
---
Scalzo-Gere Agency
5785 Route 96, Romulus, NY 14541
(315) 549-2514
Nationwide
---
David J Dempsey Insurance
983 State Route 34b, King Ferry, NY 13081
(315) 364-8240
Kemper
---
RG Wright Agency Inc.
6369 Half Acre Rd, Auburn, NY 13021
(315) 252-7561
Erie, Adirondack, MetLife Auto & Home, Travelers, Utica National, Progressive, GMAC
Professional full line insurance agent prepared to help you find the best price and coverage for automobile insurance in Auburn, NY.
---
Royce & Rosenkrans
60 Fall St, Seneca Falls, NY 13148
(315) 568-9476
Main Street America, NY Central Mutual, Sterling, Travelers
---
Jim Bruning
103 Fall St, Seneca Falls, NY 13148
(315) 568-0000
State Farm
---
Royce & Rosenkrans
19 Cayuga St, Seneca Falls, NY 13148
(315) 568-1105
Foremost, NY Central Mutual
---
Brady & Sons Agency
143 Fall St, Seneca Falls, NY 13148
(315) 568-6348
Allstate, Foremost, Travelers
---
Gay & Son Agency, Inc
51 State St, Seneca Falls, NY 13148
(315) 568-5841
Harleysville, Main Street America, MetLife Auto & Home, NY Central Mutual, Travelers, Union Mutual
---
James S Sullivan Agency
2146 Route 5 And 20, Seneca Falls, NY 13148
(315) 568-9670
Misc