Geneva Car Insurance
Last Updated on May 9, 2021
Geneva is one of the unique cities in New York in that it is actually located in two separate counties. Technically speaking, the city is located in both Seneca and Ontario counties, although only the water portions of the city are found in Seneca County. The population is currently 13,261, and the last count of the population was taken in 2010. Although there is some speculation that the city is named after Geneva, Switzerland, the reality is that nobody is 100% sure of the origins of the city's name. This city's claim to fame is being the "Lake Trout Capital of the World". It should be noted that this title is self-imposed.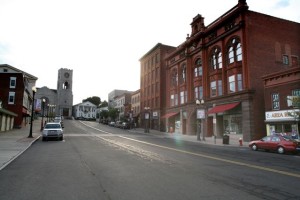 You'll have trouble making sure that you have enough time to enjoy every aspect of Geneva. The Winwagen Tours is one of the main attractions as it will allow you to tour the Finger Lakes in style. You won't need to worry about finding a designated driver when you are going to a variety of wine tastings in the 1971 Volkswagen Bus. The Rose Hill Mansion is a sight to behold if you are a fan of classic architecture, and you can experience was life was like on an estate from the 1800s when you visit this building. Some of the wineries in the local area include the Billsboro Winery and the Three Brothers Wineries and Estates.
If you aren't going to be checking out the wineries near Geneva, then you will need to make sure that you have the right coverage to insure your travels throughout the city. Getting caught driving without insurance in the state of New York carries a serious fine, so you should look into the quotes found on newyorkmotorinsurance.com to find yourself an affordable deal on car insurance.
Local Geneva, NY Car Insurance Agents
*We are not affiliated with any of the agents listed below
Cristaldi-Bartishevich
206 Franklin Sq, Geneva, NY 14456
(315) 789-2309
Encompass
---
Touhey Insurance
226 Castle St, Geneva, NY 14456
(315) 789-1510
Foremost, Mercury, Utica National, Victoria
---
Royce & Rosenkrans
342 Hamilton St, Geneva, NY 14456
(315) 781-2335
Main Street America, NY Central Mutual, Sterling
---
Finger Lakes Partners
62 Reed St, Geneva, NY 14456
(315) 789-0700
Foremost, Hanover, Harleysville, Main Street America, NY Central Mutual, Safeco, Selective, Sterling, The Hartford, Allstate
---
Donald J Damick
745 Pre Emption Rd, Geneva, NY 14456
(315) 789-3753
Nationwide
---
Northwoods – Geneva Insurance Agency
790 Pre Emption Rd, Geneva, NY 14456
(315) 789-7227
Merchants, NY Central Mutual, Safeco, The Hartford
---
R P Wheeler Insurance Agency
790 Pre Emption Rd, Geneva, NY 14456
(315) 789-0001
Erie, Foremost, Hanover, Merchants, NY Central Mutual, Safeco, The Hartford
---
Carl Helbig
510 Pre Emption Rd, Geneva, NY 14456
(315) 789-4833
Allstate
---
Amy Kane
590 Pre Emption Rd, Geneva, NY 14456
(315) 789-3111
State Farm
---
DRW – Devinney Insurance Agency
2123 State Route 14 N, Geneva, NY 14456
(315) 789-8888
Foremost, NY Central Mutual, Sterling, The Hartford