Westbury Car Insurance
Last Updated on February 8, 2019
Located in Nassau County on New York's Long Island, Westbury is an incorporated village. It is situated in the Town of North Hempstead and it sits roughly 18 miles east of Manhattan, the most populated of all five New York City boroughs. The village is considered part of the Gold Coast, a very affluent area that sits on the shores of the Long Island Sound. Many of the world's wealthiest people lived here during the 19th and early 20th centuries, and a large percentage of the people who live here today are still very well-off. Due to the wealth of the village, there are many palatial estates located here. One of the most famous locations is Old Westbury Gardens, a historic mansion that offers tours of the stately residence as well as the impeccably kept gardens.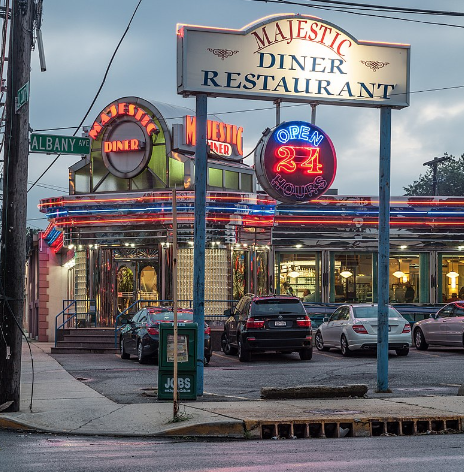 According to data released by the census bureau, just over 15,100 people lived in Westbury in 2010. The population of this area does vary in terms of age; however, most of the residents are of driving age. Because of how close Westbury is to Manhattan, many people who live here commute to and from the city for work; however, those who do not work in the city also commute. Mass transportation is minimal in the area; the Long Island Railroad does offer service, but it is not consistent and it can be pricey. As a result, many of the people who drive in Westbury would rather use their own vehicles.
Because there are so many cars on the roadways that run through Westbury, such as the Long Island Expressway, it is not uncommon for collisions to occur. Though most of the accidents that do take place are minor, it is still important for motorists to properly protect themselves with the right insurance coverage. Additionally, insurance coverage is required in order to drive legally within any location in the State of New York; a minimal policy in this state offers 25/50/10 coverage, or $25,000 for a single injury, $50,000 for multiple injuries, and $10,000 for property damage.
The amount that a driver can expect to pay for car insurance in Westbury does vary, as there are many variables that affect the rates; but, on averages, motorists can expect to pay just under $2,000 a year for their insurance. If you want to find the most affordable rates, contact one of the reputable insurance agents listed below, or enter your zip code in the above form.
Local Westbury Car Insurance Agents
*We are not affiliated with any of the agents listed below
Yvette C Korell Agency
176 Post Ave, Westbury, NY 11590
(516) 997-0205
MetLife Auto & Home, Nationwide, The Hartford
---
Carbone & Molloy
346 Maple Ave, Westbury, NY 11590
(516) 333-2340
MetLife Auto & Home
---
Anthony S Furnari
239 Post Ave, Westbury, NY 11590
(516) 333-4300
Allstate
---
Ebco International
265 Post Ave Ste 270, Westbury, NY 11590
(516) 334-2310
Hanover, State Auto
---
State Farm Insurance – Jeff Horan
289 Post Ave, Westbury, NY 11590
(516) 334-8300
State Farm
State Farm Insurance agent Jeff Horan offers competitive rates on several types of insurance including auto, home, life, renters and more. We are located in Westbury, NY and serve residents of New York State.
---
Fiesta Auto Insurance
904 Old Country Rd, Westbury, NY 11590
(516) 870-5777
Foremost
---
Capacity Coverage Company
900 Merchants Concourse Ste 414, Westbury, NY 11590
(516) 280-7676
Fireman's Fund, Harleysville
---
Alliance Brokerage
990 Westbury Rd, Westbury, NY 11590
(516) 333-7300
Chubb, Fireman's Fund, Foremost, Hanover, Kemper, The Hartford
---
Edward Lewis & Sons
900 Ellison Ave, Westbury, NY 11590
(516) 228-3535
Merchants
---
Chester Agency
497 Westbury Ave, Carle Place, NY 11514
(516) 333-3401
MetLife Auto & Home
---
Praxis International Corporation
338 Westbury Ave, Carle Place, NY 11514
(516) 334-7100
The Hartford
---
Lighthouse Insurance – Westbury
976 Old Country Rd, Westbury, NY 11590
(516) 338-0001
Foremost, Mercury
---
Steven Levy
226 Westbury Ave, Carle Place, NY 11514
(516) 333-7171
Allstate
---
Leon Rosenblatt
1101 Stewart Ave Ste 102, Garden City, NY 11530
(516) 683-1101
Chubb, Encompass, MetLife Auto & Home
---
Smirlock & Ungar
1101 Stewart Ave Ste 203, Garden City, NY 11530
(516) 745-6060
Fireman's Fund, MetLife Auto & Home
---
Joe McCarthy
1100 Stewart Ave, Garden City, NY 11530
(516) 832-9500
State Farm
---
Sean McCarthy
1100 Stewart Ave, Garden City, NY 11530
(516) 832-9500
State Farm
---
The Amerisc Corporation
777 Zeckendorf Blvd Ste 2, Garden City, NY 11530
(516) 745-7500
Chubb, Hanover, Harleysville, Merchants, Kemper, Safeco
---
Masterson Insurance Agency
1600 Stewart Ave Ste 701, Westbury, NY 11590
(516) 280-4669
Foremost, Kemper
---
Chernoff Diamond & Company
990 Stewart Ave Ste 520, Garden City, NY 11530
(516) 683-6100
Chubb, Encompass, MetLife Auto & Home, The Hartford
---
Allianceplus
1025 Old Country Rd Ste 401, Westbury, NY 11590
(516) 742-3000
Encompass, Fireman's Fund, Foremost, MetLife Auto & Home, The Hartford, Travelers
---
Alexandra Centeno
1065 Old Country Rd Ste 216, Westbury, NY 11590
(516) 408-4999
State Farm
---
Citation Agency
600 Old Country Rd, Garden City, NY 11530
(516) 228-8241
Encompass, Merchants
---
Platinum Resources
600 Old Country Rd Rm 235, Garden City, NY 11530
(516) 222-4942
Foremost, Kemper, MetLife Auto & Home, Travelers
---
Ray Corrado
600 Old Country Rd Rm 310, Garden City, NY 11530
(516) 222-0777
State Farm
---
The Reid Insurance Agency
600 Old Country Rd Rm 232, Garden City, NY 11530
(516) 222-9191
Encompass, Travelers
---
Brooks-Waterburn
123 Frost St Ste 204, Westbury, NY 11590
(516) 997-9800
Foremost, Hanover, MetLife Auto & Home, Safeco, The Hartford, Travelers
---
Angela Sutherland
70 Cedar Rd, Westbury, NY 11590
(516) 620-0615
Selective