Glens Falls Car Insurance
Last Updated on October 31, 2013
Located in Warren County, New York, Glens Falls was originally named by Colonel Johannes Glen. The city's name refers to the falls in the Hudson River that can be found at the south end of the city, and the current population of Glens Falls is 14,700 as of 2010. Surrounding the city of Glens Falls is the town of Queensbury, Satatoga County, and the Hudson River. The city was nicknamed "Hometown USA" by Look Magazine in 1944.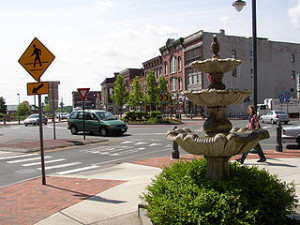 If you are going to be in Glens Falls, then you have to checkout the street festival located in the downtown area. You can get a massage or visit a museum while you are in the heart of the city, or you can decide to go on an adventurous walking tour of the city. There's always something going on in the city, and you need to keep up with the times if you aren't going to miss anything. Some of the biggest events include the Adirondack Theatre Festival and Aimie's Dinner and Movie. The Chapman Historical Museum is the place to be to learn about the history of the city.
Before you decide to head out to the heart of Glens Falls, make sure that you have your insurance coverage in order. You can't drive in the state of New York without insurance, so you need to protect yourself from the financial blow of an auto accident today. To get the best rates on auto insurance in Glens Falls, you can take a look at quotes from different providers on newyorkmotorinsurance.com.
Local Glens Falls, NY Auto Insurance Agents
*We are not affiliated with any of the agents listed below
Tom Hedglin
206 Glen St, Glens Falls, NY 12801
(518) 761-4680
Allstate
---
Loomis & Lapann
18 Exchange St, Glens Falls, NY 12801
(518) 792-6561
Encompass, Main Street America, NY Central Mutual, Safeco
---
Associates of Glens Falls Insurance
228 Glen St, Glens Falls, NY 12801
(518) 793-3444
Central, Encompass, Harleysville, Kemper, NY Central Mutual, Progressive, Safeco, Selective
---
Jaeger & Flynn Associates
42 South St, Glens Falls, NY 12801
(518) 792-0042
Kemper
---
McPhillips Insurance
20 E Washington St, Glens Falls, NY 12801
(518) 792-5841
Encompass, Main Street America, Safeco, Kemper, Selective
---
Rose & Kiernan
6 E Washington St, Glens Falls, NY 12801
(518) 792-0945
Central, Cincinnati, Travelers
---
MetLife Auto & Home – Adirondack
333 Glen St Ste 100, Glens Falls, NY 12801
(518) 792-6566
MetLife Auto & Home
---
R J O'Brien Insurance Agency
83 Bay St, Glens Falls, NY 12801
(518) 793-5173
Safeco, Travelers
---
Demattos Insurance Agency
158 Ridge St, Glens Falls, NY 12801
(518) 798-0057
Foremost, Main Street America, Merchants, MetLife Auto & Home, Travelers
---
Dick Saunders
113 Bay St, Glens Falls, NY 12801
(518) 793-3841
State Farm
---
TD Banknorth Insurance Agency
103 Main St, South Glens Falls, NY 12803
(518) 761-2900
Allstate, Hanover, Main Street America, NY Central Mutual, Selective, Travelers
---
Upstate Agency
17 Saratoga Ave, South Glens Falls, NY 12803
(518) 793-5806
Foremost, Main Street America, NY Central Mutual, Safeco, Sterling, Travelers
---
Taylor & Leonard Insurance
553 Glen St, Glens Falls, NY 12801
(518) 798-4478
Encompass, NY Central Mutual, Safeco, Travelers