Ithaca Car Insurance
Last Updated on July 29, 2021
Ithaca can be found near the center point of New York state, and it is part of the larger Ithaca-Tomkins County community. In fact, Ithaca is the largest part of that entire community. This city gets its named from the Greek island of the same name, and Cayuga Lake can be found on the northern side of the city. The reason that most people may have heard of this city in the past is that it is the home of Cornell University, a school with over 20,000 students in the Ivy League. Ithaca College is the other major school in the city.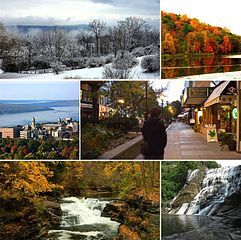 The main attraction in the city is obviously Cornell University, and this school has one of the most beautiful campuses that you will be able to find in the entire country. When you need some time to get away from everything, you should checkout Robert Treman State Park. The gorge trails and waterfalls in this park can definitely take your breath away every time you get to see them in the wild. Sapsucker Woods and Cornell Plantations are two other options to go for if you are a fan of the outdoors.
If you are getting to go to school at Cornell University or Ithaca College, then you need to make sure that you have insurance on your car. Finding car insurance in Ithaca for a low price is easy when you use newyorkmotorinsurance.com because they will allow you to get quotes from all of the major and minor car insurance providers in the city.
Local Ithaca NY Auto Insurance Agents
*We are not affiliated with any of the agents listed below
Haylor Freyer & Coon
112 W State St, Ithaca, NY 14850
(607) 273-5353
Safeco, Harleysville, Main Street America, NY Central Mutual, Selective, The Hartford, Kemper
---
Don Scutt
507 N Meadow St, Ithaca, NY 14850
(607) 277-5050
Allstate
---
Larkin Insurance
401 N Aurora St, Ithaca, NY 14850
(607) 273-4732
Main Street America, NY Central Mutual, Sterling, Kemper
---
Tompkins Insurance Agencies
110 N Tioga St, Ithaca, NY 14850
(607) 272-6965
Misc
---
True Company
124 Seneca Way, Ithaca, NY 14850
(607) 273-7511
Erie, Foremost, Main Street America, NY Central Mutual, Safeco
---
Edward C Moscato
538 W State St, Ithaca, NY 14850
(607) 216-1450
Main Street America, MetLife Auto & Home
---
Andrews Agency
800 W State St, Ithaca, NY 14850
(607) 273-7551
Main Street America
---
Lee Newhart Jr
1011 W State St, Ithaca, NY 14850
(607) 273-6391
State Farm
---
First Niagara Risk Management
501 S Meadow St, Ithaca, NY 14850
(607) 273-4184
Central, Chubb, Encompass, Hanover, Harleysville, Kemper, Main Street America, Merchants, NY Central Mutual, Safeco, Selective, Sterling, The Hartford, Travelers, Union Mutual
---
Frannie Haranin
222 Elmira Rd Ste Ithaca, Ithaca, NY 14850
(607) 256-2886
State Farm
---
Bruce C Clary
401 Elmira Rd, Ithaca, NY 14850
(607) 273-2926
Nationwide
---
Becker-Wells Agency
903 Hanshaw Rd, Ithaca, NY 14850
(607) 257-1003
Harleysville, Main Street America, NY Central Mutual, Union Mutual
---
Lake Country Associates
903 Hanshaw Rd, Ithaca, NY 14850
(315) 257-1003
Harleysville
---
David Mooney
1111 Triphammer Rd, Ithaca, NY 14850
(607) 257-8900
State Farm
---
Olver & Associates Insurance
414 E Upland Rd Ste C, Ithaca, NY 14850
(607) 257-9760
Chubb, Kemper, NY Central Mutual
---
Tompkins Insurance Agencies
832 Hanshaw Rd, Ithaca, NY 14850
(607) 257-4440
Misc
---
Jerry & Cathy Tilebein
840 Hanshaw Rd, Ithaca, NY 14850
(607) 257-0606
Allstate
---
P.W. Wood & Son
2333 N Triphammer Rd Ste 501, Ithaca, NY 14850
(607) 266-3303
Encompass, Foremost, Hanover, Main Street America, Safeco, The Hartford
---
Stanley T Barlow
2359 N Triphammer Rd, Ithaca, NY 14850
(607) 257-2306
Nationwide
---
The Raymond Agency
2389 N Triphammer Rd, Ithaca, NY 14850
(607) 257-1263
Erie
---
Douglas T McEver
2428 N Triphammer Rd, Ithaca, NY 14850
(607) 257-9283
Allstate
---
Tompkins Insurance Agencies
1051 Craft Rd, Ithaca, NY 14850
(607) 257-4440
Cincinnati, Encompass, Harleysville, Main Street America, NY Central Mutual, Safeco, Selective, Sterling, The Hartford
---
AAA Insurance
1284 Dryden Rd, Ithaca, NY 14850
(607) 257-2515
AAA