Lynbrook Car Insurance
Last Updated on February 4, 2019
Located in Nassau County, Long Island, New York, Lynbrook is a village that is situated within the Town of Hempstead. It is technically referred to as the Incorporated Village of Lynbrook. The village has had several names since it was founded, including Near Rockaway, Parson's Corners, Bloomfield, and Pearsall's Corners. In 1894, the name was changed to Lynbrook, and the moniker for the village was derived by transposing the syllables of Brooklyn, one of the five boroughs of New York City.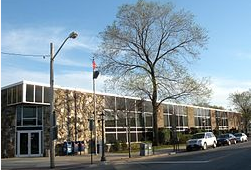 According to data from the 2000 census, just under 20,000 people resided in the village of Lynbrook; however, it can be assumed that the population has grown in the last 19 years. The population is varied, with people of all ages living in the town. Many of the people who live here are of driving age, and a large percentage of the population commutes for work. Due to the close proximity to Manhattan (about 25 miles), a large percentage of Lynbrook residents who are working commute to the city; those who do not work in the city do commute to work, too. There is public transportation available via the Long Island Rail Road; however, most people who commute prefer to drive their own vehicles.
Due to the high volume of traffic on Lynbrook roadways, such as the Long Island Expressway and other major thoroughfares, it is not unusual for traffic accidents to occur here. Though the majority of accidents that are reported are minor, it is still important for motorists who reside in Lynbrook to carry auto insurance; additionally, all drivers in the State of New York are legally required to carry auto insurance. The minimum amount of coverage for a policy is $25,000 for a single injury, $50,000 for multiple injuries, and $10,000 for property damages.
The cost of auto insurance does vary from person to person in Lynbrook, just as it does in any other location within New York and the country; however, on average, motorists can expect to pay just over $2,200 a year for basic car insurance coverage. The best way to find the most affordable rate is by shopping around, as there are many reputable auto insurance providers in the area. To find the cheapest rates for auto insurance coverage in Lynbrook, contact one of the trusted agents below or enter your zip code above to get a free quote.
Local Lynbrook Car Insurance Agents
*We are not affiliated with any of the agents listed below
Coverage Plus Insurance
381 Sunrise Hwy, Lynbrook, NY 11563
(516) 887-8100
AutoOne, Foremost, The Hartford, Lincoln General, MetLife Auto & Home, Progressive
---
Simon Paston & Sons
381 Sunrise Hwy, Lynbrook, NY 11563
(516) 593-2220
Chubb, Encompass, Fireman's Fund, Merchants, MetLife Auto & Home, The Hartford
---
Samuel Weisman & Sons
12 Broadway, Lynbrook, NY 11563
(516) 599-8040
Merchants, The Hartford
---
AWA Group, LLC
126 Atlantic Ave, Lynbrook, NY 11563
(516) 887-9800
Encompass, Foremost
---
Statewide Independent Brokers
28 Forest Ave, Lynbrook, NY 11563
(516) 792-3682
Foremost
---
R & W Brokerage
8 Forest Ave, Lynbrook, NY 11563
(516) 599-3322
Foremost, Hanover, Merchants, QBE
---
Seaman & Eisemann
8 Forest Ave, Lynbrook, NY 11563
(516) 599-0500
Encompass, MetLife Auto & Home
---
Peter Kelly
349 Merrick Rd, Lynbrook, NY 11563
(516) 599-5400
State Farm
---
Mark Fellows
149 Broadway, Lynbrook, NY 11563
(516) 485-6000
Allstate
---
Pablo J Barreto
223 Atlantic Ave, Lynbrook, NY 11563
(516) 593-9444
Allstate
---
Amy Karol
271 Broadway, Lynbrook, NY 11563
(516) 593-8878
State Farm
---
Susan C Musella Polizzi
99a Sunrise Hwy, Lynbrook, NY 11563
(516) 596-9500
Allstate
---
NGL Group
112 Merrick Rd, Lynbrook, NY 11563
(516) 599-1100
Encompass, Fireman's Fund, Foremost, MetLife Auto & Home, Sterling, The Hartford
---
Matthew Parmiter
534 Merrick Rd, Lynbrook, NY 11563
(516) 341-0900
Allstate
---
Pierre Aykaz
534 Merrick Rd, Lynbrook, NY 11563
(516) 593-9000
Allstate
---
Premier Risk
142 Lakeview Ave, Lynbrook, NY 11563
(516) 599-8484
Hanover, The Hartford