OEM Parts Coverage Explained
Last Updated on March 15, 2022
When selecting a car insurance policy, there are a number of different types of add-on coverage that you can select for your vehicle. These coverage types are not essential but can provide you with the additional peace of mind you need while you're on the road. One of these coverage types is OEM parts protection. Here's what you need to know about this type of coverage before you add it to your policy.
What Are OEM Parts?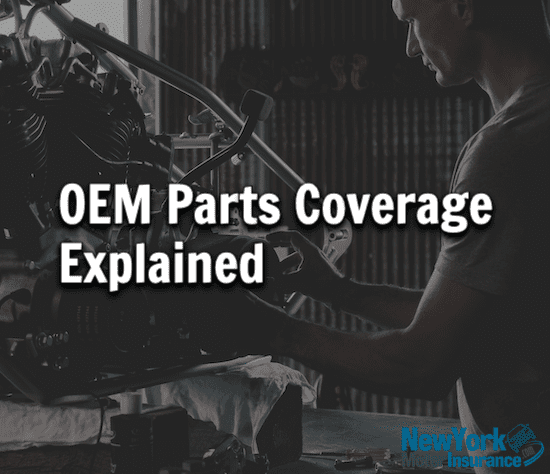 OEM stands for Original Equipment Manufacturer. OEM parts are parts that are made by the same manufacturer that made your car originally and are used for repairs and replacements. The alternative to OEM parts is aftermarket parts. These parts are designed to work with several different types of cars but perform the same functions as OEM parts.
Why Are OEM Parts Better Than Aftermarket Parts?
OEM parts are generally considered to be better than aftermarket parts in most situations. Aftermarket parts are much cheaper, but since they are designed to fit so many different makes and models of cars, they may not work as well as the original OEM parts. OEM parts are typically made with high-quality materials and come with better warranties as well. Although they require more of an investment upfront, that investment might pay off in the long run, as that part will last longer and need fewer repairs.
What Does OEM Parts Coverage Guarantee?
Because so many drivers prefer OEM parts for their car repairs, many insurance companies offer OEM parts coverage as an add-on for peace of mind. This coverage will ensure that you receive OEM parts when your car is repaired, regardless of how much they cost.
When you have OEM parts coverage, your repair shop will be required to use new OEM parts whenever possible to repair your vehicle. This is not a guarantee when using traditional car insurance – in that case, your repair shop can decide to use aftermarket parts or OEM parts that have already been used, regardless of your preferences.
If you don't have OEM coverage and you want OEM parts, you will likely have to pay the difference for these higher-quality parts yourself. When you have OEM coverage, your insurance company will pay for it, so you don't have to worry about the additional cost.
It's important to note that not every car is going to qualify for OEM parts coverage. Insurance companies usually require your car to be under a certain age to provide this coverage. This is because OEM parts aren't always available for older cars, as the manufacturer may have discontinued them.
Most insurance providers will also require you to have collision and comprehensive coverage in order to add OEM parts coverage to your policy. If you only have a basic liability plan, this option may not be available to you. Additionally, there are some situations where OEM coverage may not fully guarantee OEM parts. For example, if your car requires a rare OEM part that is not available, they may have to use used or aftermarket parts in order to fully repair your car. There are also certain parts that OEM coverage does not guarantee – for example, this coverage typically doesn't apply to tires.
Do I Need OEM Parts Coverage?
Not everyone needs OEM parts coverage, but it certainly is a handy add-on. If you feel strongly about having your car repaired with OEM parts, using this add-on is often the easiest way to guarantee that it will happen. Using OEM coverage will give you peace of mind when your car is getting repaired, and can actually save you money in the long run as well. Depending on your situation, paying for OEM coverage as part of your policy may be cheaper than paying for OEM parts upfront. Additionally, using OEM parts can help you prevent costly accidents in the future.
OEM coverage is particularly helpful if you have a unique car model where OEM parts might be very expensive or difficult to find. Adding OEM coverage to your policy now can help save you money on repairs later on if you were to get into an accident and require repairs.
How Much Does OEM Parts Coverage Cost?
The cost of OEM parts coverage can vary depending on a number of factors. These include your insurance provider, your location, and what type of car you have. The best way to find out how much OEM coverage costs is to get a quote from the insurance companies you are interested in. It's always best to get quotes from multiple companies and compare your options. Every insurance company has its own method for calculating policy costs, so you might pay much more with one company than you would with another.
Some insurance companies have tools that allow you to get a quote directly through their website. Others will connect you with an agent over the phone or through email to provide a quote. Regardless of which route you go, be sure to ask about the cost of OEM coverage and whether or not it is available for your car. Each company has different requirements for OEM coverage, and some companies don't provide it at all, which is why it's so important to check ahead of time.
Final Thoughts on OEM Parts Coverage

Having to get your car repaired can be a very stressful situation. If you're concerned about the quality of the parts you are receiving, it can add even more stress during a tough time. OEM coverage can provide you with the peace of mind you need, knowing that you'll get the highest quality parts for your vehicle. Many insurance companies offer this add-on at an affordable price, and it can help you save money in the long run should your car need to be repaired.