How Do You Switch Auto Insurance Companies?
Last Updated on December 30, 2019
It is always smart to be shopping around for the best auto insurance rates. Every now and then insurance rates drop or special new discounts pop up. If you keep your eyes open, you will be surprised at the special deals you may find.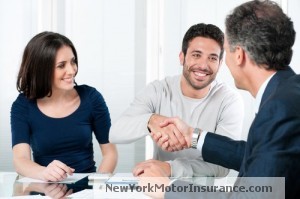 A lot of people's biggest concern with shopping for a new auto insurance plan is their existing policy. You may think that you cannot cancel your policy now if you are under contract, or you may think that canceling your current insurance may be more trouble than it's worth. But fear not! Switching your auto insurance provider is actually easier than you think.
The Proper Way To Switch Your Auto Insurance Provider
Follow these six steps to make sure that you are switching insurance providers "the right way."
Get a new policy from a new company.
Set a start date for your new policy to ensure no lapses.
Notify your existing provider that you are canceling and follow their instructions for leaving.
Ask for a refund from your existing provider on your unused premiums (if they allow).
Alert your state DMV of changes (unless your new provider does this for you).
Start driving with your new policy.
Continue reading below for answers to other frequently asked questions about changing auto insurance providers.
Are You Allowed To Cancel Your Auto Insurance Policy?
Most car insurance providers allow you to cancel a policy at any time, as long as you give them notice before doing so. Many companies do not even charge a fee if you decide to cancel early.
Unfortunately, some companies do require a fine be paid if you cancel in the middle of a policy. Call up your auto insurance provider today to see if they have a cancellation penalty. If so, ask how much their cancellation fees are. If the cost to cancel your policy is greater than the amount you will be saving by switching to a new provider, you might want to "hold out" and wait until your policy runs out so that you can switch providers without any repercussions.
Another thing to consider is that you don't want to cancel in the middle of a payment cycle. By doing so, you will "waste" your coverage. For example, if you just paid your bill for the month of May on April 31, you probably do not want to cancel your policy immediately on May 1 because a whole month will go unused. Wait until the time is right, and then cancel! (Note – Many providers offer refunds on unused coverage, but others do not. Check with your provider first to see their what their policy is on this.)
When Is The Right Time To Switch Policies?
As stated about, you do not want to have "unused" auto insurance coverage. Likewise, you do not want to have your policy lapse and leave you without coverage. As you probably know, it is illegal to drive without insurance.
Therefore, you should start to shop for a new insurance policy about 3-4 weeks before you plan to switch. This will allow you adequate time to sign up for a policy, get your paperwork in order, and get the new policy and proof of insurance sent to you in the mail. If you wait until the last minute to sign up for a new plan, you might be left without insurance and hence, unable to drive.
If you are unsure about whether or not you will get your new insurance policy in time to drive, simply ask your new insurance company. Your new provider will be able to set up your new policy so that its onset is timed perfectly with the cancellation of your old policy.
How To Find Cheaper Insurance Rates
There are many reasons why you might want to switch your auto insurance provider. You might not be satisfied with your current provider's customer service. You may think you can find better rates elsewhere. Maybe you even are planning to buy a new car and simply want a new policy for the new car. Whatever the reason may be, it's actually pretty easy to start shopping around for new rates.
To begin comparing insurance quotes for free, scroll back up to the top of this page and enter your zip code. After filling out our brief form, you will be given competitive rates from the top insurance providers in the United States.