New York City Car Insurance Rates Among Highest In The Country
Last Updated on June 27, 2019
You can have a stellar driving record and be a safe, experienced driver, but if you live in New York City, your insurance rates will still probably be through the roof. As unfair as it may be, insurance companies don't base premiums strictly on merit. The zip code in which you live plays a dramatic role on the amount that you'll ultimately pay. For a variety of reasons, New York City zip codes have some of the highest rates in the country. Many residents of the city eschew cars altogether. Those who don't, though, should be prepared to pay top dollar to maintain coverage.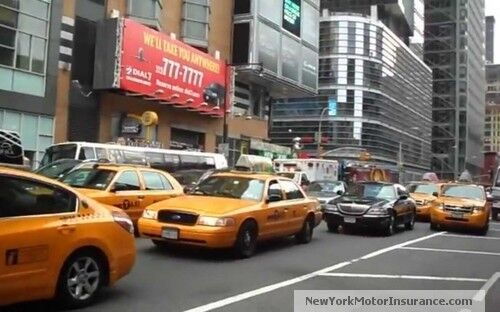 NYC Car Insurance Territorial Rating
The primary culprit behind exorbitant auto insurance premiums in the Bronx, Brooklyn and other New York City boroughs is territorial rating. Insurance companies ostensibly use this practice to assess the risk that goes along with insuring vehicles in specific areas. A car that is parked overnight out in the country is less likely to generate claims than one that is parked in a cramped, urban environment. When CarInsurance.com analyzed the most expensive cities for car insurance, the resulting top-ten list included Brooklyn and the Bronx, where annual car insurance premiums averaged $3,819 and $3,443 respectively.
Several factors are used to assign base insurance rates to different zip codes. The three most significant ones are:
Theft – Car insurance companies assign lower rates to areas where auto theft is rare. In a big city, though, auto theft rates tend to be much higher than average. Incredibly, car theft rates in New York City declined by 74.7 percent from 1995 to 2005. From 2000 to 2005 alone, they declined by 48.8 percent. Despite that fact, however, insurance rates have actually soared for New York City zip codes in the years since.
Traffic – The more traffic there is, the more likely car accidents are. That's a logical enough conclusion to make. After all, you're exposed to many more drivers when you operate a motor vehicle in a densely populated urban area. New York City has some of the worst traffic in the country, so it comes as no surprise that base auto insurance rates tend to tip the scales in places like Brooklyn and the Bronx. Someone driving out in a rural area is simply a lot less likely to be involved in an accident, so his car insurance rates will naturally be much lower.
Vandalism – In a place like New York City, the population density is extremely high. While most of the population is made up of law-abiding people, there are still plenty of them who like to engage in illegal activities. The odds of your car being keyed or having its windows smashed are astronomically higher in a big city. Insurance companies are fully aware of this, and they track auto vandalism statistics carefully. This factor contributes to the excessive car insurance rates that plague drivers in the Big Apple.
Auto Insurance Rates Continue to Soar in New York City
Despite the fact that car theft rates have dropped dramatically in the last few decades, auto insurance rates in New York City continue to climb. Some people decry this phenomenon as a way for insurance companies to punish low-income people, who tend to make up the bulk of the population in such areas. New York City officials recently tried to petition insurance companies to reduce these base insurance rates, but their efforts fell on deaf ears. There is no way to predict whether base car insurance rates in the city will continue to rise, but they're more likely to do that than to drop out of the blue.
Avoiding Expensive Car Insurance in New York City
There's no way to live in New York City and avoid astronomical base car insurance rates. If you live in Brooklyn, the Bronx or any of the other five boroughs, your premiums will automatically be way higher than the national average. Like most New Yorkers, moving probably isn't something you'd even consider. The only thing to do is to be diligent about shopping around for auto insurance. By collecting as many quotes as possible, you should be able to find a policy that's reasonably affordable. Just don't expect to enjoy the same rates as someone who lives in Bullhead City, AZ, where the average annual auto insurance premium is just $730.