What Happens If You're Late With Your Insurance Bill?
Last Updated on January 27, 2020
Of course, we all want to make our car insurance payments on time. However, with the high cost of living and the busy pace of life in New York, it's easy to let things slide and pay your insurance bill late every now and then. If you've made a late payment recently, you may wonder what's going to happen with your car insurance coverage. Here's what you need to know.
Insurance Late Fees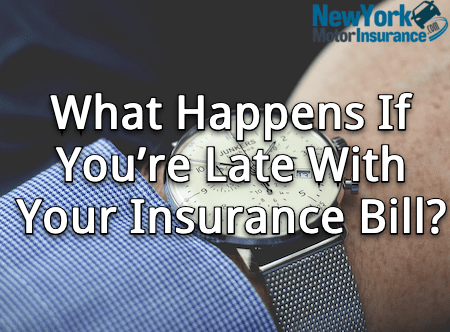 If you've only paid your insurance bill a few days late, it's nothing to stress about. Typically the worst that will happen in this case is that you'll be charged a small late fee. However, you don't want to make a habit of this – car insurance companies notice when you continually pay your bills late, and they may increase your rates.
Insurance Policy Cancellation
If you frequently pay your bills late, wait longer than your insurance company's grace period, or you have several months' worth of unpaid bills, your car insurance company will likely choose to cancel your policy. Insurance companies typically won't send unpaid bills to a collections agency – they'll just let your coverage lapse. However, if you've let one insurance policy lapse, it's going to be very difficult to get car insurance later on, even with another company. Insurance companies want to feel confident that they will receive their payments on time, and if you've had a policy canceled in the past, they may take that as an indication of financial instability.
What Should I Do If I've Made a Late Payment?
If you realize you're late on a car insurance bill, don't panic. Pay the bill as soon as you can, including any late fees you may have incurred. There are some situations where you may have made a payment on time, but it was processed late as a result of an error. For example, if you paid your bill online several days ahead of time, but the bank made an error in processing, you may be able to get late fees removed. If this is the case, call the car insurance company to see what your options are.
If you've had a policy canceled due to late payments, you may be wondering how to get a car insurance policy. There are many companies that will offer policies to customers whose payments have lapsed, but the downside is that your premiums are likely going to be much more expensive than they were previously. Look for a company that caters to 'high-risk' customers – you might be able to get better rates that way.
You may also want to consider reducing your coverage or raising your deductible, both of which will lower your premiums. It will lower the amount of financial protection you have if you do get into an accident, but it's the quickest way to make your car insurance payments a little more budget-friendly. Keep in mind that your late payments won't stay on your record forever. Make an effort to continually pay your bills on time, as well as maintaining a safe driving record. The longer you do this, the quicker your premiums will go down, and then you can increase your coverage levels again.
How Can I Avoid Making Late Payments?
Late payments happen to the best of us, but there are things you can do to avoid having to deal with them. The first thing to do is to avoid taking on more coverage than you can afford. If you're struggling to pay your bill each month, your chances of having to pay it late every once in a while are going to be higher. When selecting your car insurance policy, make sure to get quotes from several different insurers, and choose one that you feel confident you can afford. You should always look for discounts from insurers – they offer a wide variety of discounts to help you save money, and this can dramatically reduce the cost of your car insurance.
Another way to avoid making late payments is to set a reminder in your calendar a few days ahead of the due date and make sure to file it right away. Many car insurance companies now let you pay your bill online, which makes it much easier to stay on top of the expenses. It's very common for insurance companies to have an app, so you can make your payment on the go from your smartphone. Some companies even offer autopay, which will automatically take the payment from your account on a specified day each month. If you feel confident in your finances, this is one of the best ways to avoid making a late payment by accident. Many companies will even give you small discounts for paying your bill online or for setting up autopay.
An option that many companies offer is to pay your bill at the beginning when setting up your policy. This means paying for six months or even an entire year's worth of insurance right when you sign your contract. While this means paying a big sum all at once, it also means you won't have to worry about making late payments by accident. Many insurance companies will give you a significant discount for doing this as well. If you can afford it, this is a great option to help you save money.