Allstate Car Insurance in New York – Is Allstate Good for New Yorkers?
Last Updated on December 25, 2020
Allstate is one of the largest insurance companies in the US, and if you're looking for car insurance in New York, it's likely one that you're considering. With so many insurers on the market, it can be difficult to know which insurer is going to be the best one for your needs. Allstate has plenty to offer, but are they the right fit for New Yorkers? Here's what you need to know before you purchase a policy with Allstate.
About Allstate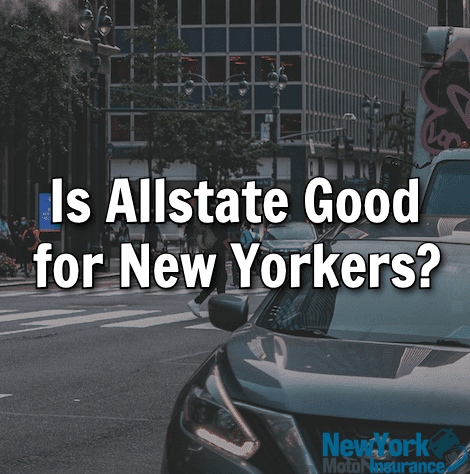 Allstate was originally founded in 1931 as part of Sears, Roebuck and Co. They began by selling their car insurance products using a direct mail strategy. Allstate became a public company and a separate entity from Sears in 1993. They later purchased Esurance in 2011, which is one of the most rapidly growing insurance companies in the United States. They are currently headquartered in Northbrook, Illinois, just outside of Chicago. They sell policies in all 50 US states, and some of their products are available in Canada as well.
Allstate's Rates in New York
Allstate has a strong presence in New York – in fact, many of their most memorable TV commercials were shot there. Their rates can vary depending on what type of car you have, your driving history, and other factors. However, Allstate generally offers very affordable rates for New Yorkers when compared with other companies.
NerdWallet conducted a study comparing Allstate's rates with others in New York state. Generally, Allstate is one of the cheapest options for New Yorkers with a good driving history, even if they have poor credit. They also have a very robust accident forgiveness program that good drivers can take advantage of. On the other hand, they also have the cheapest rates for drivers that have had a DUI, and they also have very reasonable rates for teen and young adult drivers.
Allstate Car Insurance Coverage in New York
Allstate offers full car insurance coverage for New Yorkers. They offer every type of coverage required by law, including bodily injury liability, property damage liability, personal injury protection, and uninsured motorist coverage. This will ensure that you and the other parties involved in a crash are protected if you get hurt or if your vehicle is damaged. Uninsured motorist protection provides essential coverage if you are hit by someone who does not have car insurance or doesn't have enough insurance to pay for the damages.
Allstate also offers comprehensive and collision coverage. While neither of these coverage types is required by law, they are recommended to protect you while you are on the road. Collision coverage pays for your repair costs if you are involved in any kind of collision, regardless of who was at fault. This includes collisions with other cars as well as collisions with pedestrians, animals, or stationary objects. Comprehensive coverage pays for damage to your car that comes from other sources. This includes fire damage, weather damage, vandalism, and more.
Additional Allstate Coverage Options
Additionally, Allstate offers a number of specialty coverage types and features. Their Drivewise program uses their cell phone app to track your driving habits and give you discounts to reward good driving behaviors. They also offer rideshare insurance to cover those who work as independent contractors for services like Uber or Lyft.
Like many other companies, Allstate also has a roadside assistance program. This program covers services like towing, locksmith services, battery jumps, and tire changes if you encounter any problems while you are on the road. They also have a rental car reimbursement program, which pays for the cost of a rental car if you need one while your vehicle is being repaired.
Allstate has extra features to differentiate its policies from others. They offer particularly good benefits for those who have a good driving record. They have a rewards program that you can use to earn gift cards and products from some of Allstate's partner retailers. You can also choose to add on their accident forgiveness plan, which ensures that your rates won't increase after you file an accident claim. They also have a new car replacement service, which means you'll get a complete replacement for your new car if it is totaled.
Allstate Customer Service
Allstate sells its policies through local agents based throughout the US. However, they have a robust website and mobile app that you can use to manage most aspects of your policy. You can get a quote directly through their website, and if you want to purchase a policy, they'll connect you with an agent to facilitate that process.
Allstate also has a well-designed mobile app that you can use to handle many aspects of your policy. With the app, you can view your policy information, pay your bill, check the status of a claim, and request roadside assistance. This is a great feature for busy drivers who are always on the go.
The process of filing a claim with Allstate is generally very simple. In most cases, you'll be able to start the claim online. You can also file claims over the phone. You'll be able to track your claim through the entire process. Allstate also has a claim satisfaction guarantee program, which means that if you aren't satisfied with the process of filing a claim, you could get up to six months of credit on your premiums.
Allstate has a lower than average complaint ratio, which means they get fewer complaints per policy written than their competitors. Allstate also has an A+ rating from AM Best, a firm that rates the financial strength of insurance companies. This means that Allstate can be trusted to pay their claims regardless of the current economic climate.
Final Word on Allstate Car Insurance in New York
Overall, Allstate is a great choice for New Yorkers. They offer relatively affordable policies, as well as plenty of helpful features to help you get the most out of your coverage. They're a particularly good choice for drivers who already have a good record.