How Do I File A Claim After An Accident?
Last Updated on February 17, 2022
No one expects to get into a car crash. The whole reason we have car insurance is that bad things sometimes happen to very nice people. It is vital to have a basic understanding of what is required of you if you are unfortunate enough to be in some sort of accident. Read below to learn more about filing no-fault claims, medical treatment claims, and physical damage claims.
To File A Claim Under Your Own Policy
Reporting an accident: If you are involved in an auto accident, it must be reported to your insurance company, as well as the local police department. Also, if the amount of damage caused in the accident is likely to be over $1000, or if anyone is injured, you must file an accident report with the Department of Motor Vehicles. The form required, an MV-104 will usually be included with any claim forms sent by your insurance provider.
The auto insurance policy is possibly the most commonly purchased insurance product, yet it is most likely the least read and least understood contract in existence. You must read your policy to determine what the reporting requirements are for your insurance provider. This way, you can be sure to meet them and have fewer difficulties in the handling of your claim. Many people find out what is and is not covered under their policy after it is too late.
To File A No-Fault Claim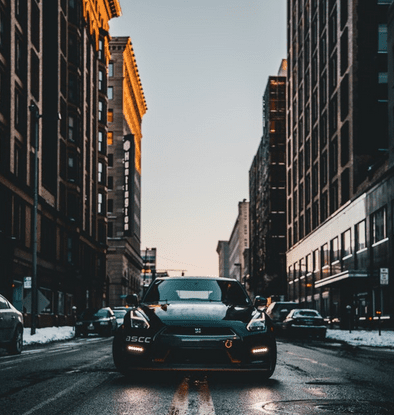 In the case where you are injured in a motor vehicle accident, you need to file a written notice of claim with your no-fault insurer. Since New York is a no-fault state, instead of filing a claim with the at-fault party's insurance provider, you submit the claim to your own insurance company, and they will pay for damages, regardless of who was at fault.
Your notice of claim should include details to identify the injured person(s), along with information about the time, place, and general circumstances of the accident. This needs to occur as soon as possible, but in no event more than 30 calendar days after the date of the crash. If you submit a late claim, you must provide proof with a clear and reasonable justification of late filing.
If the accident occurred in New York State, you should file the no-fault claim with the insurance provider of the vehicle you were in when the accident occurred. In the event you were a pedestrian, and a car struck you, then you file your claim with the insurer of the vehicle that hit you.
If the accident occurred outside of New York State and you were in a vehicle other than your own, file a claim with your own insurance company. In the case of being injured in an accident while a passenger on a bus, your no-fault benefits come from your policy or the auto policy of a member of your household. Only if no one in your household had an auto insurance policy would your no-fault benefits come from the insurer of the bus.
If you or a member of your household do not have an auto insurance policy and you are injured by an uninsured vehicle or a hit and run driver you can file a claim for no-fault benefits with the MVAIC, a corporation created to handle situations like these.
Regardless of whether you file your claim with the insurer or MVAIC, they are required to send you an application for benefits with a letter explaining the no-fault coverage available to you as well as your rights and obligations. Once you receive a request for benefits form, get it filled out and sent in to avoid delays in your claim.
What If I Require Medical Treatment?
Should you require medical treatment as a result of your accident, you have two options.
Pay for your medical treatment directly and submit the bills to the insurer for reimbursement.
Allow the medical provider to submit their bills directly to the no-fault insurer.
Generally, as long as you make it clear to your healthcare provider you are being treated as a result of an auto accident the insurer is required to make payment within 30 days of your health care provider's claim with proof of medical necessity or your employer's report of earnings lost.
If your insurer fails to pay your claim you can apply for no-fault arbitration.
Filing A Physical Damage Claim
If your car is stolen or damaged and you have comprehensive and collision coverage, you can file a claim to repair the damages to your car or if appropriate, replace your car. Your insurer is also responsible for covering the costs of towing, storage, and transportation if a stolen vehicle is recovered.
Under the Department of Motor Vehicles regulation 64, an insurer responding to a claim made on a comprehensive and collision policy must do the following.
Inspect the vehicle and make an offer within six business days of notice of the loss. The proposal must include the name of a DMV-approved shop that will do the repairs at the quoted price.
Promptly give you an authorized estimate of the cost of repairs.
Identify a conveniently located shop that will repair the car at the estimated price. You have the right under the regulations to choose another shop if you wish.
Pay the cash value if your car is a write-off or replace it with a similar vehicle.
Make payment within five business days of a settlement agreement.
If your claim is delayed more than 30 days, the insurer must provide a written explanation.
For most collision and other physical damage claims, you and your auto repair shop must submit a "certification of automobile repairs" form to verify the extent of damages claimed. Filling this out promptly ensures no delay in your claim processing.