How to Insure Your Car Against Hurricane Damage in New York State
Last Updated on December 23, 2020
New York State can be ravaged by hurricanes, as is evidenced by Superstorm Sandy. The largest and costliest storm of the 2012 hurricane season, New York suffered an estimated $32 billion in damages; a large percentage of which was attributed to vehicles. In fact, in some locations, particularly Long Island and New York City, damaged cars littered the roadways.
While it's hard to predict if a storm of that magnitude will hit the area again, it's a wise idea to protect yourself from any damages to your vehicle that could occur in the future.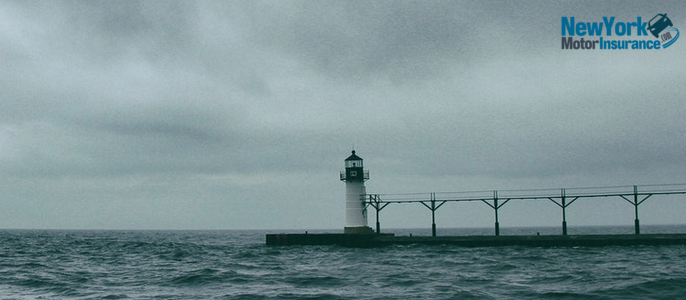 Does Your Auto Insurance Policy Cover Hurricane Damage?
In New York State, motorists are legally required to carry liability coverage. However, a standard liability policy will not cover damages that your vehicle sustains in a hurricane. That's because this type of insurance is only designed to cover the costs that are associated with third-party injuries or damages in accidents that you are responsible for. For example, if you are involved in an accident and are at-fault, your liability insurance will only cover the cost of the damages to the other driver's car or the injuries that a person in the other vehicle sustained.
With that said, there are auto insurance policies that will cover the damages that occur in a hurricane. If you want to protect yourself from storm damage, you will need to purchase a collision or comprehensive policy.
How Will Collision and Comprehensive Auto Insurance Protect Your Vehicle in a Hurricane?
In order to protect yourself from the damages your vehicle sustains as a direct result of a hurricane – flooding, high winds, fallen objects, etc – you will need to purchase comprehensive insurance.
Comprehensive auto insurance covers damages that are deemed "acts of God", or other events that are not the result of driving your vehicle into something else. Hurricanes are considered an "act of God" because there is no way to predict or control them. Examples of hurricane-related damages that a comprehensive policy would cover include:
Damage to your vehicle as a result of flooding caused by heavy rain and storm surges
Corrosion your vehicle develops as a result of being exposed to saltwater
Damages caused by branches, limbs, or entire trees falling on top of your car
Damage your car sustains when street signs or items that are not secured to the ground are loosened by the wind and hit your vehicle
Any animals that may make contact with your car as a result of hurricane-related conditions; for example, if a bird were to fly into your car in high winds and shatter the windshield
A comprehensive auto insurance policy will cover the cost of various types of damages, such as shattered windows, dented roof or side panels, or corroded metal. If the cost of the damages that are needed to repair your vehicle exceeds its actual cash value, your insurance company will total your car and write you a check for the valued amount of the vehicle.
Collision insurance will cover the damages that occur in the event that you are operating your vehicle in a hurricane and were involved in an accident. For example, if heavy rains make visibility nearly impossible while you are driving and you collide with another car or a stationary object (a street sign, a tree, or a fence, for example), collision insurance would cover the cost of the damages.
How to Insure Your Car Against Hurricane Damage
Given the substantial damages that hurricanes can impart on cars, purchasing the necessary coverage is important. This is particularly true in coastal areas of New York, such as the North and South Shores of Long Island, New York City, and any areas located along the Hudson River.
In addition to liability coverage (which you are required to carry), investing in comprehensive and collision auto insurance is a wide idea. You can purchase these types of coverage from any insurance agency; however, you will need to demonstrate that you have liability coverage before you can purchase these additional policies. Many motorists choose to have an insurance agency that issues their liability coverage for their comprehensive and collision coverage. Not only does this simplify things, but it can also offer you the chance to save money. Most insurance companies will offer a discount when they issue several policies.
When to Purchase Auto Insurance for Hurricane Damage
It's a wise idea to purchase comprehensive and collision auto insurance before hurricane season begins. If you wait until the last minute – after a hurricane warning has been issued – chances are that you will not be able to purchase coverage. That's because many insurance providers will stop offering coverage once a hurricane is a known risk. Therefore, it's in your best interest to buy these additional insurance policies ahead of hurricane season.