New York State Assigned Risk Auto Insurance Explained
Last Updated on September 23, 2020
If you have multiple accidents or traffic violations on your driving record, auto insurance companies may classify you as a high-risk driver. High-risk drivers typically find it very difficult to get insurance. Many companies will not provide insurance to high-risk drivers at all, and the ones that do often charge extremely high rates or don't provide enough coverage for the policy to be worthwhile.
To combat this, New York State created the New York Automobile Insurance Plan, which is often referred to as assigned risk insurance. This insurance plan matches high-risk drivers with insurance companies to get coverage. While rates for the NYAIP are still higher than average car insurance rates, they provide important insurance coverage for those who may not otherwise have been able to get it. Here's everything you need to know about New York state's assigned risk program for drivers.
What Is Assigned Risk Auto Insurance and Why Is It Necessary?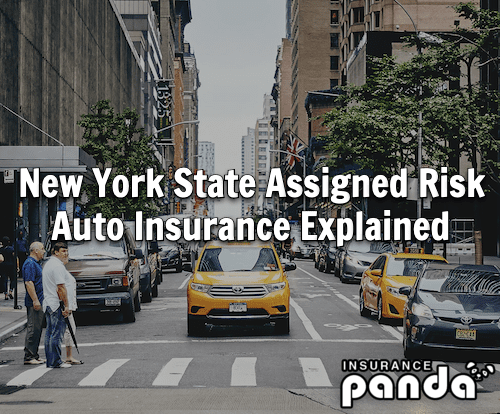 Assigned risk auto insurance is when the government requires insurance companies to provide policies for high-risk drivers. Assigned risk insurance is usually used as a last resort when a driver cannot get a policy from any other provider. Insurance companies determine the cost of their insurance policies based on risk. However, drivers with particularly bad records are statistically too risky for many insurance companies, so they won't offer policies for them. However, it's very dangerous for these high-risk drivers to be on the road without insurance, which is why assigned risk programs are put in place.
New York isn't the only state that offers assigned risk auto insurance. Many other states throughout the country offer this type of insurance policy to ensure that every driver can get at least the minimum insurance coverage required by law. New York is a no-fault state, which means that your insurance company is required to cover medical payments and other costs that may result from an accident, regardless of who is found at fault. It's extremely important for every driver to have the personal injury protection coverage that is required by New York state law, as well as liability insurance, which pays for property damage if you are found at fault in an accident.
In New York, all insurance providers are required to participate in the assigned risk auto insurance program. High-risk drivers are put into a pool and are assigned to car insurance companies based on their market share. For example, if an insurer currently offers 20 percent of the car insurance companies in New York, they would be assigned 20 percent of the drivers in the assigned risk pool.
Who Qualifies for Assigned Risk Auto Insurance?
To qualify for assigned risk car insurance, you'll need to be able to prove that you cannot get car insurance on your own. In New York, you'll to specifically prove that you cannot find car insurance in the market (usually by proving that at least three insurers have turned you down). You can also get assigned risk car insurance by proving that you haven't been able to get a policy for less than what the New York Automobile Insurance Plan offers over the last 60 days.
The easiest way to apply for assigned risk auto insurance is to work with a licensed insurance agent, who will be able to handle the application process for you. Make sure to save any emails or paper documents that prove that you've been turned down for insurance, as this will make it much easier to qualify for assigned risk insurance. If you can't find an insurance agent to work with, you can apply directly through the NYAIP website or over the phone.
Once you've been assigned an insurer, they are required to cover you for three years. If you are unable to find coverage on your own at the end of this three year period, you can reapply for assigned risk coverage, at which point you will be assigned a new policy. If you can find your own insurance policy for a better rate at any point during the three year period, you can cancel your assigned risk coverage with no penalty. If you keep a good driving record and make your payments on time through that three year period, your assigned risk insurer may also offer to continue providing you coverage at their normal rates.
How Much Coverage Will I Get With New York's Assigned Risk Insurance?
New York's assigned risk insurance program will provide you with the minimum insurance required by law. They also will give you the option to purchase additional coverage if you want it. Drivers in New York much have at least $10,000 of property damage coverage, as well as personal injury protection, bodily liability, and death coverage of $25,000/$50,000 for one person and $50,000/$100,000 for two people. New Yorkers are also required to carry the same amount of uninsured motorist coverage.
Through the NYAIP, you'll get the minimum required amount of insurance, but you'll also have the option to purchase additional bodily injury and property liability coverage. You'll be able to purchase up to $100,000 in property damage coverage and $250,000/$500,000 in bodily injury. Even though it isn't required by state law, you'll also be able to purchase collision and comprehensive insurance. Collision insurance pays for your damages if you are involved in any kind of collision, including one car collisions. Comprehensive insurance pays for other damages, including vandalism, weather damage, and more.
How Much Does It Cost to Get Assigned Risk Insurance?
Assigned risk insurance is much more expensive than the average policy you'd find on the market. However, for high-risk drivers, it may be the only option. Currently, the average cost of car insurance in New York is $1582 per year, but assigned risk car insurance policies can cost well over $2,000. However, the NYAIP does offer payment plans, so you do not have to pay the entire premium at once.