Top 10 Mobile Apps For New York City
Last Updated on April 20, 2021
New York City is known for its convenience. The "city that doesn't sleep" has subway stations on every block, convenient stores on every corner, and taxis whizzing down the streets at all hours. You may think that living in this city couldn't get any better, but let me tell you – it certainly can. These mobile apps listed below will bring that signature NYC convenience to the next level.
Check out our list of the top ten mobile apps for living in New York below:
#10 Central Park NYC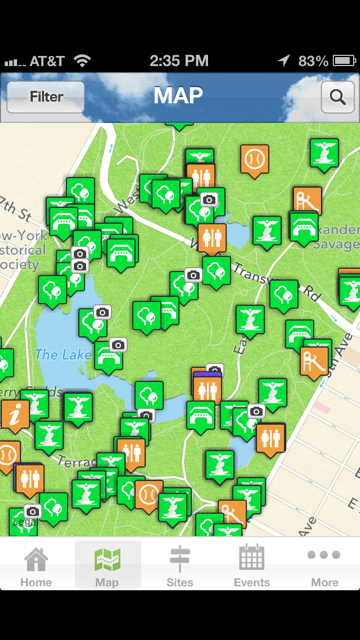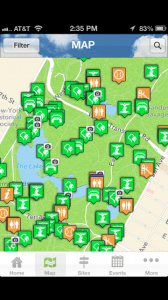 This app, put out by the Central Park Conservancy, is your official guide to Central Park. To be honest, I use this app mainly to find bathrooms in the park. I cannot tell you how many times I've been lost in the park, in need of a toilet, and scrambling around looking for ANY restroom to use. This app will tell you where the restrooms are in relation to yourself and how to get there as quickly as possible.
Apart from my constant need for a bathroom, Central Park NYC also comes in handy for seeing sites around the park. Central Park is huge, so there are always places in the park that you have probably yet to explore. Central Park NYC will tell you where these sites are, how to get to them, and the history behind them. Use this app for a while, and you'll quickly become an expert on the park.
#9 Spotify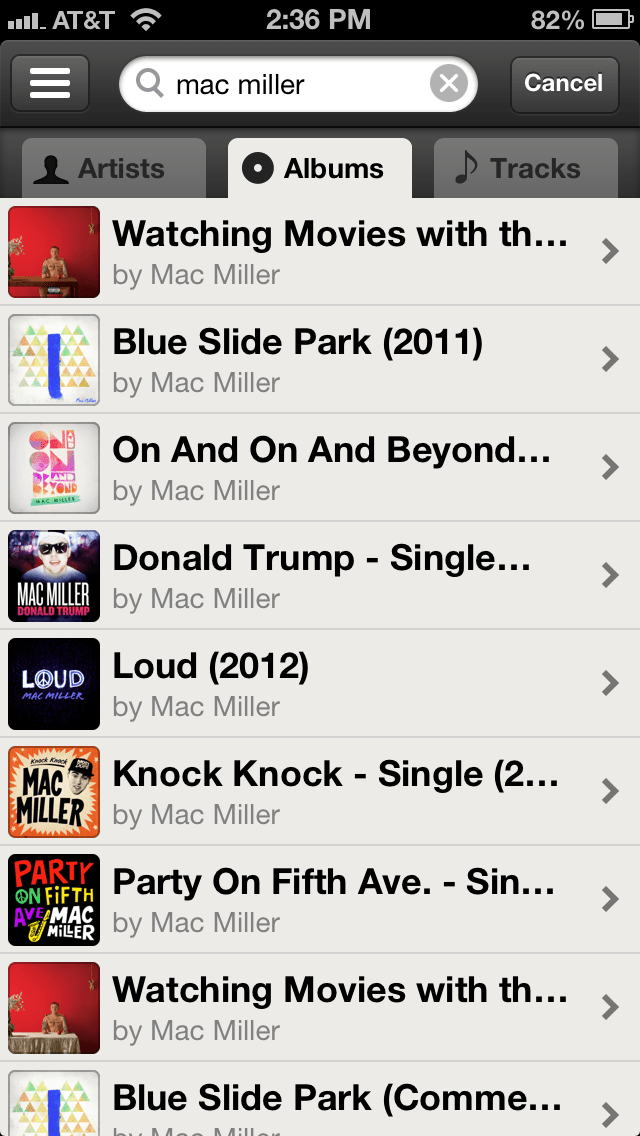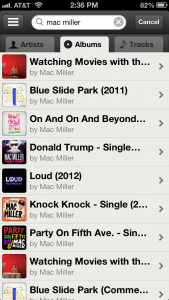 Spotify is not a free mobile app. It costs $9.99/month to use (as of August 2013), but it's certainly worth it. Imagine having just about every song you can imagine at your fingertips – that's what Spotify gives you.
Open the app and you'll be allowed to search for your favorite songs by your favorite artists. With the sheer amount of music available on Spotify, chances are you'll be able to find any song you want to listen to. I've been using the app for years and I have yet to not be able to find a song I wanted. Spotify has it all and is a must-have app for music lovers in the city.
#8 Pandora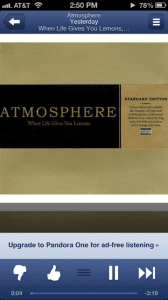 Similar to Spotify, Pandora is an app that plays random songs for you based on your musical tastes. If you like the song "Strawberry Fields" from the Beatles, you can create a "Strawberry Fields" station and Pandora will play music for you that is similar to that song. If you like the rapper Kid Cudi, you can create a Kid Cudi station and Spotify will play random music that is in some way similar to Kid Cudi.
Pandora is great for people who like listening to music, but don't really have the need to listen to a specific song at a given time. This app is great for walking around New York City because you can simply "set it and forget it". Put it on for your walk to work, and you can have Pandora play tunes for you as you navigate through the hustle and bustle of the city.
#7 OkCupid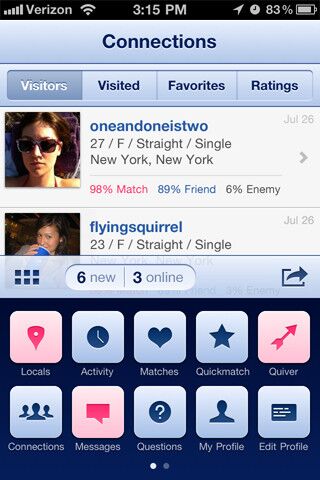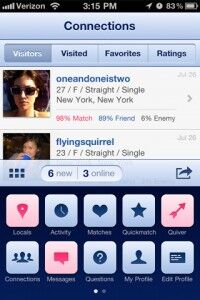 The single men/women in New York City really are spoiled when it comes to dating, especially online dating. Millions of eligible suitors are available online in all parts of the city, and this Okcupid app makes dating "oh so easy." Download the app to your mobile device and start searching around your area. You will see plenty of singles to your liking wherever you are in the city.
You can search by age, height/weight, ethnicity, etc. so that you can find your exact type. You can even open the app and see who's available RIGHT NOW to meet up, so you don't have to be alone on those cold, lonely nights.
#6 Uber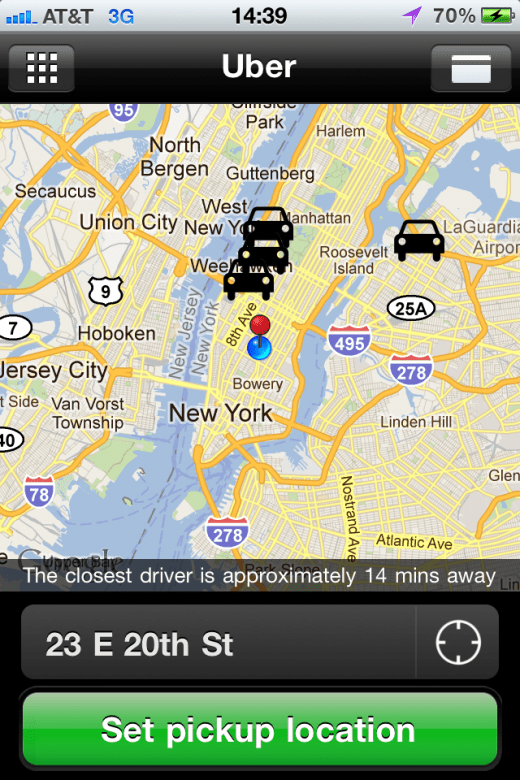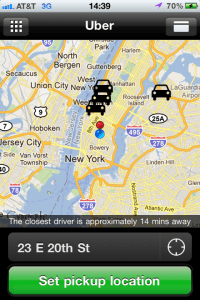 It took a while to get passed by law, but Uber is now available in New York City for use. Uber is an app that allows you to hail a taxi from wherever you are at any time of day. You may think that in New York City taxis are everywhere and are never hard to wave down. Think again! At rush hour and during rain storms, it's simply impossible to find an open cab. In the middle of the night in a less-crowded part of the city, taxis can also be hard to come by. This is where Uber comes into play.
Download uber, connect your credit card to the app and enjoy taxis at your service 24/7. Never wait too long for a taxi again with Uber! It's one of the best, if not THE BEST app for traveling around New York City.
#5 Zipcar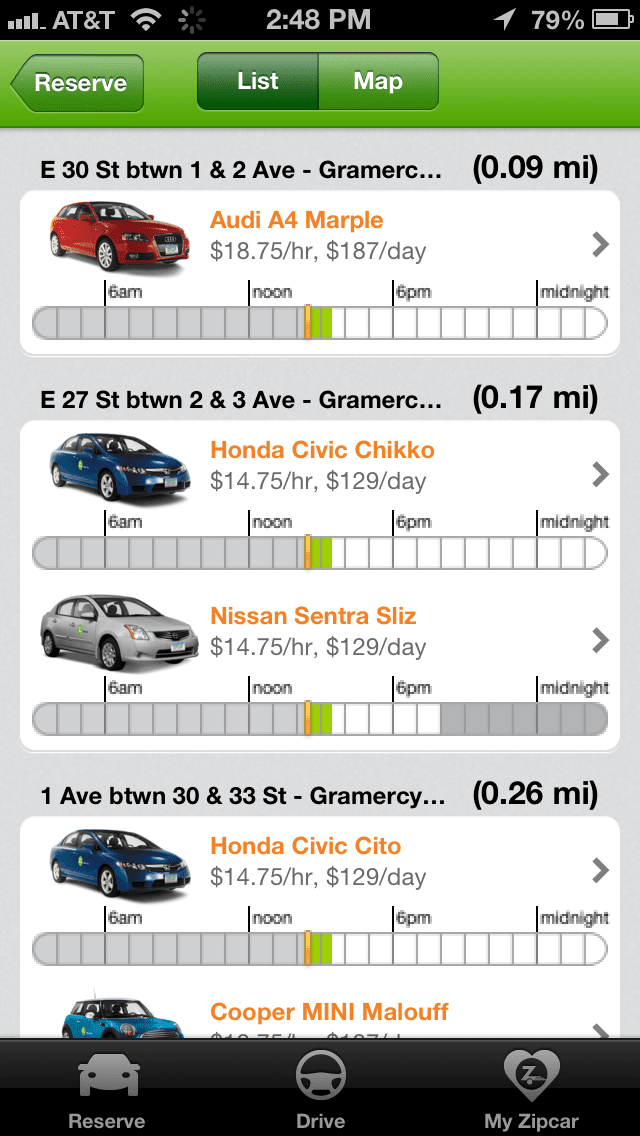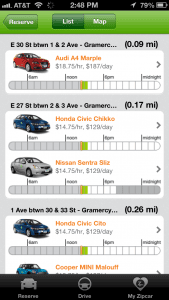 A lot of New Yorkers do not have their own vehicle. With the public transportation the city offers, you simply don't need one. Many people live their whole lives in New York City and never even get a driver's license – they simply take a taxi or the subway to wherever they need to go.
But, there are always those moments in life when having a car would just be more convenient. What if you have to go out to Long Island to the beach for the day? Or if you need to go uptown to Costco to buy groceries in bulk? That's when driving your own car would be ideal.
Zipcar makes it so you don't need to actually buy a car in order to have a car. Zipcar puts vehicles in parking lots around the city that are available for you to rent whenever you want them. If you download the Zipcar app, you will be able to see where these cars are in relation to yourself. The Zipcar locales are placed all around the city – chances are, there's a Zipcar parked within two minutes of your location right now.
My favorite thing about Zipcar is that they will take care of the car's gas and insurance (unlike traditional rental car services where you have to buy your own insurance and refill the gas to its original level). It's basically like owning a car, but without having to deal with all the headaches of owning a car.
#4 Google Maps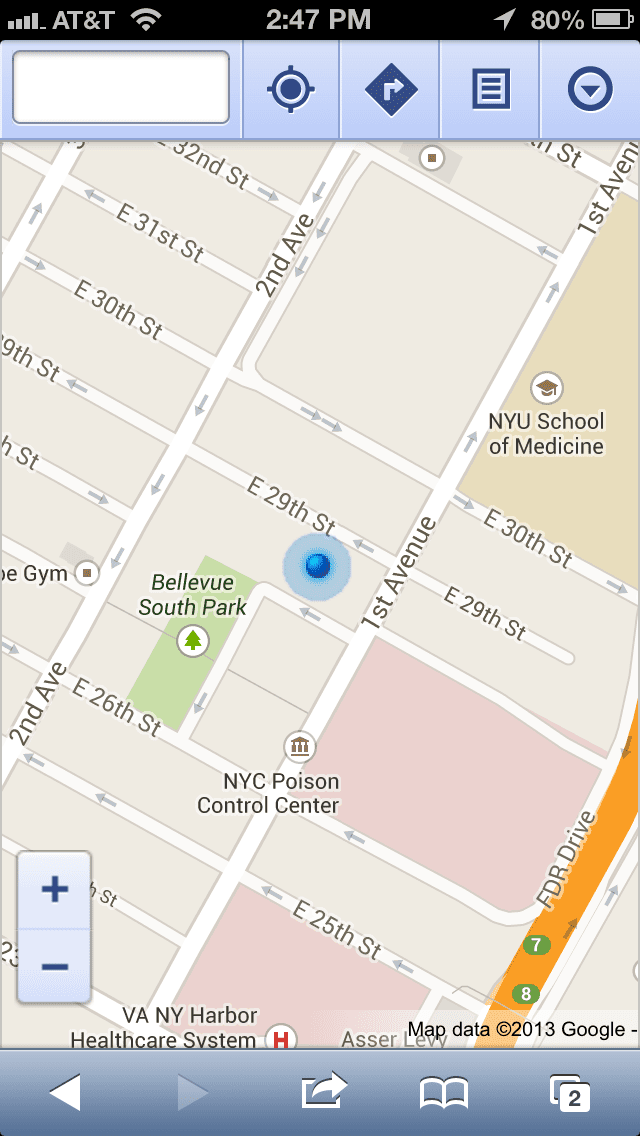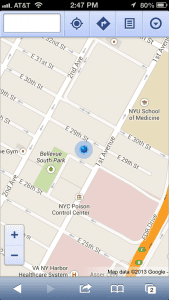 In a city as big as New York, even Marco Polo would get lost. There are so many streets and alleys on every corner. It would take you years to learn your way around even a small neighborhood of the city. Getting lost in New York is nothing to be ashamed of (just ask McCauley Culkin), but you won't have to look like a foolish tourist be asking for directions if you have Google Maps installed on your phone.
#3 Seamless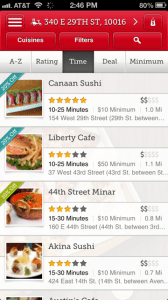 "Don't know how I lived without Seamless. I hope to never live without it again." This is a quote from my roommate. To say that he orders delivery on a daily basis would be an understatement. He orders take-out for nearly every meal of the day. Seamless Web has made his life easy.
Seamless is a restaurant delivery app. Once your open it, you will see a list of restaurants in your neighborhood that are open for business and will deliver to you RIGHT NOW. You want pizza? No problem. You want bacon and eggs from the diner? No problem. Seamless has all types of food ready for delivery 24 -hours per day in Manhattan. Simply open the app, click the restaurant you want food from, select your food, and click "ORDER." In around 30 minutes, you will have a little delivery boy knocking at your door with your food. It's that easy.
#2 Hopstop (now defunct)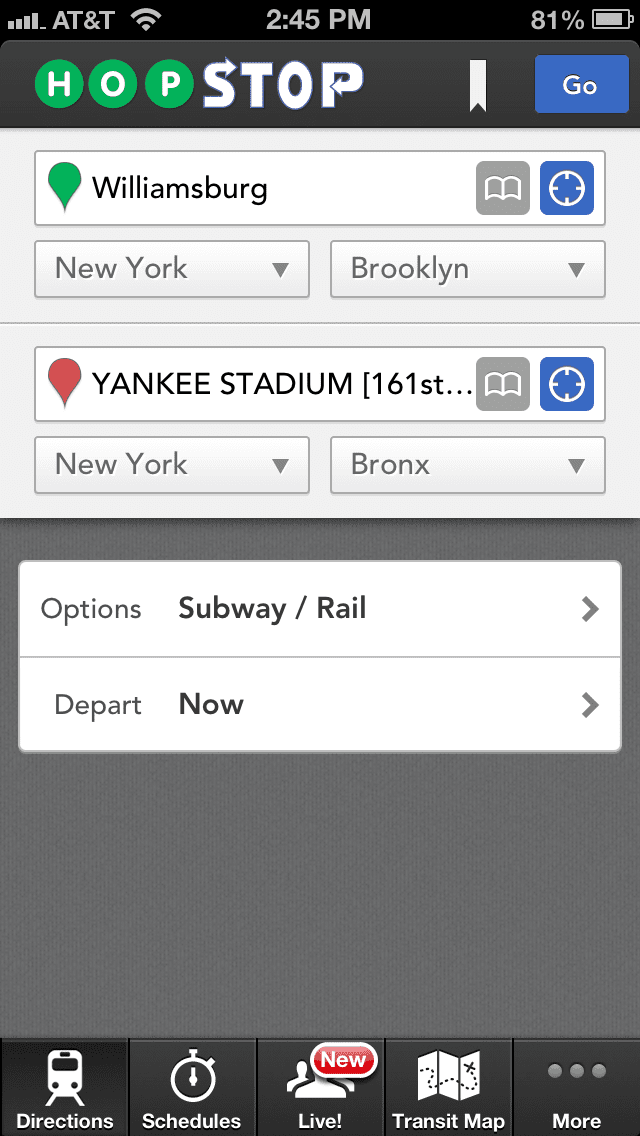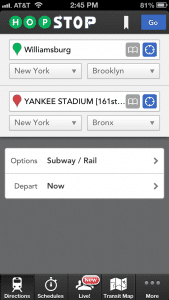 Getting from point A to point B in New York City has never been easier with Hop Stop. New York is a city with public transportation everywhere you look. Whether it's Subway, Bus, or Train, you can be sure of the fact that you are able to get to where you need to go. The big question is HOW? With Hopstop you don't need to worry. Simply enter your starting point and your ending point, and HopStop will guide you there.
If you are in Williamsburg, Brooklyn, and need to get all the way up to The Bronx to see a baseball game at Yankees Stadium, do you know how to get there? No? I don't either, but Hopstop does. I simply enter "Williamsburg" as my starting point, and "Yankees Stadium" as my ending point, and Hoptsop will give me multiple options for getting there. They say that taking the "M" train and switching to the "D" will get me there in 55 minutes for only $2.50, and that's my cheapest option. They also say that taking a taxi will cost be $43.80 and get me there in 33 minutes. Being the cheapskate that I am, I think I'll take the subway. See you at the ball game!
#1 Yelp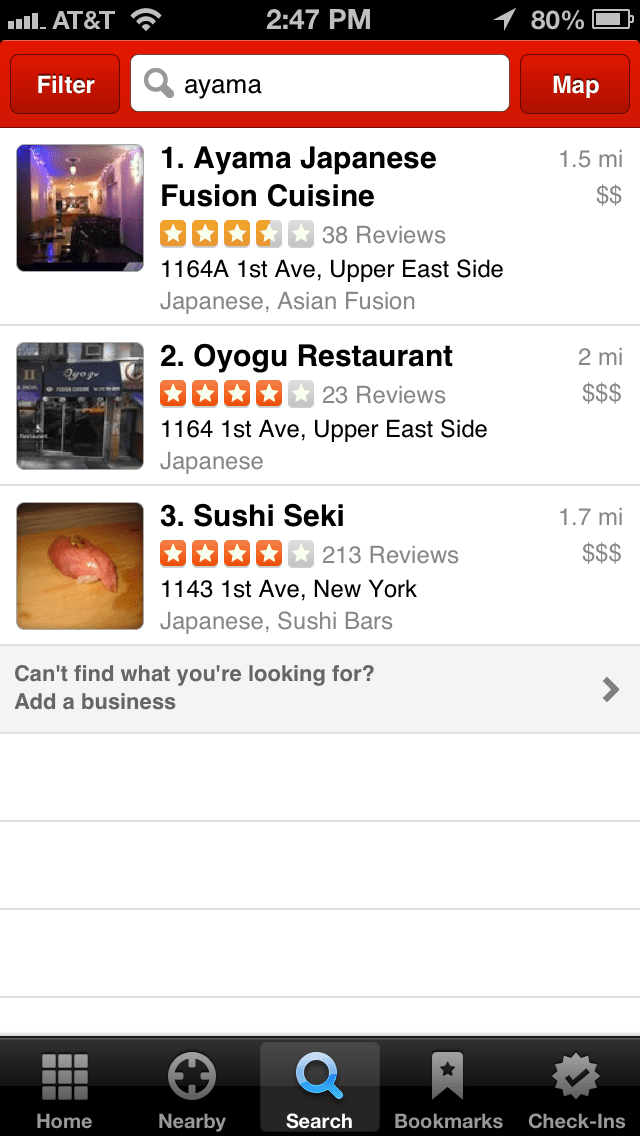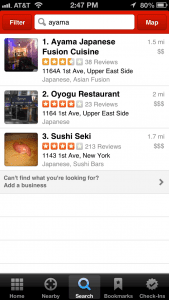 New York is a city of millions of people and thousands of ethnicities. This means nothing to me – except for the fact that these people bring all of their delicious foods to the city. If you're walking down the street, you might see an Afghan restaurant next to a Chinese restaurant (case and point – on 26th and 3rd there is Bamiyan Afghani across from Great Sichaun). Or, if you are in Korea Town on 32nd street and walk a few blocks over, you might find yourself in Curry Hill, the Indian Town near 28th and Lexington.
What I'm trying to say is this – New York City, especially Manhattan, has TONS of restaurants. In fact, if you ate at a different restaurant every single day of your life, I don't think you'd be able to eat at all of them. This is why the Yelp app comes in handy. Although you may not be able to eat at all of these restaurants, you can certainly eat at the best ones. The Yelp app will help you filter through the bad restaurants and only eat at the ones with the best reviews. With Yelp, you can views restaurants by rank, popularity, cuisine type, etc. If you live in New York or spend a lot of time there, Yelp is a must-have for your mobile device.