Where to Get Food Delivery Insurance in New York State
Last Updated on September 14, 2021
Food delivery apps like Postmates, Uber Eats, DoorDash, Amazon, and Caviar have become one of the easiest ways to get your favorite takeout delivered. Not only are these apps very convenient for customers, but they also can be an easy way to make money on your own schedule. However, driving for a food delivery company may require you to get additional car insurance coverage. Here's what you need to know about food delivery insurance in New York State and where to get it.
Do you need special insurance to deliver food?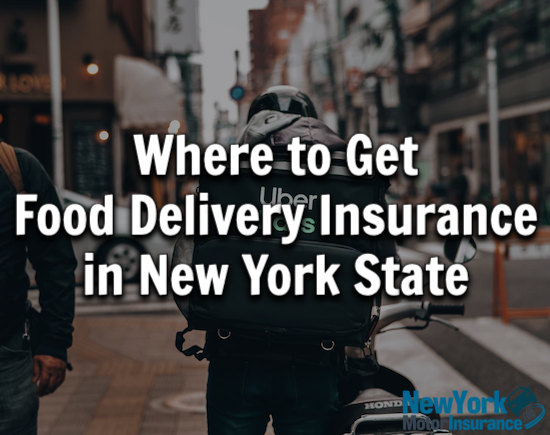 Working for a delivery app like Postmates or Uber Eats can be a great way to make extra money as a side hustle, and in some cases, it can even be a full-time job. However, there are some extra expenses that come with the job – namely, more expensive car insurance.
While requirements vary from company to company, they generally won't allow you to use your personal insurance if you're using your car for business purposes like food delivery. Because you're putting so much extra wear and tear on your car, you'll need to have an insurance policy with extra coverage to compensate.
Some insurers will allow you to keep your personal car insurance policy, but purchase additional business coverage as an add-on. This is a good option for people who are only doing food delivery part-time. If you are driving full-time, you may need to purchase a commercial car insurance policy, which has the extra coverage you need for full-time driving.
Your delivery platform may also have certain car insurance requirements that you need to meet. For example, they could require you to have collision or comprehensive insurance, even though it may not be required by law in your state.
What happens if you don't carry business insurance for food delivery?
Since business and commercial insurance does cost more money, many drivers want to avoid paying for it. It can be tempting to just lie about your employment to your car insurance company, but you shouldn't. If you don't have the right insurance and you do get into an accident, you could end up having your claim denied. On top of that, you could even have your insurance policy revoked if the company finds out that you were using your car for more than just personal reasons.
This also could result in consequences from your food delivery platform as well. Although it does cost extra upfront to pay for business insurance, it can save you money in the long run. Even the most careful drivers can get into accidents, and having the right insurance helps keep you safe and save you money.
Where can I get food delivery insurance in New York?
You have a few different options when it comes to food delivery insurance. More and more insurance companies are starting to offer this type of insurance, especially as food delivery has become a very popular side hustle during the pandemic.
Food Delivery Apps
It's important to note that many food delivery apps do offer some coverage to protect their drivers. However, you shouldn't rely entirely on the insurance provided by these platforms, as they are intended to be supplementary instead of used as the main insurance policy.
For example, Postmates does provide additional liability coverage, which can cover costs if you're in an accident that involves a third party. However, you will need to have your own insurance policy to cover damages to your own vehicle, as well as medical costs. Essentially, if you hit someone else, Postmates will cover medical bills and property insurance that you are held liable for, but you'll need to file a claim with your own insurance company for your own damages. Because of this, it helps to have collision and comprehensive coverage for your food delivery vehicle, even if it isn't required.
DoorDash and Uber Eats have similar policies to Postmates. Caviar offers slightly more coverage, as they provide accident insurance to their drivers. This means the company will cover their medical costs if they are picking up or dropping off an order. However, drivers will still need to have their own insurance to cover potential property damage.
Rideshare Policies
There are now several insurers that offer insurance specifically for food delivery, rideshare, and other gig economy activities. However, this coverage isn't available in every state yet. Right now, State Farm is the only insurer that offers this type of insurance in New York. They offer rideshare coverage for drivers who pick up passengers, but they also offer a less expensive business use add-on for delivery drivers. If you're interested in this type of coverage from State Farm, you'll need to contact an agent for more details.
There are many other companies that offer rideshare and delivery insurance in other states, including GEICO, Allstate, Farmers, USAA, and Progressive. With more people turning to the gig economy for income this year, insurers have been racing to expand their coverage to new states. However, New York state has unique car insurance laws that make it more difficult for them to offer rideshare coverage there.
New York is a no-fault state, which means that you are required to carry no-fault insurance in addition to traditional property insurance. If you are in an accident that results in bodily injury, your insurance company will pay for the damages as opposed to the other party's insurance company.
It's unclear exactly why many companies do not provide rideshare insurance in New York. However, it's possible that stricter no-fault laws could have something to do with the lack of coverage. Since there aren't many options for rideshare coverage in New York, you may need to opt for commercial car insurance instead.
Commercial Car Insurance
Most major car insurance companies offer some form of commercial car insurance in New York. This will provide the extra coverage you need as a delivery driver, especially if you're working full time. Commercial policies can range widely in price and can offer very different features depending on which provider you're working with. To find the right commercial policy for your needs, get quotes from several different companies to see who can offer you the best pricing. You may also want to consider talking with an independent insurance agent – they can help you assess your needs as a delivery driver and find the policy that makes the most sense for your vehicle.
How can I get affordable food delivery insurance in New York?
The price of rideshare or commercial insurance will vary depending on factors like your vehicle, your driving history, and the amount you drive. If you are only doing food delivery part-time and have a clean driving record, rideshare insurance might only add $20 per month to your policy. However, there are still little things you can do to save money.
When signing up for any car insurance policy, it's always important to ask about discounts. Most major car insurance companies have a long list of discounts available, but they might not make them readily available. You might be pleasantly surprised by the discounts you qualify for. Raising your deductible is another easy way to save money on your insurance. You'll have to pay more upfront if you do file a claim, but you could potentially save a huge amount in monthly premiums over time.
Driving for a food delivery app like Postmates, Uber Eats, or Doordash can be a great way to make some extra money. However, it's very important to make sure you have the appropriate insurance coverage. If you don't have the right policy for delivery or other commercial ventures, you could end up getting in trouble with your insurer, and you might not have the coverage you need in an emergency.