What Insurance Do Amazon Delivery Drivers Need in New York?
Last Updated on July 7, 2021
Over the past few years, Amazon has established itself as an essential product marketplace and delivery service. Customers all over the world can order a huge range of products directly to their doorstep in a very short amount of time. Amazon delivery services were in particularly high demand during the pandemic, but this demand is likely to continue even as the pandemic comes to a close.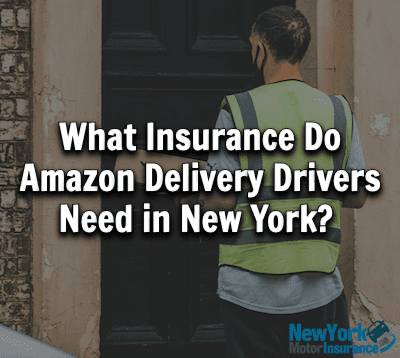 Because Amazon products have been in such high demand, there has been a huge need for reliable Amazon delivery drivers, especially in dense areas like New York. However, if you're starting a career as an Amazon delivery driver, it's important to make sure you have the right insurance. You'll be driving very frequently, and it's crucial to make sure you are protected financially and legally in the event of an emergency.
In this article, we'll talk about the insurance you'll need as an Amazon delivery driver in New York, as well as tips for finding the right insurance policy.
Which Amazon jobs require your own insurance?
Not every Amazon delivery job will require you to get your own car insurance. Full-time Amazon delivery drivers do not use their own vehicles and therefore do not need to have their own insurance outside of the job.
However, Amazon Flex drivers use their own cars to deliver packages on a flexible schedule. In this situation, drivers reserve a block of deliveries ahead of time and get paid based on how much work they complete. These drivers often complete deliveries for Amazon Fresh, the company's grocery delivery service, or Amazon Prime Now, which is the company's 2-hour rush delivery service. Because these jobs require you to use your own vehicle, they also require you to have your own insurance.
What kind of insurance do you need to drive for Amazon in New York?
For both safety and liability reasons, you need a reliable car insurance policy in order to drive for Amazon. New York requires that you have both personal and commercial car insurance coverage in order to work for Amazon Flex. New York state requirements for Amazon drivers are stricter than they are in other states.
In terms of personal car insurance, New York has stricter requirements than many other states. They require drivers to have $50,000 per person and $100,000 per accident in bodily liability coverage as a delivery driver. You'll also need at least $10,000 in property damage coverage. You'll typically need to find a policy that is designed specifically for delivery and rideshare drivers. In New York, you will also need a commercial car insurance policy on top of your personal car insurance policy.
Amazon also provides its own car insurance for drivers who are using their own cars for deliveries. This is called Amazon Flex insurance. You can't use this insurance on its own, but it does provide supplemental coverage on top of your personal insurance without an additional cost. Amazon Flex coverage provides up to $1 million in liability coverage for damage to a third party, as well as $50,000 in coverage for your vehicle. In order to get the coverage for your own vehicle, your personal policy needs to have comprehensive and collision coverage.
This policy also comes with coverage if you're in an accident with an uninsured or underinsured motorist, with up to $1 million in damages if you are in an accident in this situation. It's important to note that if you get into an accident on the clock and are found at fault, you'll need to pay a $1,000 deductible in order to access your Amazon Flex coverage. Amazon Flex insurance also won't cover any other passengers in your vehicle if you get into an accident, which is why it's so important to have personal coverage as well. Your Amazon Flex policy only works when you're on the clock – you can't use it for personal accidents.
How can I find insurance for delivery drivers?
Your Amazon Flex policy will start automatically when you start driving for them. However, you'll need to find your own personal and commercial insurance policy that fits New York state's requirements. There are many insurance companies that have started offering policies specifically for Amazon Flex drivers and other gig workers.
It can be tempting to try to hide your delivery driving from your insurance company in order to get a more affordable policy, but you shouldn't do this. If you get caught driving for Amazon without the proper insurance, you could end up suffering legal consequences for insurance fraud. This could result in you losing your car insurance or even having your license suspended. Once you've had your car insurance canceled, it can be very difficult to find an affordable new policy. You could also end up paying a fine or suffering other legal consequences.
The best way to find an affordable insurance policy for Amazon delivery driving is to get quotes from several different companies and price compare. Since every insurance company has its own pricing structure, and you might be surprised by how much the cost can vary between providers. Be sure to let them know that you are shopping around – this will entice them to give you the best price possible to win you as a customer. You should also ask to see a full list of discounts – you might be surprised by how many you qualify for.
Final thoughts on Amazon Flex Insurance

Driving for Amazon Flex can be an easy way to make money on your own time. However, it's very important to make sure you have the right insurance if you're going to do so. In New York state, you'll need both a personal and commercial insurance policy in addition to the supplemental insurance that Amazon Flex provides. Luckily, many car insurance companies have started offering policies specifically designed for delivery drivers.