Will Your Car Insurance Pay for a Locksmith?
Last Updated on October 3, 2021
Getting locked out of your car can be a very stressful situation. If you have lost your keys and need to access your vehicle right away, hiring a locksmith is the logical solution. However, hiring a locksmith can be quite pricey. Some car insurance companies will reimburse you for locksmith services, but it's not a guarantee. Here's what you need to know about car insurance coverage and locksmith services in New York.
When Would I Need a Locksmith for My Car?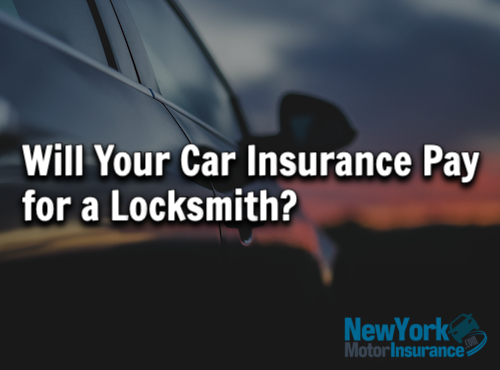 There are a few situations where you may need to call a locksmith for your car. One of the most common situations is accidentally locking your keys in your car without an extra copy. You also might need to call a locksmith if you have lost your keys, or if you suspect that someone might have stolen them. Finally, you might need a locksmith to help you change your keys if your car was broken into or damaged in some way. If an unwanted third party has access to your keys, a locksmith can help you change the locks and keep your car safe.
What Type of Insurance Pays for Locksmith Services?
A standard car insurance policy won't necessarily cover locksmith services. For this, you'll usually need to pay for a roadside assistance policy. Some car insurance companies make this available to everyone, but in some cases, you'll need to have collision and comprehensive coverage already in place in order to purchase roadside assistance.
Roadside assistance coverage is usually marketed as an add-on for car insurance policies, although it is sometimes designed as a policy that you'll need to purchase separately from your insurance. There are some credit card companies, cell phone providers, and other organizations that offer roadside assistance without offering car insurance. The cost of roadside assistance can vary, but it is typically quite affordable – there are many insurers that offer it for less than $30 per month.
In addition to locksmith coverage, roadside assistance usually covers other helpful services. These typically include towing, tire changes, fuel delivery, winching, and more. Roadside assistance policies have limits on how often you can use each service and how much the company will cover.
What Types of Locksmith Services Are Covered?
Each roadside assistance policy is different, but you can expect to see some limits regarding what is and isn't covered. For example, there may be a limit to how much money the company will reimburse you for a locksmith. The average locksmith service can cost well over $100, and this is usually built into your roadside assistance policy. However, if you have a particularly complex lock problem, your locksmith bill might be higher and exceed your reimbursement limits. In this case, you'd have to pay the remainder of the balance on your own.
Your policy may also have limits on how many times you can use a locksmith's services in a year. For example, they may only cover up to three locksmith services per year. If you need to use a locksmith more often than is allotted in your coverage, you will have to cover the cost yourself. Finally, some roadside assistance policies may require you to go to a specific locksmith or choose from a list of approved providers. When signing up for a roadside assistance policy, be sure to check their requirements and ensure they fit your needs.
How Can I Get a Roadside Assistance Policy?
Roadside assistance policies are fairly accessible, and they can give you the peace of mind you need when you're out on the road. They're particularly helpful for people who drive frequently or who take long road trips. If you don't already have a roadside assistance policy, now is a good time to start shopping for one.
Start by checking with your car insurance company to see what roadside assistance coverage they offer. This is often the easiest and most affordable way to get locksmith coverage. You may be able to get roadside assistance as an add-on for just a few extra dollars each month. Outside of your car insurance company, you may also want to consider organizations like AAA, which offer very comprehensive roadside assistance policies. These might be slightly more expensive, but you'll typically get more comprehensive coverage.
Roadside Assistance Locksmith Service Comparison Chart
| Company Name | Cost | Locksmith Services? |
| --- | --- | --- |
| AAA Plus | $52/$92/$129 | Services up to $100 |
| Allstate Towing and Labor Cost | $125 per occurrence | Yes |
| Farmers Towing and Road Service | $23.20/year | Yes |
| GEICO Emergency Road Service Coverage | $15.60/year | Limit up to $100 |
| Progressive Roadside Assistance | $16/year | Yes |
| State Farm Emergency Road Service | $4.56/year | Yes |
| Urgent.ly | No annual fee; paid per incident | $75 |
Additionally, some car manufacturers will provide basic roadside assistance coverage when you purchase a vehicle. These roadside assistance plans may or may not include locksmith coverage, so be sure to check with your manufacturer. Finally, your credit card company or cell phone company may offer roadside assistance as a perk. Verizon and AT&T both offer emergency assistance with certain plans, and some Visa credit cards offer this perk as well.
How Do I Find a Locksmith?
If you're locked out of your car, you'll need to find a locksmith as soon as possible. However, you won't want to compromise on quality. Look online for local locksmith companies, and be sure to check their reviews on Yelp, Google Reviews, and the Better Business Bureau. Before hiring, make sure to get an estimate and confirm that they will provide you with a written invoice. A written invoice is essential because you'll need it to confirm the expense with your roadside assistance company later on.
If you can, try to find a go-to locksmith and keep their information saved on your phone before an emergency happens. That way, you can call them right away when you have a problem, instead of having to spend extra time searching. It may also help to ask for recommendations from friends, family, and coworkers who live near you to see which locksmiths they have had good experiences with.
While locksmith services can be expensive, it is fairly easy to get coverage for them. So many insurance companies offer roadside assistance coverage with locksmith services for an affordable price. Getting roadside assistance can help you feel more confident and at ease while taking road trips or just commuting around your city.