What Are the Best Roadside Assistance Services in NY State?
Last Updated on April 17, 2021
Roadside assistance is something every driver should have and know how to use. If you were to break down in an area where there isn't much around, things could get dangerous quickly, particularly if it's very hot or freezing outside. A roadside assistance service will tow your car to a mechanic so that you can get back on your way as soon as possible. When deciding on a roadside assistance plan, you want to make sure you are getting the best possible value for money. Here are the best roadside assistance options in NY State.
1. AAA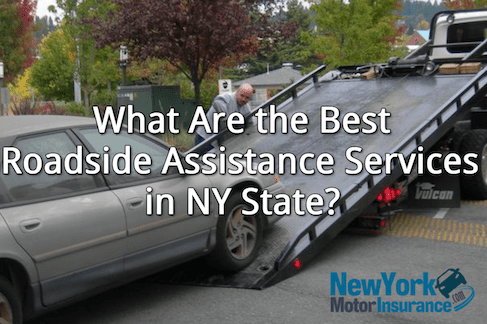 AAA is one of the most widely known options for roadside assistance services. They offer extensive coverage throughout the United States and Canada, including New York. Their basic plan is one of the most affordable options out there, at only $56 annually, and gets you free towing for five miles to a mechanic, anytime you need it. If you live in an urban area, this is a great deal. They also offer up to $50 reimbursement for locksmith services if you get locked out of your car. If you frequently make longer road trips in rural areas, you might want to opt for their premium plan, which gets you a whopping 200 miles of free towing annually and costs $119 per year. AAA's roadside assistance is available 24 hours per day, and they also offer several basic services like emergency refuels, battery jump starts, tire changes, and more.
2. Allstate Motor Club
Even if you don't use Allstate for your auto insurance, you can sign up for the Allstate Motor Club, which is their roadside assistance service. The plan costs $96 per year for your first year, or $8 per month, and gets you extensive benefits. If you're looking for true value for money, this is an excellent option. They have 24-hour roadside assistance, and you get $100 worth of towing reimbursement for up to three rescues per year, as well as tire changes, jump starts, fuel delivery, and lockouts. You also qualify for up to $750 in trip interruption, which will essentially cover the cost of food and lodging if you get stuck and need to stay somewhere overnight. Members can also get discounts on certain services around the country, like rental cars, flights, hotels, car repair, local businesses, and more.
3. Urgent.ly
This is an app-based service that takes a new approach to roadside assistance. They are available in New York state and refer to themselves as 'the Uber of roadside assistance.' On the app, you will be able to see where your service provider is and how soon they will arrive. While the services are available through the app for convenience, you can also call for service if this is something you are more comfortable with. They are very familiar with the unique challenges of driving in New York and pride themselves on getting assistance to you very quickly. Their membership costs approximately $70 per year, and there are discounts available for your first year. It gives you access to a 10-mile tow, as well as a jump start, tire change, lockout assistance, or fuel delivery if you need it. They also will cover the cost of an Uber ride up to $20 with your tow, a $100 key replacement, and $750 in trip interruption benefits. You can also request roadside assistance without being a member, which costs $75 for car services and $99 for a tow of up to 10 miles. While this seems pricey, it's much more affordable than paying for non-membership roadside assistance from other services.
4. Good Sam
Another popular roadside assistance service nationwide is Good Sam. They are particularly popular among RV owners because of the many RV services they offer in some of their packages. Coverage with Good Sam typically starts at around $80 a year, including RV coverage, but they often have sales where you can get a better deal. One of the things that makes Good Sam stand out is that they offer unlimited distance towing to a service center. For many people, this is a huge advantage, because other companies only offer coverage up to a certain number of miles. They also offer all of the roadside assistance services you would expect, like tire changes, jump starts, emergency fuel, and locksmith coverage. Good Sam even offers $1200 in trip interruption coverage, which is far more than most plans offer. While Good Sam it a bit more expensive than many of the other roadside assistance plans out there, it is also a more comprehensive plan.