Does My Car Insurance Cover Towing?
Last Updated on April 16, 2021
No matter how well you plan your trip, there's always a chance an unwelcome surprise will come up along the way. One thing that can put a significant damper on your journey is having your car break down while you're driving. In most cases, the only way out of this situation is to get a tow truck, but they can be very pricey. You might wonder if your car insurance will pay for towing services – here's what you need to know.
Towing Coverage Options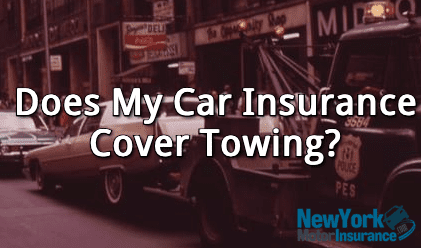 Some car insurance companies do offer towing coverage. However, the stipulations of towing coverage vary widely among insurance companies. In most cases, if you want towing coverage included in your policy, you will need to specify this to your insurance agent when applying. Adding towing coverage to your policy will increase your premiums, so you'll need to decide if this is something that makes sense for you financially. Many insurance providers handle towing via reimbursement, which means that you will have to pay for the towing yourself, submit the receipts to the insurance company, and then they will pay you back. However, some insurance companies offer more comprehensive roadside assistance services as part of their policies. This means that you can call the insurance company directly and they will dispatch a tow truck to you. You don't need to worry about making any payments for the towing as long as you are paying for the policy.
It's worth noting that even if your insurance company doesn't offer towing coverage, they will likely still pay for the cost of a tow truck if you get in an accident. This is because towing your car to a repair shop is considered part of the necessary expense to get a repair. If you have comprehensive insurance and your vehicle is vandalized or damaged as part of a natural disaster, towing will be covered if your car is inoperable. The cost of the towing is typically added to your deductible in these cases, so if you have a high deductible, there's usually still a chance you will have to pay for it.
Roadside Assistance Options
If your insurance company does not offer towing coverage, you may want to consider getting roadside assistance coverage from a company like AAA. Roadside assistance policies will cover towing up to a certain distance or monetary amount, usually enough to get your car to a repair shop if necessary. They will also bring you emergency fuel if you run out, give your car a jump start if your battery dies, help you change a tire, and provide locksmith services if you accidentally lock yourself out of your vehicle. A basic roadside assistance membership is usually just a few dollars a month and can give you real peace of mind as you drive. Membership in roadside assistance programs sometimes comes with discounts for things like car repair, hotels, and local businesses. Some mobile phone providers will offer affordable roadside assistance as a perk for their customers as well. It's worth checking to see if your cell phone provider has this option as an add-on.
Roadside Assistance Apps
If your insurance company doesn't cover towing and you don't want to spend money on a roadside assistance membership, you may want to look into apps that offer these services. Several roadside assistance apps have hit the market recently, like Urgent.ly and Honk. With these apps, you can get on-demand towing and other services through the app at affordable prices. They use the 'Uber' model to partner with local providers, connecting them efficiently with customers in need.
Stay Prepared While Driving
Even if you don't drive often or far, it's important to stay prepared just in case your car does break down. Save the phone number of a roadside assistance company or towing company you trust, so you can contact them quickly if something does happen. You should also make sure that you are somewhat familiar with the areas you are traveling in. Look at directions ahead of time and get an idea of what's around in terms of gas stations and other important places you could stop for help. If you rely on GPS once you get in the car, you could find yourself stranded.
It's also important to make sure your car is always stocked with a few essentials, just in case. You should have some non-perishable snacks and water in the back of your vehicle, in case you have to wait a long time for a tow truck and get hungry. You should also make sure you have a warm blanket in case you get stranded in a cold area. Some other very important items you should always have are a first aid kit, flashlight, and a basic tool kit. You never know when you might need these essentials.