Is Erie Insurance Good for New York Drivers?
Last Updated on October 22, 2021
Auto insurance in New York is very different than in other states. Many auto insurance companies don't do business in New York for this reason.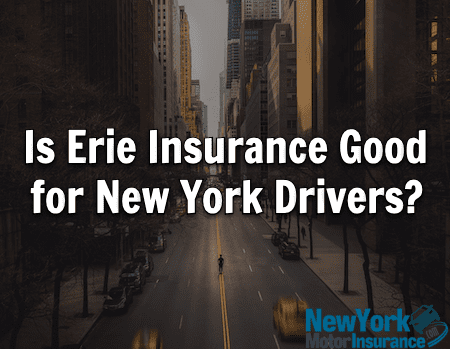 One company that does business in New York is Erie Insurance, but is Erie Insurance good for New York drivers?
Absolutely! Erie Insurance is an excellent company for New York drivers. With a long history of superb customer service and extra benefits. Most New York drivers will be happy with Erie Insurance for their auto insurance company.
What Is Erie Insurance?
Erie Insurance was founded in 1925 by H.O. Hirt and O.G. Crawford and began business in New York in 1995. Mr. Hirt and Mr. Crawford wanted to create an insurance company where customer satisfaction and service were important. Customer satisfaction and service were so crucial that they would take collect calls from their customers to ensure their needs were met.
Founded in Pennsylvania, Erie Insurance serves 12 states, including New York. They currently have over 5.8 million policies for auto, home, and business customers. Their life insurance policies number quite a bit less with 339,000.
Erie Insurance is a Fortune 500 company with more than 5,300 employees at the home and field offices. It also has more than 12,400 independent insurance agents.
Award-Winning
Erie Insurance has received numerous awards and recognition for its excellent customer service. In the 2020 U.S. Auto Insurance Satisfaction Survey, J.D. Power rated Erie above-average.
When it comes to the company's financial strength, AM Best rates Erie as Superior because of its reliability to pay out claims. Erie has excellent financial health.
Finally, because of Erie's excellent customer service, they receive fewer complaints than average in 2019, according to the National Association of Insurance Commissioners.
What Does Erie Provide New Yorkers?
Besides excellent customer service, Erie Insurance provides New Yorkers thorough auto insurance and other bonuses. When you purchase auto insurance through Erie, you will receive dozens of extra features attached to your policy at no additional cost. Along with the extra features, you get a customizable auto policy to fit your needs. Finally, you get discounts to help keep your rates low.
"Xtra Protection Features"
As mentioned earlier, Erie offers extra features with your auto insurance policy. A few of these extras include travel insurance, pet insurance, lock insurance, and personal belongings insurance.
The travel insurance Erie offers takes effect when you get stranded due to an issue with your car. Erie will pay up to $75/per person for travel expenses such as a hotel room or food while your vehicle is repaired.
Many dogs love riding in cars. Erie cares and wants to protect your animal. If your dog or cat is injured in an accident while traveling in your vehicle, they will cover vet treatments up to $500 per pet.
Imagine you have the baby in one hand and your purse in the other. You forgot you threw the keys down on the seat to get the baby out of the car seat, and you slam the door. Your keys are now locked in the car. Erie will reimburse you up to $75 when you call a locksmith to retrieve your keys.
The last Xtra Protection Feature Erie Insurance offers its policyholders is personal belongings insurance. Erie will cover the cost of belongings destroyed in a car accident if they are not already covered by insurance. Golf clubs, new tv, champagne glasses for the wedding, whatever it may be, Erie will cover up to $350 to replace your damaged personal belongings.
Discounts Offered to New Yorkers
To help keep New Yorkers' rates low, Erie provides several discounts. The first discount they offer is First Accident Forgiveness. If you've ever wanted a second chance with your auto insurance company, this is it. Erie will forgive your first accident. This means you won't be surcharged the first time you are at-fault in a vehicle accident.
First Accident Forgiveness is only available to Erie customers who have had a policy for more than three years.
The next discount offered by Erie is the Diminishing Deductible. Erie will decrease your deductible for each consecutive year that you don't file a claim against your auto insurance. In New York, your comprehensive deductible could diminish by a maximum of $50, and your collision deductible could reduce by a maximum of $100.
Are you going on an extended vacation? Erie provides a vehicle storage discount for New Yorkers, storing their vehicle for more than 90 days.
Offering a discount for safety features is the next discount Erie offers its policyholders. These safety features include factory-installed airbags and anti-lock brakes. Not only will you save money but have these safety features could save your life.
Paying your insurance premium in one lump sum will also keep your insurance rates low. Erie provides a discount when you make one annual payment instead of installments.
One of the most challenging and expensive times in a parent's life is when their teenager starts to drive. Erie offers discounts to young drivers, including the Youthful Longevity Discount, which gives unmarried young drivers credit for good driving under an Erie policy when they open their policy.
Erie also offers a Student Away From Home discount for kids attending school away from home and will not be driving the family car while they are at school.
Final Word on Erie Insurance

As a New Yorker, Erie Insurance is an excellent option for auto insurance coverage. Erie provides additional benefits and discounts to help keep customers satisfied and help keep rates low.
Although Erie Insurance is relatively new in New York, Erie has superior customer service and claims satisfaction. It is financially secure and a well-trusted company.
Do you want to get a quote from Erie Insurance to see if it is the right auto insurance company for you? Scroll to the top of the page and insert your zip code to get started. Let us help you find the cheapest, most flexible coverage today!