All About the "Student Away from Home" Discount
Last Updated on April 1, 2022
Your son or daughter just graduated from high school, and they are ready to go off to college. Between the cost of tuition and the cost of a car, you are probably feeling pretty stressed. You are not alone. If you are like every other young adult parent, you are looking for as many discounts as possible on your car insurance. Some insurance companies offer dozens of college student discounts, whereas other companies offer less than a dozen.
One discount that parents look into for their teenage drivers is a "Student Away from Home," or "Distant Student," discount. Car insurance companies offer the "Student Away from Home" discount to help parents whose child is away at college.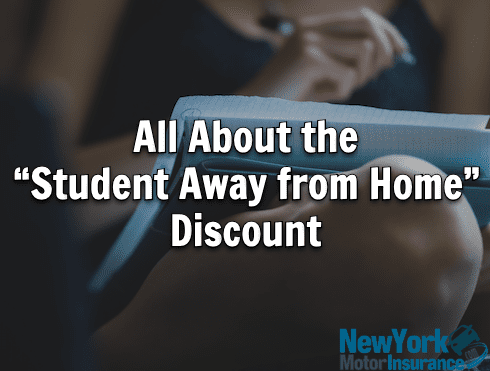 Insurance Options for Student Drivers
Insuring teenage drivers can be quite expensive. Drivers under the age of 25 get more speeding tickets and get into more accidents. They are easily distracted and are less experienced. They are costly because they are considered high risk. High-risk drivers tend to file claims more often. Filing multiple claims increases drivers' premiums. Insurance companies offer discounts for student drivers.
Removing Child from Your Policy
If you have a child going away to college, there are several options to help lower your insurance rates. First, you can remove your child from your policy. Most companies give this option if the college is more than 100 miles away from home.
Occasional Discount
Another option is to change your student driver's status to an occasional discount. Changing the driver from the primary driver to an occasional driver could lower your insurance rates. In order to qualify as an occasional driver, they must drive the car for 25% of the car's annual mileage.
If you choose to remove your student driver from your policy or change his/her status, it is essential to change or add your driver back when they are home for long periods, such as summer or winter break.
Good Student Discount
Suppose your student driver gets good grades while at school; you could qualify for the "Good Student" discount. The discount is generally for students who make a B average, and the discount can be from 5% to 25%.
"Student Away from Home" Discount
Another typical discount for student drivers is the "Student Away from Home" or "Distant Student" discount. This discount has numerous requirements but could save parents 15% to 30% off their car insurance rates.
How to Qualify for the "Student Away from Home" Discount
Each insurance company is different, and their requirements to qualify for the "Student Away from Home" discount vary. One of the standard requirements is that distance from the parental home. In order to be eligible, the school must be a significant distance. Some companies say this considerable distance is more than 100 miles. If you go to school out of state, you should qualify for this discount.
Another qualification is that you live in the same town as the college or university you are attending. Whether you live in a dorm, an apartment, or a house, doesn't usually matter but living in the same town as your college or university is essential to receive the discount.
Sometimes, there is an age requirement that goes with this discount. Some companies, like Progressive, restrict this discount to students younger than 22 years old. Other companies don't have an age restriction.
Another common requirement for this discount is that the student does not own a vehicle. The vehicle must be owned by one of the parents and only driven by the student when they are at home. The car must not go to school with you in order to qualify for the "Student Away from Home" discount.
There is a wide range of colleges and universities in New York that don't allow students to have vehicles at the school, making the "Student Away from Home" discount even better. Many colleges and universities don't allow first-year students to have a car at school because they want them to acclimate to school living. Most of the schools in New York City have these restrictions. Students can use public transportation or walk to class when attending school in New York City.
Companies Who Offer "Student Away From Home" Discounts
In New York, several companies offer a "Student Away from Home" discount. On top of this discount, they offer other college students discounts, making them some of the best insurers for New York college students.
Being the second-largest auto insurance provider in New York, Allstate offers a resident student discount for students attending school at least 100 miles away from home. In order to receive this discount, they must also have good grades and complete the teenSmart driver education program.
New to the car insurance industry in New York is Amica Mutual, which offers a discount to students attending school away from home. They also offer discounts from defensive driving classes, accident prevention classes, and new driver's training.
State Farm also offers the "Student Away at School" Discount. The student must be under the age of 25 and go to school more than 100 miles away from home. They are only allowed to drive the vehicle during school vacations and holidays. The automobile may not go to school with the student. It must remain at school.
These are just three of the several companies that offer "Student Away from Home" discounts to New York residents.
Final Word on the "Student Away from Home" Discount
We know sending a child away to college can be overwhelming, especially when you begin to look at expenses. One way to reduce your costs is by lowering your auto insurance rates. Looking for discounts like the "Student Away from Home" discount will help. Ask your insurance agent if they offer this discount. If they don't and you are looking for an auto insurance company that offers this discount, let us help. Scroll to the top of the page and enter your zip code to get started. We'd be happy to help.