What Insurance Do You Need for RV's in New York?
Last Updated on October 27, 2020
You're ready to get out of the hectic hustle and bustle of life in your new recreational vehicle, but you want to make sure you have the correct insurance before you head out. Keep reading below to learn all about RVs and the insurance coverage you need for your RV in New York State.
Types of RVs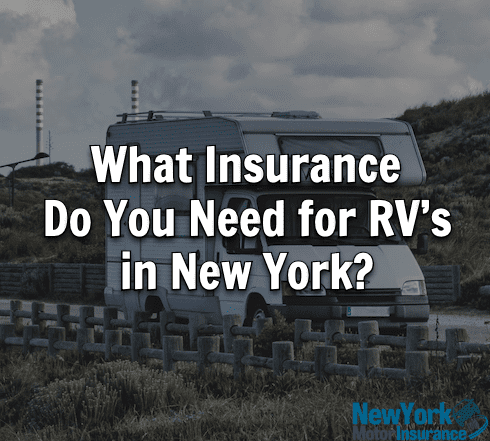 Before we jump into what kind of insurance you need for your RV, it is essential to know which type of RV you have because insurance will differ for each style. There are three different classes of RVs, Class A, B, and C.
Motor Home
A motor home is a vehicle. It has an engine and is attached to a chassis or van. Motor homes fall into Class A and B and have temporary living quarters. Because it is a driven vehicle, you will have to register the RV as a vehicle and obtain a license plate. You must have insurance to do this.
Campers and Travel Trailers
There's a wider variety of camper and travel trailers on the market. They are a class C RV. These are trailers and are not self-propelled. They will not have an engine, and you will need another vehicle to move them. Campers and travel trailers have sleeping quarters and may even have a kitchen, bathroom, and shower. The deluxe version of a camper/travel trailer is a fifth wheel.
Insurance for RVs in New York
RV insurance would protect you if you were to have an accident while driving or pulling your RV. Much like auto insurance, you agree to pay the premium, and the insurance company will pay your losses.
Like auto insurance, RV insurance covers property, liability, and medical coverage. There are generally six components of an RV insurance but not all required. In the state of New York, the terms of an RV insurance policy lasts for six months or a year.
When is RV Insurance Required?
RV insurance is required when your RV is a Class A or B-a motorhome. You will also need an RV insurance policy if you do not own your RV and make payments on it. This is true for all three classes of RVs including motor homes and camper/travel trailers. You will also need RV insurance when you rent an RV; however, this can generally be purchased through the rental company.
What Type of Insurance Do I Need?
Depending on which type of RV you have determines what RV insurance you need.
Motorhomes
If you are insuring your Class A or B motorhome, you will need to carry at least the state minimum coverage in the state of New York to be legally insured. The state minimum coverage is required because it is a driven vehicle. These are the current state minimums in New York:
Coverage Type
Minimum Amount Required
Bodily Injury Liability (BIL)
$25,000 per person in a single accident
$50,000 for all persons in a single accident
Bodily Injury Liability (BIL) Death Benefits
$50,000 per person killed in a single accident
$100,000 for all persons killed in a single accident
Property Damage Liability (PDL)
$10,000 for a single accident
Personal Injury Protection (PIP) / No-Fault Insurance
$50,000 for a single accident
Uninsured Motorist Bodily Injury (UMBI)
$25,000 per person
$50,000 for a single accident
Collision
Not Required
Comprehensive
Not Required
Like other auto insurance policies, you have additional optional coverage when purchasing an RV policy available. This optional coverage includes supplemental uninsured motorist coverage, comprehensive coverage, collision coverage, higher limits on state minimum coverage elements, towing and labor costs, and more.
Specifically, for RV insurance policies, you have total loss replacement, full-timers coverage, personal items replacement, attached accessories coverage, emergency expenses, and campsite/vacation liability options to add to your RV policy.
Camper/Travel Trailer
A camper/travel trailer doesn't need to be insured in the state of New York. The only exception to this is if you are making payments on it with a financial institution. If you are making payments, you will need to check with the financial institution to see their mandatory insurance coverage requirements.
There is optional coverage available for camper/travel trailers, however. Much like motorhomes, you can purchase total loss replacement, towing and roadside assistance, full-timers coverage, and replacement cost coverage for personal belongings. Strictly for travel trailers/campers, insurance companies offer unique options for fifth-wheelers and a particular program for stationary travel trailers.
Insurance Discounts
Many insurance companies offer discounts for various elements of insurance. Purchasing and insuring an RV may allow you to qualify for one of these discounts. Possible discounts include homeownership, age, credit score, marriage status, memberships or club associations, multiple insurance policies, and previous driving experience with motor homes, campers, or travel trailers.
Why Do You Need RV Insurance?
There are multiple reasons why you need RV insurance. As we mentioned above, you need RV insurance when you have a motorhome because it would be illegal to drive without it.
Another reason you need RV insurance is to protect yourself financially. RVs are not cheap when you are in an accident; it can be costly. It will cost to replace it as well as medical costs if people are injured. People could sue you if you are or your RV is liable for injuries caused.
Having RV insurance is vital to protect you and your family financially.
Questions to Ask
When you begin researching insurance for your RV, there are several questions you should ask your insurance company. First, you should ask what the insurance company's level of service and ability to pay claims is.
As mentioned before, you should ask your insurance company if there are discounts available. The RV is expensive, and insuring it can be as well. Getting deals will help offset the new expense of RV insurance.
Another question to ask your insurance company is, what is the procedure for filing and settling a claim? For example, who do you call and where do you file a claim at? You will also want to know what happens after you file a claim and the length of time it may take to have the claim processed.
Owning an RV and traveling seeing new sites is a great time to make memories. Let us help you find the RV insurance to get you the best coverage at the best price. Scroll to the top of the page and type in your zip code to compare insurance quotes for RV's in New York.
Outside Sources
https://www.insurancetrak.com/rv-insurance-new-york
https://bradleyagency.com/motorHome.htm