Does Your Credit Score Affect Car Insurance Premiums in NY?
Last Updated on September 14, 2021
Auto insurance companies use metrics to help them determine the eligibility score of each applicant. Their calculations determine the premiums you pay as a result. The factors that have the biggest impact on your premiums are your age, gender, zip code, driving record, and credit score.
If you're a NY-based driver on the market for auto insurance, your credit score can lower or increase your premium payments. Most insurance companies won't ask for your credit score when you inquire about a quote, but almost every insurer will analyze your credit score before they approve you as a policyholder.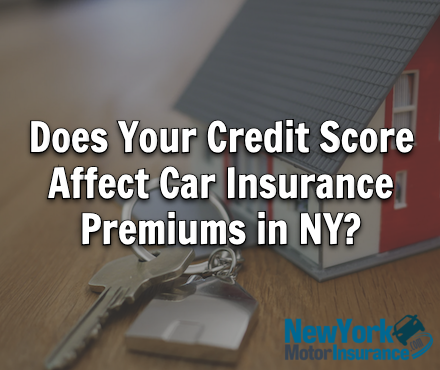 So, does your credit score affect car insurance premiums in NY? The simple answer is YES. Single drivers with bad credit can pay between $1,000 and $1,500 more on auto insurance than drivers with good credit.
The average yearly premium for drivers in the State of New York with an excellent credit score is $1,400. For drivers with a good credit score, it's $1,600. Drivers with a bad credit score pay $3,100 on average. On the national level, the difference between an excellent score and a good score varies between $70 and $500 per year.
Note: Certain companies rely less on credit score metrics than others. Among the top 5 largest insurance companies, GEICO relies on credit data the least, followed by Progressive, State Farm, Allstate, and then Farmers Insurance which relies on credit data the most.
Auto Insurers Use Their Own Credit Scores
Insurance companies in NY use different scores and rating factors to determine whether an applicant poses a significant risk to the insurance company.
The standard credit score agencies most Americans are familiar with are Equifax, Experian, and TransUnion. Auto insurance companies not only analyze your credit history from these agencies, but they also use their own credit-based insurance metrics to determine your score before they give you coverage. This is called a credit-based insurance score, or simply an insurance score.
Auto insurance credit measurement focuses not only on whether or not the policyholder will pay his bills on time but also on the likelihood he is going to file an insurance claim within the next year. If the policyholder is likely to file a claim, this costs the insurance company money and they are categorized as high-risk.
Keep in mind the insurance company can't solely determine your premiums based on your credit score. This is prohibited by law. The credit score is only one of many factors that go into calculating your premium payments.
In NY, auto insurance companies are legally permitted to use your credit score to determine premiums. In fact, nearly all states in the United States are allowed to use credit scores to determine your rates. The only exceptions are California, Massachusetts, Michigan, and Hawaii. In those states, even if your credit is very bad, it won't make a difference in your premium payments.
Top Factors Used to Determine Premium Rates in NY
In the State of New York, the insurance company is allowed to look at a dozen different factors before they determine an insurance policy's rate. Factors such as where you live can have an impact on the premium payments. The following is the main criteria NY-based auto insurers consider for all applicants:
Driving Record. The single most important factor that determines your premiums is your past driving record. If you've been involved in accidents or had DUI charges, you'll pay a lot more than the average NY resident.
Residence. Where you live can have a significant impact on your premiums because certain areas have higher vandalism and theft reports than others. If you live in a low crime rate area, you can expect to pay lower premiums.
Demographics. The insurance company will factor in your age, gender, and marital status as a basic guideline. Age is the most important factor and certain "high risk" drivers such as drivers under the age of 25 will pay significantly higher premiums. Likewise, drivers over the age of 70 will also pay higher premiums.
Vehicle Value. The insurance company will adjust your premium payments based on the value of the vehicle. Certain vehicles cost more to insure than others. If you drive an expensive new SUV, you'll pay more than a person driving a second-hand car.
Optional Upgrades. The premiums can also be increased if you purchase other add-ons such as comprehensive coverage (which is mandatory for all leases). 92% of New Yorkers add comprehensive coverage on top of their liability insurance to protect the car from theft and other non-collision accidents. Likewise, you can increase the coverage limits on your existing policy for more protection in the event you cause an accident.
Discounts. In some cases, the premium payments can be impacted by the discounts you're eligible for. For instance, you could get discounts for parking the car in a garage. You could also get a discount if you combine your homeowner's insurance with your auto insurance coverage under the same company. Even renters insurance (common in NYC), can be bundled with auto insurance for a discount.
Always inquire about quotes from different insurance companies. The rates you pay in NY can vary significantly and sometimes you'll pay hundreds of dollars more for the same coverage. If you have a DUI or a traffic accident on your record, analyze your options carefully to get savings.
How to Boost Credit Rating for Auto Insurance
The credit rating system an insurance company uses will be similar to other types of credit ratings used by banks and other financial institutions. You can improve your credit rating in many ways. The following are the best ways to improve your credit rating with auto insurance companies:
Pay bills on time. If you missed payments on your previous car insurance and have has bills sent to collections, this is recorded. Likewise, having your accounts sent to collectors or filing for bankruptcy decreases your score in all credit institutions. Make sure to always pay your bills on time to maintain a high credit score.
Pay off outstanding debts. If you have debts to pay off such as car or mortgage payments or you use a large portion of your credit limit available on the credit card, this can negatively impact your credit score. Try to keep a low credit card balance and pay your bills on time because this will boost your credit score and lower your interest payments.
Avoid filing claims. While not directly part of your credit-based insurance score, insurers use your score to determine how likely you will be to file a claim. Your claim history is stored on your CLUE report for easy viewing. If the auto insurer sees you've filed multiple claims on your previous car insurance, they will categorize you as a high-risk driver. If you have minor cosmetic damage to the car, pay for it out of pocket. Remember to only file claims for large accidents. This will boost your credibility with the company because they see you as a safe, low-risk driver.
Your credit score cannot be improved overnight. It may take years to turn a bad credit score into a good or excellent credit score, but as long as you focus on improving your finance and spending habits you should be able to improve your score within a few years.