Is State Farm Auto Insurance Good for New Yorkers?
Last Updated on April 1, 2022
For an insurance company to be a good auto insurance company, it must have vital customer service and sound policy options. One of the most important aspects of a good insurance company is annual premiums at low, reasonable rates.
State Farm Auto Insurance is a solid choice for New Yorkers. They are highly rated according to the J.D. Power and Associates survey and have low average annual premiums.
Why State Farm?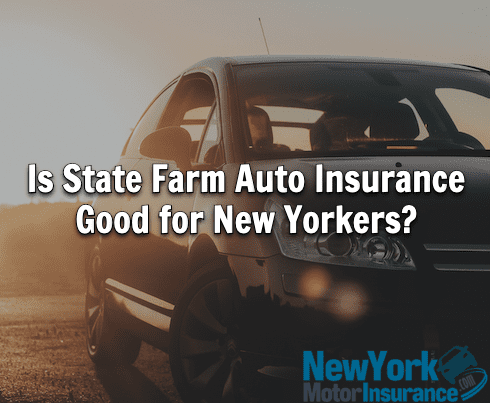 There are many reasons why New Yorkers should choose State Farm. State Farm Auto Insurance is the largest personal auto insurer in the country. It is one of the top auto insurance companies in the state of New York. If you want a well-known brand and consumer-friendly pricing, you can't go wrong with State Farm.
Customer Satisfaction
In the 2019 J.D. Power and Associates survey, customers rated State Farm's customer satisfaction a four out of five. They have fewer complaints than other auto insurance companies.
Low Premiums
State Farm is a reliable insurance provider that has an average auto insurance premium of $1,794. This is just $500 more than the cheapest auto insurance company.
State Farm Technology
Another reason State Farm is excellent for New Yorkers is its up-to-date technology. New Yorkers live a hectic life; having access to their insurance policy is essential. State Farm has a highly-rated mobile app with a 4.8 star average on the Apple Store. This app allows the policyholder to make payments, monitor claims, get ID cards, and much more.
Discounts
State Farm offers numerous discounts. Some of the discounts include safe-driver discounts and multi-vehicle discounts. For the Drive Safe & Save discount, the driver's mileage and "safe driving" are recorded using a telematics device. Safe driving includes smooth acceleration and smooth braking. If you drive safely enough, you can receive up to a 50% discount on your auto insurance.
Another discount offered by State Farm is the Steer Clear Driver Program. This program is for drivers under the age of 25. It is a driving training course designed as a refresher. You can access this course through an agent or mobile app. The driver will qualify for this discount once they complete the course and have no at-fault accidents or moving violations in the past three years.
Besides auto insurance, State Farm also offers homeowner's insurance, life insurance, health insurance, and small business insurance. If you are looking for another way to save money, consider bundling some of your other insurance policies with State Farm. This could save you almost 17%.
State Farm offers 11 other discounts to New Yorkers, which is one of the reasons why State Farm is an excellent choice for auto insurance.
Rental Car and Travel Expenses
One of the best features State Farm offers to policyholders is its rental car and travel expenses covered. It is preferable to other companies. State Farm will pay for a rental car if your car has to go to the shop for repairs if the repairs are due to a collision. If you are stranded away from home for more than 50 miles, this coverage will pay for meals, lodging, and transportation.
In order to qualify for this coverage, you must have comprehensive or collision coverage. This is not available to all states but is available in New York.
Rideshare Insurance
Another significant factor that makes State Farm excellent for New Yorkers is the Rideshare Insurance. This factor is especially beneficial to New Yorkers who drive for Uber or Lyft. The Rideshare Insurance allows the policyholder to hold one policy that will cover both personal and ridesharing coverage.
A Long History
State Farm has a long history of excellence in the automobile insurance industry. They have been around for almost 100 years, which means they are financially sound and can payout for a claim with no problems as long as policy requirements are met.
State Farm's Options
State Farm offers New Yorkers tons of options and coverage for their automobiles. If you are looking for the state minimum coverage, State Farm can cover you, but if you want more, this is where State Farm excels.
State Farm offers plenty of options and can help you find the right coverage. Whether you want collision insurance or comprehensive insurance, a quick questionnaire will help you find out what you need.
There are so many different life states and types of drivers, and State Farm covers them all. Whether you have teenage drivers or business travelers, State Farm will have a policy for you. This coverage is one of the many factors that makes State Farm an excellent auto insurance company for New Yorkers.
You will get personalized service from a State Farm agent. There are 19,000 agents nationwide. Claims are handled promptly and reliably. State Farm also offers 24/7 roadside assistance if needed.
Filing a Claim
One of the biggest headaches is working with insurance companies and filing claims. Whether it's health insurance, life insurance, or auto insurance, it is difficult to get a company to payout. This is not true with State Farm. If you need to file a claim on your auto insurance, simply go online and answer a few questions. Not comfortable going online? You can use the app or contact your agent to file the claim. State Farm has a five-star rating on filing a claim.
State Farm's straightforward claims center will allow you to file a claim or track a claim. You can chat with an insurance representative who will answer any questions you have. You can also get roadside assistance out to your location from the claims center.
Final Word About State Farm
If you are a New Yorker and are looking for a company that has stood the test of time and is highly-ranked, look no further than State Farm. They offer a dozen different discounts to help you get the lowest premium rate possible. Filing a claim is easy and painless.
Think State Farm is right for you? Contact your local State Farm agency today to see how they can help you meet your insurance needs.