Best Insurance Companies For Uber/Lyft Drivers in New York
Last Updated on September 27, 2020
As a rideshare driver, it's incredibly important that you have insurance to cover you in case of an accident. Since you're driving customers, you don't ever want to take the risk of not being covered if an incident were to happen. Both Uber and Lyft do provide their own insurance, but you need to have your own policy on top of that, just in case. Here's what you need to know about auto insurance as an Uber or Lyft driver in New York.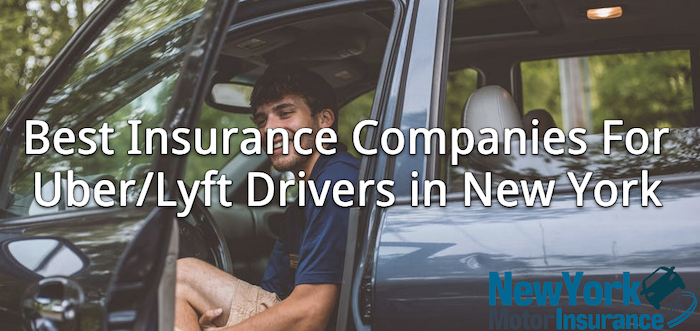 Uber and Lyft Company Coverage
Luckily, New York requires ridesharing companies to provide coverage for their drivers while they are working. The only exception to this is in New York City for drivers working through the Taxi and Limousine Commission, which provides their own insurance. It's important to understand how this coverage works while you are driving. Uber and Lyft offer very similar policies, where the amount of coverage offered depends on the phase of driving you are in. However, at the moment, Uber's policy for New York is more comprehensive.
When you aren't using the app, you will need to rely on your personal insurance coverage. However, when you turn on the app, you will start receiving coverage, even if you haven't accepted a ride yet. Lyft offers bodily injury and property damage coverage during this period of $50K per person or $100K per accident in bodily injury, and $25K in property damage. Uber goes further, offering $75K per person or $150K per accident in bodily injury, as well as $25K in property damage. Additionally, they offer $50K per person in personal injury coverage, and uninsured motorist coverage from $25K to $100K depending on the situation.
Once you accept a ride, the amount of coverage you get immediately goes up. With Lyft, this means you get up to $1 million in liability to cover bodily injury and property damage, as well as uninsured motorist coverage, of which the exact amount depends on your location. You also get comprehensive insurance with a $2,500 deductible. With Uber, once you accept a ride, you get auto liability up to $1.25 million, as well as personal injury coverage, uninsured motorist coverage, and comprehensive coverage with a $1,000 deductible.
Lyft allows you to rent a car through its Express Drive program if you don't have one. They do provide insurance for drivers using Express Drive, even when you are driving for personal use. They offer policies from Hertz and Avis, two of their rental car partners.
Top 5 Insurance Companies For Uber/Lyft Drivers
As a rideshare driver, there are times when you may need more comprehensive insurance than the rideshare company offers. Unfortunately, not all car insurance companies offer policies with enough coverage for rideshare. Here are the top 5 insurance companies to look at if you drive for Uber or Lyft.
Unfortunately, your options for rideshare coverage in New York are currently limited. However, it's important to keep checking back, as companies are expanding their rideshare coverage all the time. Be sure to let your insurance company know you want this coverage – if customers demand it, they will be more likely to add it to their product offerings.
Personal Auto Insurance
Even though Uber, Lyft, and a few traditional car insurance companies do provide insurance for rideshare drivers in New York, it's still important to have your own insurance policy, just in case. As a driver, you never want to take the risk that someone might get injured in your car (or cause damage to it), and not have the coverage to take care of it. When your car is your livelihood, it becomes a much more important asset.
There are many major insurance companies that offer policies for people working for rideshares. The key is that you have to purchase a policy specifically intended for ridesharing, not for typical personal use, or it could cause you problems later on if the insurance company finds out you were using your car for work.
Unfortunately, not all ridesharing policies are offered in every state. In fact, New York has very limited options when it comes to personal ridesharing coverage. Right now, the best option from a major insurance company is Allstate. They offer gap insurance coverage which is added on top of your regular car insurance to cover the risks of rideshare driving. This typically adds $15 to $20 on top of the policy you already have.
If you want to use another insurer, you will need to do some research. First, look at the cost of a commercial auto policy, and then compare it to what you will be making from working as a rideshare driver. If you can pay off the difference, then it may be worth it, as you will get more comprehensive coverage. However, it's also worth getting your insurer on the phone and asking them how they would respond in the event of you making a ridesharing claim. Some insurers will still pay out even if you are on a personal policy, particularly smaller local insurance companies, so it's worth asking.
Ridesharing is a good way to make extra money, but before you get started, it's absolutely essential that you understand the costs involved. Compare all of your insurance options before making a final decision, and be sure to ask questions if you are confused about anything. Many insurers will be willing to offer you deals if you make it clear you're shopping around – even as a rideshare driver, they still want your business.