Is Nationwide Good for New York Drivers?
Last Updated on April 18, 2021
As a driver in New York, you have so many options when it comes to your car insurance. It can be difficult to determine which one is going to be the best fit for your needs. Nationwide is a popular car insurance company that you might be considering if you live in New York. In this article, we'll talk about Nationwide's policy offerings, pricing, and customer service to help you decide if it's a good fit for your needs.
About Nationwide Insurance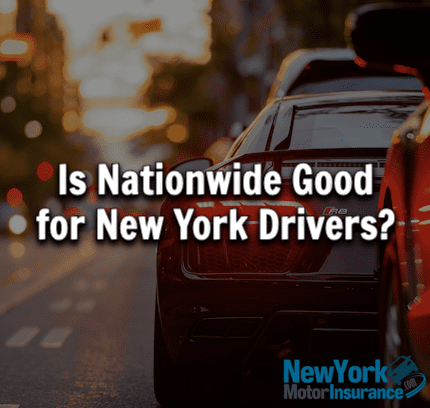 As the name implies, Nationwide is a group of insurance providers that offer coverage for drivers throughout the US, including those in New York State. They are based in Columbus, Ohio, and have seven other regional headquarters throughout the US. This company began as a division of the Ohio Farm Bureau, which wanted to provide affordable car insurance to rural drivers. They were called Farm Bureau Mutual and eventually expanded into several other states. They changed their name to Nationwide in 1955. They now operate out of One Nationwide Plaza in Columbus and provide car insurance coverage for every state except for Alaska, Louisiana, and Massachusetts.
Nationwide Rates and Pricing in New York
Car insurance pricing tends to vary depending on a number of personal factors, as well as the cost of insurance in your state. For example, companies will look at your driving record, the type of car you have, and other demographic factors to see how much of a risk you are to insure. Unfortunately, rates in New York State, especially in the New York City area, are known to be some of the highest in the country. Rates in New York State are higher than other places in the country because it contains many dense urban areas with high volumes of traffic, which lead to a higher likelihood of accidents.
When it comes to affordability, Nationwide offers particularly low rates for drivers who have a good record. You can also get affordable coverage with them if you have accidents or tickets on your driving record, but there may be other insurers that can offer cheaper rates. Since insurance rates can vary widely depending on your own personal situation, it's always best to get quotes from many different insurance agencies to see who can offer you the best deal.
Nationwide Coverage Types
Nationwide offers a wide range of car insurance coverage and add-ons for drivers in New York State. All drivers will need to start with liability coverage, which is required by law. In New York State, you'll need both property damage and bodily injury liability, as well as personal injury protection. New York State also requires you to carry a no-fault insurance policy, which Nationwide provides. This essentially means that your own insurance company will pay for medical and other injury-related expenses, regardless of who is at fault.
There are also several optional coverage types that are popular among drivers because of the additional protection they provide. The optional coverage types that Nationwide provides include:
Nationwide has an excellent range of coverage and add-ons to choose from, so you can make sure you have the coverage you need on the road. They also have a range of discounts available in New York to help you save money. These include discounts for good driving records, good students, those who have taken a defensive driving course, those who have anti-theft devices, those who bundle their policies, and more.
Nationwide Customer Service
Nationwide gets generally good ratings for their customer service. They currently have an A+ rating from AM Best, which is very high. This means that you can trust them to pay their insurance claims regardless of the current economic climate. They have strong customer satisfaction ratings from several independent organizations, and their complaint ratings are lower than average as well.
This company also has some unique customer service perks for good drivers. For example, they have a vanishing deductible program that will lower your deductible over time if you maintain a clean record. They also have an accident forgiveness program.
Nationwide makes it fairly easy to manage your insurance online. You can get a quote online in just a few minutes by answering some questions about your car. The website also makes it very easy to pay your bills and review your policy online. Additionally, they have a mobile app for iOS and Android. If you need to start a claim, you can do so through the app or by calling their customer service number. The app also makes it easy to call for roadside assistance.
Final Word on Nationwide in New York
Overall, Nationwide seems to be a good choice for drivers in New York State. They offer a great selection of car insurance coverage, and their policies are affordable for many drivers. They also have unique discounts and customer service benefits to help customers save money, and it's easy to manage your policy online. When looking for car insurance in New York, it's always important to get quotes from many different insurance companies. You might be surprised by who can offer you the best deal.