What Is Accidental Death and Dismemberment Insurance?
Last Updated on October 10, 2019
Accidental death and dismemberment insurance is a unique form of insurance offered by both life insurance and car insurance companies. It has some of the features of both car and life insurance but is intended to supplement them instead of replacing them. Many companies offer this type of insurance as a work benefit, and you can also opt to purchase it if you want even more coverage. Here's what you need to know about accidental death and dismemberment insurance.
What does AD&D insurance cover?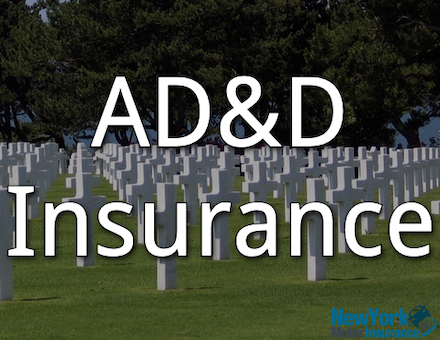 AD&D policies are intended to provide support in the event of an accident. Just like a life insurance policy, an AD&D policy has a face value. If you die as a result of an accident, your beneficiaries will receive 100 percent of the policy's value. If you are injured in an accident, you will receive a certain percentage of the policy to cover your medical expenses. The more serious your injury is, the more money you will receive. Keep in mind that not all injuries are covered under this type of insurance. Generally, you'll only receive a payout if you lose a finger, limb, or other essential body parts, lose your ability to speak, hear, or see, or if you end up paralyzed or in a coma. Injuries that don't fit in these categories generally will not receive a payout for accidental death and dismemberment. AD&D insurance also won't cover accidents that happen while skydiving, car racing, or doing any other physically risky activity. They also won't cover deaths that occur as a result of drinking or using drugs.
How much does it cost?
Like most other types of insurance, the cost of AD&D insurance varies depending on your situation and the company you are purchasing from. You may receive this type of insurance as a benefit through your work, in which case you'll pay very little or nothing for this policy. If you're paying for the policy on your own, it typically costs less than $100 per year. The larger your death benefit, the more expensive your yearly premium is going to be. If you live a risky lifestyle, the insurance company may opt to charge you a higher premium for that as well. If you have a car or life insurance policy through the same insurer, they may give you a discount on AD&D insurance for bundling it with your other policies. 
Do I need AD&D insurance?
There are some instances in which it is helpful to have AD&D insurance. The most prominent example of this is if you don't have adequate health insurance coverage. AD&D insurance is relatively affordable and will cover you in the event of a serious emergency. It also can supplement your existing insurance policies well, giving you even more coverage.
However, in most cases, you probably won't need AD&D insurance. Life insurance, car insurance, and health insurance are all much more effective at covering you in an accident and will give you much better value for your money overall. If you have the opportunity to get AD&D insurance at an affordable price, you may want to add it to your policy. However, if you don't already have AD&D insurance, you probably don't need to go out of your way to get it.
What are my alternatives to AD&D insurance?
There are plenty of viable alternatives to AD&D insurance. In many cases, it makes more sense to get robust car and life insurance policies that will cover you in the event of a severe accident. Having a reliable health insurance policy can remove the need for AD&D insurance as well. A good life insurance policy will ensure that your loved ones are supported and your remaining expenses are paid in the event of your death. A good car insurance policy will pay for your medical expenses and property damage in the event of an accident.
When you're shopping for car or life insurance, there's a good chance your insurance agent will offer you accidental death and dismemberment coverage as well. It's important to know what it is and really assess the value that it offers before you commit to adding it to your policy. While the extra value that AD&D insurance offers can be handy in some cases, it's usually not necessary, particularly if you're on a budget when shopping for insurance. If you do decide to invest in AD&D insurance, always read the fine print before committing. Although this type of insurance is affordable, there are very few claims that actually pay out, and insurance companies put many restrictions on when you can and can't use the policy. It's usually more useful to invest your money in an excellent life insurance policy and car insurance policy.