How Can Loyal Customers Save on Car Insurance?
Last Updated on December 9, 2019
Car insurance companies offer a number of discounts to their customers to encourage them to keep coming back. If you've been with the same car insurance company for years, you can actually get a discount just for being loyal and continuing to purchase insurance from them. These discounts can really add up over time and save you a lot of money on car insurance. Many of the most popular car insurance companies in New York have loyalty discounts for their customers. Here's what you should know about loyalty discounts and how they can help you save.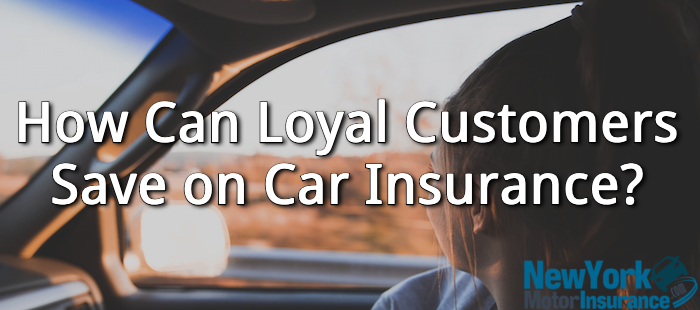 What Are "Loyalty Discounts"?
When you've been with the same car insurance company for a certain amount of time, they will give you a discount as a thank you for staying with them. The length of time that you need to stay with the company to earn the discount varies. In most cases, you'll need to be with them anywhere from three to five years. Some car insurance companies also offer discounts to new customers whose parents have been insured with them in the past. If you have a teen or young adult driver in the family, this type of discount is a great way to help them save money. Keep in mind that not every insurance company offers a loyalty discount, and some have stricter requirements to qualify than others.
How Much Can I Save with a Loyalty Discount?
Loyalty discounts aren't standard across insurers. Some are less than 5 percent, while others can be as high as 10 or 15 percent. When assessing the value of a loyalty discount, pay less attention to the percentage of the discount, and more attention to the dollar amount you're actually saving and the overall cost of your policy. A 15 percent loyalty discount might not be worth it if you can find a policy with a cheaper value somewhere else.
What Other Discounts Can I Earn on My Car Insurance?
Loyalty discounts are just one type of discount you can earn on your car insurance. There are many other discounts that you can apply to your policy to save even more money. Stacking these discounts together is one of the best ways to get the overall cost of your payments down. Here are some of the many discounts that are commonly offered by car insurance companies. These are very easy to combine with a loyalty discount.
When Should You Switch Car Insurance?
There are many instances where it makes sense to stay with the same insurance company for a long time. If you're happy with the coverage and you enjoy significant discounts with them, then there's no reason to switch. However, you shouldn't stay with a car insurance company just because they are offering you a loyalty discount. Many car insurance companies will offer loyalty discounts just as they are raising car insurance rates in an effort to distract customers from the fact that their rates are going up. Even if you're happy with your insurance company, you should be getting quotes from other companies every year or two. Car insurance rates are constantly shifting, and you might find that the cheapest company one year is more expensive the next year.
Being a loyal customer can help you save money on car insurance in many cases. Not only can you get a loyalty discount, but you can also get discounts for bundling or insuring multiple cars. However, you should always be prudent and check to make sure there aren't better options out there.