What is the New York Motor Vehicle Law Enforcement Fee?
Last Updated on June 27, 2022
If you live in New York, you are probably already used to the extra expenses that often come along with living in such a densely populated area of the country. Since traffic is so congested in New York, many of these fees come in the form of higher insurance premiums. If you take a look at your car insurance bill, you may notice something called the Motor Vehicle Law Enforcement Fee. New York is the only state to charge this fee, and you may be wondering exactly what it is.
What is the Motor Vehicle Law Enforcement Fee?
The Motor Vehicle Law Enforcement Fee is a $5 fee that is tacked onto every car insurance bill in New York state. This fee goes from the insurance companies to the state government, which then distributes it to law enforcement agencies. The purpose of the fee is to cover the cost of police efforts to investigate auto theft and other car-related crimes. The fee is charged per car, not per policy, so if you have multiple cars on your policy, you may be charged more than one fee.
Why do we need this fee?
Many people wonder why this fee is necessary, particularly if other states don't have it. The necessity of this fee has actually been debated over the years, but it is an important part of keeping the New York police force working to the best of its ability. The fee generates over $50 million dollars in revenue, which is then distributed to local police forces throughout the state. While a large percentage of the revenue does go towards automobile-related crimes, the money is also used to fund general highway patrol services. A large percentage of the revenue also goes towards grants that the state awards to local law enforcement programs, which they can use as they see fit.
Is the fee required?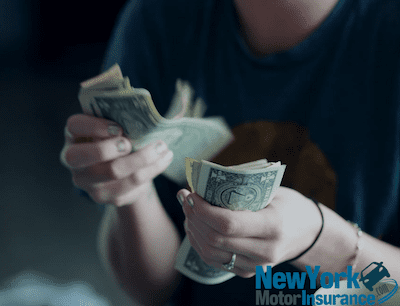 Car insurance companies are required to charge this fee for each car on their policies. The government leaves it up to insurance companies to charge and enforce these fees, so if you don't pay this fee, you could get in trouble with your insurance company. Insurance companies could face consequences from the state if they don't charge these fees, which is why they are motivated to charge them. The fee has changed over time, and the state periodically sends out reminders to insurance companies to make sure they are charging the fee. If you don't live in New York and believe you were charged this fee erroneously, or you were charged an incorrect amount for the fee, contact your insurance company to have it removed.
Before moving to New York, it's important to do your research on car insurance options there to see how they differ from your home state. Car insurance is very expensive in many parts of New York because of the high population density and congested roads. This leads to a much higher risk of car accidents and other issues, which is why insurance companies charge more. Each state also has its own unique fees, like the Motor Vehicle Law Enforcement Fee, so be aware that your bill may look very different once you move.
There are a few key ways that you can save money on car insurance, even in an expensive state like New York. Staying aware of your local driving rules and regulations can go a long way towards saving you money. These money-saving tips include:
Taking a New York state-approved driver safety class. These classes are typically run by the DMV or another approved organization and can be done in person or in an online session. They aren't particularly time-consuming, but they will give you a discount on your driver's insurance, so it's definitely worth doing.
Switching to a pay-per-mile insurance plan. Some insurance companies in New York are now offering insurance plans where you are only charged for the miles you drive. In New York, where public transportation is fairly comprehensive, many people find it easy to get around without driving, and just reserve their cars for special occasions. By switching to this type of policy and minimizing the amount of time you spend on the road, you could save hundreds of dollars each year.
Maintaining a clean driving record. Insurance companies like to reward drivers with good records with slightly lower premiums. This is because the insurance company considers you less of a risk than someone who has gotten into many accidents throughout the course of their life. Being a smart driver will not only keep you safer, but it will also save you money.
Shopping around. While you can't control government fees, you can control which insurance company you use. Don't be afraid to look around at different insurance companies to find a good deal.