Progressive Car Insurance in New York – Is Progressive Good for New Yorkers?
Last Updated on March 20, 2022
As a driver in New York, you know how important it is to have insurance. A good insurance policy gives you the peace of mind you need while driving in New York's notoriously difficult traffic. There are so many different insurance companies vying to have you as a customer, and it can be difficult to determine which one is going to offer the best value for you.
Progressive is a popular national insurer that is known for its low rates and comprehensive policies. While they generally have a good reputation, you may be wondering how their rates compare in New York State specifically. Here's what you need to know about Progressive's coverage in New York before you sign up.
About Progressive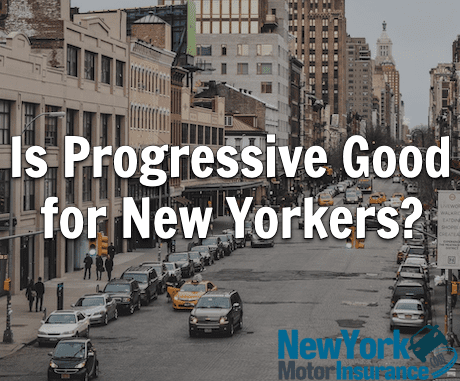 Progressive was founded in 1937 and is headquartered in Mayfield Village, Ohio. In the 1950s and '60s, they made a name for themselves by insuring drivers that other companies considered too risky. Over time, they've grown to become one of the largest car insurance companies in the United States. They are known for their innovative, tech-savvy approach, as they were one of the first major insurance companies to have a fully functioning website and later was one of the first to introduce a smartphone app as well. In addition to traditional car insurance, they insure other types of vehicles, such as RVs and motorcycles. They also provide commercial auto insurance and home insurance.
Progressive's Rates in New York
Progressive states that their average monthly rate for a car insurance policy in New York is $223. While this is relatively high when compared with Progressive's rates in other states, it is about average for car insurance in New York, which tends to have higher insurance rates than other states.
NerdWallet has compared car insurance rates in New York among some of the largest insurance providers, including Progressive. In general, Progressive's pricing is about average – they aren't the cheapest in any category, but they also aren't the most expensive. Progressive offers good deals for certain types of drivers. They're one of the most affordable options for drivers who have had a DUI or other traffic violations. They're also one of the cheapest options for married couples.
Progressive Car Insurance Coverage in New York
Progressive is known for having a broad range of coverage types available, and this is no different for New Yorkers. New Yorkers will be able to purchase all of their minimum bodily injury and property damage liability coverage, as well as personal injury protection and uninsured motorist coverage, which are also required by New York State.
Progressive also offers Optional Basic Economic Loss, or OBEL coverage, which is only available in New York State. This option provides up to $25,000 in extra coverage for things like lost wages, medical bills, and other rehabilitation costs if you were to get into an accident. They also offer collision coverage, which pays for your expenses if you collide with another car or object while driving, regardless of who was at fault. Progressive's collision coverage is unique in that they also offer protection for your pet if they are in the car with you. They also offer comprehensive coverage, which pays for things like vandalism, weather damage, fire damage, and more.
Progressive Policy Options and Add-ons
With a Progressive policy, you'll also have the option for add-ons, such as their roadside assistance program. Progressive's roadside assistance program provides towing and other services if your car breaks down while you're traveling. Other add-on benefits you can choose from include gap insurance, insurance for custom parts, and rental car reimbursement. You can customize your car insurance policy to suit your needs. Progressive also has a unique deductible savings bank feature. For every six months that you go without a claim, Progressive will subtract $50 from your deductible.
Progressive also offers plenty of discounts for their drivers, including a VIN discount, which is available for all drivers in New York. This means you'll save money if you have your VIN etched onto your windshield. Some of the other discounts they offer include multi-car discounts, good student discounts, homeowner discounts, and automatic payment discounts. They also have the Snapshot program, which uses your smartphone to track your driving and reward you for good driving behaviors.
Progressive Customer Service
If you prefer to purchase and manage your car insurance entirely online and don't want to have to go through an agent, Progressive could be the right insurer for you. They have an excellent website where you can get a quote and compare your rates to competitors. Once you've found the right policy for your needs, it's easy to purchase it. You can then manage your payments and other aspects of your policy using their website or their mobile app. You can easily file claims online or through the app, and you can check the status of the claim at any time while it is processing. However, you can also make a claim over the phone if you prefer.
Progressive also gets good ratings from organizations that rate the financial stability of insurance companies. They have an A+ rating from AM Best, as well as strong ratings from Standard & Poor and Moody's. This means that they are very financially stable and can be trusted to pay their claims regardless of the current financial climate. Progressive also has a lower than average complaint ratio, which means they get fewer complaints when compared to the number of policies they write.
Final Word on Progressive Auto Insurance in New York
Overall, Progressive is a good choice for New York drivers. They have plenty of unique coverage options that let you customize your policy to suit your needs. While they aren't the absolute cheapest on the market, their policies are generally affordable, particularly for drivers who have already had DUIs. Progressive is also a particularly good choice for tech-savvy drivers who like to manage their policies online.