Auto Insurance for High School Students in New York
Last Updated on November 27, 2020
Throughout your child's high school years, things get more expensive, and they develop more independence. Learner permits are obtained, followed by a junior license, and finally, an unrestricted driver's license.
As this process unfolds, it is essential to be ready for the next step. Your high school student will need auto insurance. Most commonly, when high school students need to be insured, they are added to their parent's policy.
Best Auto Insurance Providers for High School Students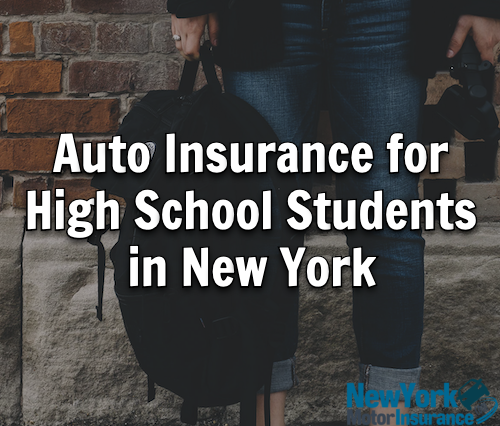 Adding your high school student to your already existing auto insurance policy is less expensive than their own policy. On average, adding a high school student driver to your policy will save $2,080 compared to having an independent insurance policy for your young driver. Below are the top three auto insurance companies for adding a teenage driver to a parent policy. These numbers held the same constants. A 50-year-old parent driver with a clean record and an 18-year-old driver with a clean record.
GEICO
GEICO is the cheapest auto insurance company in terms of adding your child to your policy. Keep all the same constants, GEICO charges hundreds of dollars less than the next provider. In the example, Geico increased $1,477 when adding a high school student driver.
USAA
The next company that is the cheapest to add a teenage driver is USAA. USAA's auto insurance policies increased by an average of $2,385 when adding a teenage driver. USAA is not open to all New York citizens, however. In order to qualify for USAA insurance, you must be current or former military.
New York Central Mutual Fire
The difference between USAA and New York Central Mutual Fire is less than $200. NYCMF increased by $2,541 when adding a high school student to the parent policy. However, the overall cost of insurance for the 50-year-old parent and 18-year-old student was $5,312, almost $2,000 more than USAA and GEICO.
When Do I Add My High School Student to My Insurance?
Most high school students get their learner's permits at 16. At this point, you should add your child to your insurance policy, but it is not a necessity if you have an insurance policy that covers any driver of your vehicle. When your high school student gets their unrestricted license is when they need to be insured. This is when you should add them to your auto insurance. This added driver will make your rates increase.
Ways to Lower Auto Insurance Rates for High School Students
Young drivers have higher rates than other drivers. When drivers are between the ages of 16 and 25, they will pay more than experienced drivers. This expensive rate is due to young drivers driving recklessly, being distracted, having moving violations, and filing more insurance claims.
Finding affordable insurance rates can be difficult but not impossible. One way to reduce rates for high school students is to choose an appropriate vehicle and only have the coverage you need. Discounts are also available for high school students in the state of New York but may vary with insurance companies.
Appropriate Vehicle
Let's be honest, your high school student wants the coolest car in the parking lot but is that appropriate when it comes to expensive insurance? The newer the vehicle, the more expensive the car insurance will be.
Choose a cheaper vehicle for your inexperienced driver. A vehicle that you already own or one that can be purchased outright is appropriate as you can carry liability insurance and do not have to carry full coverage. If the vehicle your high school student is driving isn't worth much, it will be less to insure.
A simple four-door sedan with basic features is an appropriate vehicle for a high school student. It will give them cushion space if in an accident. It is easy to drive and not difficult to maneuver. Also, steer clear of bright colors like bright red and yellow as they seem to draw more attention from police officers which could mean more tickets.
Coverage
New York has a state minimum requirement for coverage; however, there are possibilities for additional coverage, such as accident forgiveness. You may consider this additional coverage as it will keep your rates from going up if your high school student driver is in an accident. The terms and conditions vary for accident forgiveness, so be sure to check with your insurer.
While you are conversing about accident forgiveness with your insurer, ask them if there is any coverage you have that you don't need for your high school student driver. For example, if they drive an older car, they may not need collision and comprehensive coverage.
Discounts
Having a new, teenage driver will be costly no matter what you do; however, qualifying for some discounts can help reduce the sting of this added expense.
Good Student Discount
A majority of insurance companies offer a good student discount. High school students will qualify for this discount if they have a GPA of 3.0, which is a B average. The company will require proof, such as a report card or transcript. This proof will be required every six months to qualify. The average savings amount is $239, with males saving more than females because males cost more.
Safe Driving Discount
Students may qualify for a safe driving discount if they take a professional driving course. The safe driving discount is also called the defensive driver discount. This course would teach good driving habits and reduce the likelihood of receiving a ticket or getting into an accident. Check with your insurance company to see what requirements it has for a safe driving or defensive driving discount.
NewYorkMotorInsurance.com knows it is a special time when a high school student gets their driver's license and the freedom they begin to explore. Let us help you find the right insurance policy to decrease the stress on you, the parent. Scroll to the top of the page and enter your zip code to get started.
Outside Sources:
https://www.thezebra.com/auto-insurance/driver/other-factors/car-insurance-students/
https://www.valuepenguin.com/best-car-insurance-teen-drivers#NewYork