Will Insurance Pay If You Hit a Parked Car?
Last Updated on March 10, 2020
Accidents happen, even to the best of drivers, and you want your insurance to have your back if you need to pay for damage to their car. Hitting a parked car is something that can be stressful, and you might find yourself wondering what to do and if your insurance will cover the damages. Here's what you need to know about car insurance and hitting a parked car.
What is and isn't covered when you hit a parked car?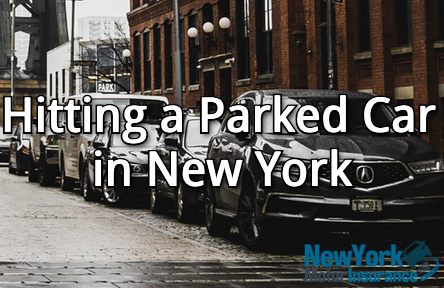 Everyone is required to have basic liability insurance, and this applies to collisions where you hit a parked car. Typically, liability insurance will cover damages to the other person's car, but not to your car if you are at fault. If you want coverage for damages to your car in an at-fault accident, you would normally need to get collision insurance. However, New York is a no-fault state, so accidents are treated differently here than they are in most other parts of the country. The insurance company does not try to determine who is at fault in an accident. They will cover your damages regardless of who is at fault. It does not matter whether you are in the street or a parking lot – the accident is treated the same. However, to qualify for no-fault benefits, you will need to reach the no-fault threshold for damages. Essentially, you need to have a severe injury to be eligible for no-fault benefits; otherwise, you'll need to pay out of pocket or use collision/comprehensive insurance.
What should you do if you get into an accident with a parked car?
Getting into any kind of accident can be jarring, even if you hit a parked car. You may find yourself at a loss for what to do, but try to stay calm and rational. You should never leave if you hit a parked car. This is considered a hit and run and can get you into serious legal trouble. If the owner of the car is around, you will need to get out and exchange contact details and insurance information. If they aren't around, you are required to leave a note on their dashboard. In the note, you need to include your name, address, and contact information, insurance information if you have it handy, and a brief explanation of the accident. Keep your account of the accident short, because if you add too much detail, it could be used against you later on.
The next thing to do is look for witnesses and get their contact information. You may need their help later on to settle any claim disputes. You should also take photos of any damages to either car, as well as the license plate number of the car you hit. This will give your insurance company a more accurate idea of what happened during the accident. Then, you will need to call your insurance company to see what your next steps are. If you are going to file a no-fault claim, you only have 30 days to do so, so you should start this process as soon as possible. Regardless of what type of claim you need to make, your insurance agent will give you direction regarding the next steps you need to take.
Will my rates go up after a parking lot accident?
A common misconception about no-fault states is that accidents there can't hurt your record or affect your rates. Although you can still file for insurance coverage if you were the one that hit the parked car, the insurance company and police will still make a determination about who was at fault for the accident. If you were determined to have caused the accident, which is almost always the case when you hit a parked car, it will still go on your record. This typically will affect your insurance rates. If the accident was minor and didn't cause much damage, you may not see a rate increase. Otherwise, you should be prepared for a significant increase in your premium amounts – as much as 40 percent in the worst cases. If you want to lower your premiums to offset this increase, talk to your insurance agent about raising your deductible. You can also take a driver's safety course to earn a discount on your insurance. In the period following an accident, be cautious when driving to avoid any more incidents. If you file multiple claims in a row, this will drive your rates up even further, or in extreme cases, cause your insurer to drop you as a customer.
Hitting a parked car is stressful, but luckily, New York state does have no-fault insurance to cover serious injuries. If this happens to you, be sure to report it right away to mitigate the damage as soon as possible.