How Much Does Car Insurance Cost for a 17-Year-Old in New York?
Last Updated on October 16, 2021
For many teenagers, learning how to drive is a big step towards independence and adulthood. In New York, 17 is the age when many people get their first senior license. However, car insurance can be more expensive for young drivers. Here's how much it costs to get car insurance as a 17-year-old in New York – and how you can save money on it.
Average Car Insurance Costs in New York for 17-Year-Olds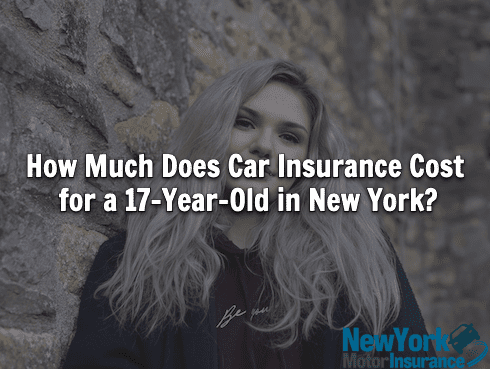 The cost of car insurance varies depending on a number of factors. However, the average cost of car insurance in New York for a 17-year-old ranges from $4,000 to $5,500 per year. This cost is for 17-year-olds who choose to purchase their own auto insurance policy. 17-year-olds who remain on their parents' policy will see much cheaper rates.
'It's important to note that 17-year-old drivers who have a permit and are driving under their parents' supervision do not need their own insurance.
Car insurance companies determine their pricing for each individual driver based on a variety of criteria. They will assess your likelihood of getting into a car accident and price your insurance accordingly. Some of the factors that affect the cost of car insurance for a 17-year-old include:
Location: Where you live in the state of New York is going to affect how much you pay for car insurance. For example, drivers that live in New York City and the surrounding suburbs are going to pay more than those that live in small towns.
Vehicle type: The make and model of your vehicle can also affect the cost of your car insurance as a teen. Some vehicles are considered safer than others, which makes them cheaper to insure. Vehicles with safety features like anti-lock brakes will often qualify for discounts.
Mileage: The amount of wear and tear you put on your car can also affect the overall cost of car insurance. The more often you drive, the more likely you are to need car repairs. Because of this, 17-year-olds who drive daily are going to pay more than their counterparts who only drive occasionally.
Why Is Car Insurance So Expensive for 17-Year-Olds?
Car insurance for young drivers is much more expensive than it is for drivers that have more experience, for a few reasons. Young drivers are statistically much more likely to get into accidents due to their lack of experience. They're also much more likely to participate in reckless driving behaviors. Car insurance companies compensate for this added risk by charging more for teenagers' car insurance.
Another factor that affects the cost of car insurance is your credit score and your history of car insurance payments. Most 17-year-olds don't have an established credit history yet, which can also make car insurance more expensive. As drivers get older, building up a good driving history and a history of on-time payments, their cost of car insurance will go down.
How to Lower the Cost of Car Insurance as a Young Driver
Car insurance for young drivers can be very expensive, but there are some things that you can do to lower the cost burden. One of the best things to do is talk to your insurance company about which discounts you may already qualify for.
Many insurance companies offer a good student discount for new drivers with strong grade point averages. This discount usually is given to students who maintain a "B," or a 3.0 GPA. To qualify, you might need to present your report card or transcript to the insurance company for verification.
If the 17-year-old driver stays on a joint insurance policy with their parents, there are some other potential discounts that could help with savings. Most insurance companies offer a discount for insuring more than one vehicle on the plan. Some will even offer a loyalty discount for teen drivers who opt to use the same insurance company as their parents.
There are also small things you can do to keep the cost of your insurance down over time. In New York, all drivers can qualify for a discount on their car insurance by taking a defensive driving course. These courses typically only take a few hours to complete, and young drivers will learn key skills that can help them stay safe on the road. Another easy way to save money on your insurance is to install safety devices on your car, such as anti-lock brakes, anti-theft devices, and more.
In a pinch, young drivers can also lower their monthly insurance costs by raising their deductible. However, this means that you'll pay more out of pocket if you do get into an accident and need to file a claim. Teen drivers should only consider this option if they feel confident in their safe driving skills.
Finally, you should make sure to get quotes from several different car insurance companies and compare your options. Every car insurance company has its own formula for calculating premiums, so your costs may vary widely depending on which company you ultimately purchase your policy from. If you're really struggling to find the right policy for your budget, consider talking to an independent car insurance agent. They may be able to help you find a regional car insurance company that can offer a better deal.
Getting Your License in New York
New York has slightly different rules for getting your license as a young driver, particularly for those who live in New York City. Drivers can apply for their learner's permit when they turn 16 years of age. This will allow you to drive while supervised by a licensed adult. After you have had the learner's permit for at least 6 months, you can apply for a junior driver's license, which allows you to drive alone but with some restrictions. These restrictions vary depending on where you live, but you typically will not be able to drive at night or on certain busy highways. At the age of 17, drivers can apply for a senior license, which allows them to drive fully independently.
Car insurance for 17-year-olds in New York can be on the pricey side, but it's important to make sure you have a policy you can trust. Car accidents can happen to anyone, but a trustworthy car insurance plan will protect you financially.