Can Military Personnel Get Auto Insurance Discounts?
Last Updated on November 8, 2020
Car insurance companies offer many different types of discounts for their customers to help them save money on their policies. Many of these discounts don't require you to do anything out of the ordinary, so you can save money on your car insurance just by being yourself. For example, many companies offer car insurance discounts to those who are members of the military. Here's what you need to know about military insurance discounts.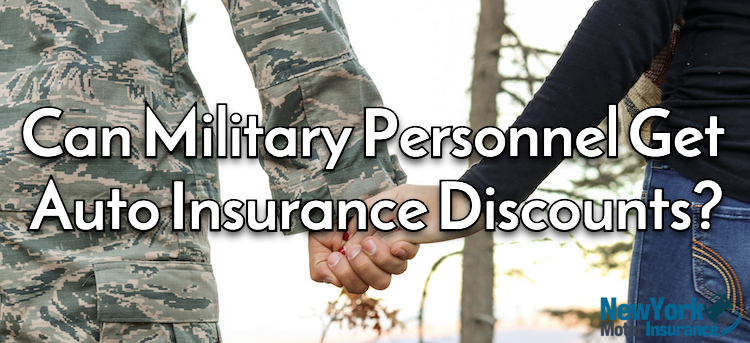 Why Do Companies Offer Military Discounts?
There are a few different reasons why car insurance companies offer discounts for members of the military. This goes beyond people who are currently on active duty – most companies will also offer discounts to veterans, and many will even offer discounts to their families as well. The first is because military members are often statistically less likely to file claims. Car insurance companies want to attract customers who aren't very likely to file claims and who are likely to make their payments on time.
Like many other businesses that offer military discounts, car insurance companies want to respect the members of the military that have given so much to this country. Military members are also a large and tight-knit group. Developing a good reputation among members of the military is a great way to attract extra business.
How Much Can I Save With a Military Discount?
It's always worth asking your car insurance company to see if they offer a military discount on their policies. The amount that you can save will vary widely depending on the insurance company you are working with. Many companies will offer bigger discounts for veterans and active military members than they will for their families. The average military discount is anywhere between five and 15 percent but varies depending on your specific policy and coverage.
Best Car Insurance Companies for Military Members in New York
The best car insurance option for military members and their families in New York is USAA. This is the only car insurance company that caters exclusively to members of the military and their families. USAA's rates are far lower than the national average, so if you qualify for their insurance, you're already getting a great deal. Even if you're not a current member of the military, you may still qualify if you have a parent, grandparent, or sibling in the military, so it's worth asking for a quote. You may also qualify if you are in a service academy, even if you haven't yet enlisted.
On top of their already low rates, USAA also offers discounts to make policies even cheaper. For example, if you keep your car in a garage on a military base, you can save 15 percent on your policy. If you're deployed, you can save even more on your policy – up to 60 percent in many cases. USAA also offers a number of more traditional discounts, like discounts for good driving and discounts for good students.
There are other car insurance companies in New York that also offer discounts for military employees. GEICO is noted for having a particularly reliable military discount, as much as 15 percent. They also offer discounts to military members in emergency deployment. GEICO began as a car insurance company for government employees, and they still keep their ties to the military as well as various types of government contractors. GEICO is known for its affordable insurance policies which you can purchase online.
These are the two companies that offer the largest discounts for military members in New York. However, there are many other companies that may offer discounts as well. When signing up for your car insurance policy, it's always worth asking your agent what type of discounts are available to you. There are many other types of discounts you may qualify for that can help you save money. For example, many military members will qualify for a safe driving discount. If you don't have any accidents or other driving violations on your record, you can qualify for this highly sought after discount. Depending on the type of work you do with the military, you may also qualify for a low mileage discount. If you don't drive very often, you are less likely to get into an accident, so insurance companies will reward you with a discount. Some companies will also now offer mileage-based insurance programs, where you are only charged a flat rate based on the amount you actually drive. These types of programs use trackers to monitor your mileage and charge you a fair rate.
Tips for Choosing Car Insurance
USAA is a leading provider of car insurance for military members, and they are known for their very affordable policies. However, you should always get quotes from many different companies to see who can offer you the best value. It can be helpful to let car insurance companies know that you are shopping around – they will want to win your business, and they might be more likely to give you discounts as a result.
When choosing car insurance, it's important to look at the overall value of the policy and not just the premium price. It can be tempting to choose the cheapest policy that is available to you, but this might not give you the coverage you need if you get into a serious accident. The ideal car insurance policy is one that balances affordable pricing and good coverage. Sometimes it makes more sense to pay a few extra dollars per month for better coverage if you get into an accident.