Is USAA Auto Insurance Good for New Yorkers?
Last Updated on November 4, 2020
New York is one of the most expensive states to live in. Auto Insurance premiums can also be very expensive in New York, especially in Manhattan, Brooklyn, Queens, The Bronx, and Staten Island. Finding an insurance company that has low rates and offers multiple discounts is essential.
USAA is an auto insurance company that is great for New Yorkers. According to J.D. Power and Associates survey, USAA is one of the top five auto insurance companies in New York. It offers low rates and multiple discounts. It is a high ranking company that policyholders enjoy working with.
Why USAA?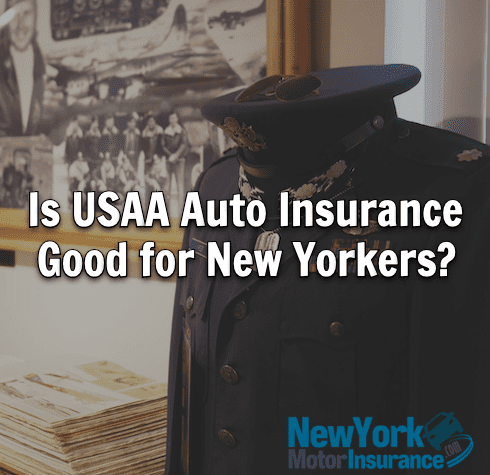 USAA is ranked number one in 2020 for the cheapest auto insurance in New York. On average, USAA's insurance costs $1,622 a year. Not only is USAA the most affordable auto insurance, but it is the best company to do business with.
USAA comes in quite a bit lower with its insurance rates. The next cheapest auto insurance company is GEICO. USAA is, on average, $200 less per year than GEICO. It is 47% less than the average cost of minimum coverage in New York.
There are multiple reasons USAA ranks as the number one auto insurance company in New York. One reason is that USAA receives perfect scores in user satisfaction and affordability. They have a five-star customer care rating. They process claims promptly, and 78% of their customers were extremely satisfied with recent claims. 62% of their customers say USAA's customer service is excellent. USAA is stable and dependable. If you file a claim, you can guarantee they will payout. USAA works hard to keep rates down for high-risk policyholders.
Have a DUI/DWI on your record? It is often stressful finding a company that will insure you and a company that won't charge outrageous rates. No worries, USAA will provide insurance for a person with a DWI for an average of $2,642 a year.
New York police officers can issue distracted driving tickets or speeding tickets. These tickets can affect your insurance rates. USAA is the cheapest auto insurance company in New York if you have these on your record. You can expect to pay $1,759 a year.
If you have a driving history that makes you high-risk, USAA will more than likely have the cheapest rates for you. There is only one problem; USSA has some restrictions.
USAA Restrictions
USAA is not available to every New Yorker. Unfortunately, USAA is only available to military and veteran families. Military groups that are eligible include active-duty, Guard or Reserve, veterans, cadets, and midshipmen. Spouses, ex-spouses, children, and step-children of USAA members are eligible for membership as well. Unfortunately, if you are eligible for USAA, you cannot "pass" membership to your parents or siblings.
USAA Features
USAA offers many features for auto insurance to New Yorkers. These features include discounts, bundling, a claims center, and easy access.
Discounts
USAA also doesn't offer all of their discounts to New Yorkers. For example, USAA does not provide the Driver Training discount, flexible payment options, accident forgiveness, or military installation. The military installation is when you house your vehicle in a garage on a military base.
However, USAA has recently opened up its New Vehicle discount to New Yorkers as well as their Good Student discount. There are many more discounts available to New Yorkers. To see what discounts are available, check with a USAA insurance agent.
Bundle and Save
USAA sells more than just auto insurance. They also provide life insurance, home insurance, renters insurance, personal property insurance, motorcycle, RV & boat insurance. Bundling with USAA can save you money. You could get 10% off your homeowner's or renter's insurance premium if you add auto insurance to it. You must have the homeowner's insurance first before you can receive this discount.
Claims Center
When an auto accident happens, your stress goes through the roof. USAA does what they can to make filing a claim easy and stress-free. They offer the Claims Center online. You can file auto claims with the click of a button online.
Need a tow, jump-start, tire change, or gas? You can also access roadside assistance from the Claims Center. If you pay for roadside assistance out of pocket and it is part of your USAA policy, you may be eligible for reimbursement.
If you have to repair or replace your shattered window or windshield, USAA gives you access to schedule a repair or replacement right from its website. If your policy includes reimbursement for a glass repair or replacement, you can do that from the Claims Center, too.
Easy Access
Another feature that USAA offers is easy access to all of your policy needs. New Yorkers live a busy life and USAA wants you to be able to manage your policy, get car insurance quotes, request auto ID cards and more at the tip of your fingertips. Not only does USAA have a user-friendly website, but it also has a very user-friendly app available in your app store.
The app will give you secure access to your account using your fingerprint, face recognition, or voice recognition. If you don't want those biometric features, you can use a password to access all you need on the website.
The app also gives you the ability to easily search for whatever questions you may have. Simply say or type a question and the in-app assistant will guide you in finding the answer to your question. You also have the ability to chat with a USAA representative to help answer your questions.
Final Word on USAA
USAA is the top-leading auto insurance company in New York. It is not a company for everyone, however. USAA does restrict its customers to current or former military personnel. If you are current or former military, USAA offers great low rates, multiple discounts, and other features. These features include bundling and saving, an online claims center, and easy access via the USAA app.
If you are current or former military personnel and you want help getting a quote from USAA scroll to the top of the page and enter your zip code to let us help you.