GEICO Car Insurance in New York – Is GEICO Good for New Yorkers?
Last Updated on November 4, 2020
Shopping for car insurance in New York can be tricky – there are so many insurers on the market, and they each have their own advantages and disadvantages. GEICO is one of the largest car insurance companies in the United States, so if you're shopping for a new policy in New York, they're likely on your radar. GEICO is known for its affordable pricing and creative advertising campaigns, but are they the right fit for you? Read on to learn more about what GEICO has to offer in New York.
About GEICO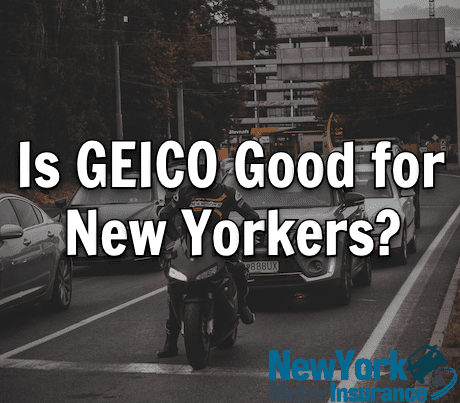 GEICO was originally founded in 1936 in San Antonio, Texas as the Government Employees Insurance Company. They are currently headquartered in Chevy Chase, Maryland to serve the Washington, DC area. GEICO initially marketed their products to government employees, but have always offer insurance for the general public as well. Although they specialize in auto insurance, they also offer property insurance coverage and umbrella insurance.
GEICO Auto Insurance Rates in New York
According to a pricing survey by NerdWallet, GEICO consistently offers some of the most affordable insurance policies in New York. This makes them a great choice for drivers in New York that want to save money without skimping on coverage. GEICO is very affordable for drivers with a good record, but they also offer some of the cheapest prices for drivers who've had a ticket or who have less-than-perfect credit. GEICO also offers excellent pricing for teens and young drivers, who normally see very high insurance rates.
GEICO Car Insurance Coverage in New York
GEICO has a wide range of car insurance policies available for drivers in New York. New Yorkers can get all of their legally required insurance through GEICO, including bodily injury liability, property damage liability, personal injury protection, and uninsured motorist coverage. New York has very extensive car insurance coverage requirements because it is a no-fault state, meaning that insurers are required to cover certain costs after an accident regardless of who is at fault.
GEICO also offers coverage types beyond what is required by New York state law. They also offer collision and comprehensive insurance, which are not required by law but are highly recommended. Collision coverage pays for your damages if you get into any type of collision while driving, whether that's with another car, an animal, or a stationary object. Comprehensive coverage pays for damage to your car as a result of vandalism, fire, severe weather, or other external causes. GEICO also offers extensive medical payments coverage that you can use to supplement your personal injury protection coverage.
Additionally, GEICO offers emergency roadside assistance and rental car reimbursement. Rental car reimbursement pays for the costs of a rental car if you need one while your vehicle is being repaired. GEICO's emergency roadside assistance program covers services like towing, battery jump starts, flat tire changes, and more. You can use the GEICO app to request service.
GEICO Car Insurance Discounts For New Yorkers
As with many other insurance companies, GEICO offers a range of discounts to help its drivers save money on their insurance plans. Drivers can get a deduction for bundling their car insurance with another policy that GEICO offers, like homeowners' insurance or renters' insurance. You can also get a discount for having a good student in your household. This person must be between the ages of 16 and 24, enrolled in high school or college, and gets good grades. Drivers can also save money by taking GEICO's accident prevention course. You may qualify for discounts if you have certain safety features on your car as well, or if you are a government employee or military member.
GEICO has a specific discount for good drivers in New York. To qualify for this discount, at least one driver on the policy must have five or more years of driving experience. All drivers on the policy must be accident-free for five or more years before the policy is issued. Drivers also must not have any points on their license. The New York DMV uses a point system to keep track of driver violations, issuing a certain number of points for each violation.
GEICO Customer Service
GEICO gets very good ratings for its customer service. Their customer satisfaction ratings through JD Power are very high. They also have an A+ rating from the Better Business Bureau, although they are not accredited. They have a lower than average complaint ratio, which means they get fewer complaints per policy issued than the average insurance company.
With GEICO, you have the option to purchase policies either directly through their website or through a network of independent agents. This gives you the best of both worlds – those who prefer a more personal approach can go to a local agent, while those who feel more comfortable managing their policies online can do so that way.
It's very easy to get a quote from GEICO through their website or over the phone. If you decide to purchase a policy, they'll help you through the process, which is very straightforward. Once you have an insurance policy from them, you can make payments and view your policy information online. You can even file and track claims online as necessary.
For those on the go, GEICO also has a well-designed mobile app with a variety of features. You can access a digital copy of your insurance card through the app, which is very handy to have on the road. You can also submit claims from your phone and pay your monthly bills, just as you can with the website. The app also has some unique features that the website doesn't have, such as the ability to request roadside assistance, a feature that can help you find parking, and a chat feature that can connect you to an agent.
Final Word on GEICO in New York
Overall, GEICO is a great choice for New Yorkers looking for car insurance. They have some of the most affordable insurance policies on the market, but they don't skimp on quality coverage options either. To get an auto insurance quote from GEICO, please visit geico.com or call give them a call by phone.