Is MetLife Insurance Good for New York Drivers?
Last Updated on April 18, 2021
The Metropolitan Life Insurance Company is based out of New York. It provides an array of products, including auto insurance, life insurance, home insurance, and more, including health insurance.
But, is MetLife Insurance suitable for New York drivers?
MetLife auto insurance is good for some New York drivers, but not all drivers.
Who Is MetLife?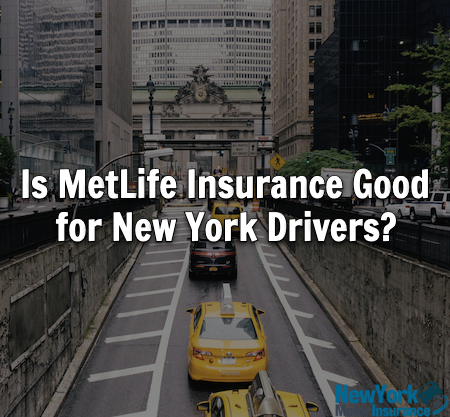 The New York City-based insurance company was founded in 1868. Telephones weren't invented. Electric lights were uncommon, and MetLife's home office consisted of two rooms. These rooms were large enough for its six employees. At this time, they offered life insurance to Civil War soldiers.
Now, MetLife is the leading insurance provider in North America with 48,000 employees and an entire 59-story skyscraper in Midtown Manhattan.
Although MetLife is based in New York City, it services all 50 states and more than 40 countries, including Australia, China, and Nepal.
MetLife wants to make the customer's experience simpler as they shop for auto insurance. They help customers protect against the unexpected with customizable auto coverage that fits their lives.
MetLife's Auto Coverage
Providing policies that fit is MetLife's goal. They offer the best coverage options that fit busy families' budgets and lives. Customers with high credit scores save an average of $591 per year compared to other auto insurance companies. The average six-month insurance rate is $780. A policy with an at-fault accident on it is an average of $1,452 and a speeding ticket is $1,146.
One of the best things about MetLife is the additional features they offer to their customers. MetLife offers roadside assistance, replacement coverage for total loss, and identify theft protection services. Also available are unique parts replacement and enhanced car rental damage coverage. Another feature they offer is a network of repairs and referrals.
MetLife is one of the few auto insurance companies that offer rideshare coverage for Uber and Lyft drivers.
If you want more than the state minimum coverage, MetLife will help you. They offer liability protection, collision and comprehensive coverage, medical payments coverage (personal injury protection), lost wages protection, rental car coverage, uninsured and underinsured motorists coverage, and GAP coverage. MetLife also offers glass repairs without a deductible and legal defense costs if you are sued. If you attend a hearing or trial at the company's request, they will reimburse you $200 per day for lost wages.
MetLife strives to do right by their customers. Its auto insurance customer service reps are available twenty-four hours a day, seven days a week, to help meet all your needs. MetLife also allows customers to submit claims or access their accounts via their website.
MetLife Car Insurance Discounts
Like other insurance companies, MetLife provides its customers with a variety of discounts to help keep their premiums affordable.
Affiliation Discounts
The first discount MetLife offers its customers is the affiliation discount. Depending on where you work and what associations you belong to, you could qualify for a discount for your auto insurance policy.
Vanishing Deductible
Good drivers get discounts with MetLife. For each year you don't have an accident, your deductible will be lowered. This "vanishing deductible" discount is not offered by all insurance companies. It is one reason why MetLife stands out from the rest.
Good Student and Student Away
A common discount offered by auto insurance companies is a good student discount. MetLife also offers this discount.  A student who has a B average will qualify for a discount. Simply submit a report card or transcript to receive this discount.
If your good student is away at college more than 100 miles away and has limited access to the insured vehicle, your policy could receive a discount. Be sure to ask a customer service rep about all discounts MetLife offers and which ones you are eligible for.
Bundle and Save
One of the largest discounts MetLife provides its policyholders is the Bundle and Save discount. Policyholders who have an auto and home insurance policy with MetLife can save, on average, $855/ a year.
MetLife Tech
Other than 24/7 customer service via the telephone, MetLife offers a few tools to allow their customers to stay connected and have control over their policy.
App
MetLife has an app that allows you to manage every detail of your account and policy. It is all centralized and easy to use. You can upload information for claims and view your policy. You can also pay your insurance bill by credit card, debit card, or check. It is available for both Android and iOS operating systems.
Website
MetLife's website has many features that are nice for not only current customers but future customers as well. MetLife has a quick quote tool that will give you a quote for auto insurance. There is a form to fill out if you would like a service rep to contact you, as well. A FAQ section allows future customers to make informed decisions.
MetLife Review
There are many aspects that make MetLife a great auto insurance company, however, it is not perfect. MetLife is an established American company that has competitive rates and good coverage options. These competitive rates are not always the cheapest and customers are not always satisfied.
The poor customer satisfaction based on customer service caused the 2019 J.D. Power rating to be a 3 out of 5. In contrast, the AM Best rating, which is based on financial stability is an A+.
So, Is MetLife Insurance Good for New York Drivers?
For a customer with poor credit, MetLife doesn't offer very good premiums. There are cheaper auto insurance companies out there for New Yorkers with poor credit. If exceptional customer service is important to you, MetLife is probably not for you.
However, MetLife auto insurance is good for New York drivers if you are a new car owner and are looking for excellent coverage. If you have a high credit score, MetLife will give you the best prices. A credit score at or above 600 will give you a reasonable premium.
If you'd like more information about MetLife or would like a quote, please contact MetLife today.