New York Central Mutual Car Insurance Review – Is NYCM Good?
Last Updated on March 20, 2022
If you're looking for car insurance in New York State, New York Central Mutual is an insurance company that you may have come across. New York Central Mutual is a local car insurance company that is based in Edmeston, a small town in central New York. With so many different car insurance companies to choose from, you may be wondering if NYCM is the right choice for you. Here's what you need to know about New York Central Mutual's car insurance before you purchase a policy.
About New York Central Mutual Car Insurance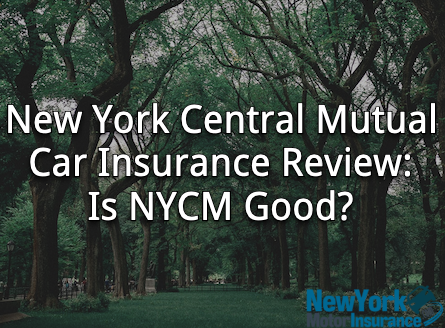 New York Central Mutual is an insurance company with over 100 years of experience in the central New York area. They were founded in 1899 and are now a fourth-generation family business. They now have three branch locations in Buffalo, Sherburne, and Amsterdam, in addition to their main headquarters in Edmeston. They offer car insurance, home insurance, and commercial insurance, and their policies are available through a network of over 1,000 insurance agents throughout New York state.
What types of coverage does NYCM offer?
NYCM is fairly large for a local insurance company, so they're able to offer a wide range of policy options.
The coverage types NYCM offers include:
What kind of discounts does NYCM offer?
NYCM has an excellent array of discounts for a regional car insurance company. When signing up for any new insurance policy, you should always ask your agent which discounts are available. You might be surprised how much you can save purely based on your demographics.
Here are some of the discounts that NYCM insurance offers:
Defensive driving course discount: Like many other insurers in New York, NYCM offers a 10 percent discount for those who take an approved defensive driving class.
Injury protection discount: NYCM offers this discount to those who purchase a specific bundle of car insurance types to protect against injury. The more coverage you purchase, the higher discount you will get.
New car discount: NYCM offers a significant new car discount of up to 30 percent if your car is less than three years old.
Homeowner discount: They offer 2.5 percent off for those who own property.
Driver training discount: New drivers under the age of 21 can earn up to 10 percent off if they complete an appropriate driver's education class.
Good student discount: Drivers between the ages of 16 and 24 who are currently studying at high school or college can earn a 10 percent discount if they maintain a B average or above.
Student away at school: Drivers who have a college student currently away at school can save up to 25 percent on certain coverage types.
Auto-pay discount: Drivers can save up to 2.5 percent for paying their monthly bills using an automatic funds transfer.
Paid in full discount: NYCM offers savings of up to 10 percent if you pay your policy in full instead of in monthly installments.
Claim free discount: NYCM provides safe drivers with rolling discounts like claims-free discounts as well as accident forgiveness, depending on your record.
Equipment discount: If you have certain safety features in your car, you could save money. NYCM currently offers discounts for anti-theft systems, anti-lock brakes, airbags, and more.
What is NYCM's customer service like?
Because NYCM is a slightly smaller insurance company, they are able to offer excellent customer service. Their policies are sold through independent agents throughout the state. You can get a quote and pay your bills directly through their website. You can also file claims at any time over the phone or through their mobile app. They have an A+ rating from the Better Business Bureau.
Although NYCM is a regional company, they offer a good range of coverage options and discounts. They also offer excellent customer service that you would expect from a local business. If you live in New York, NYCM could be a good option when it comes to car insurance.