Is Travelers Auto Insurance Good for New York Drivers?
Last Updated on October 2, 2021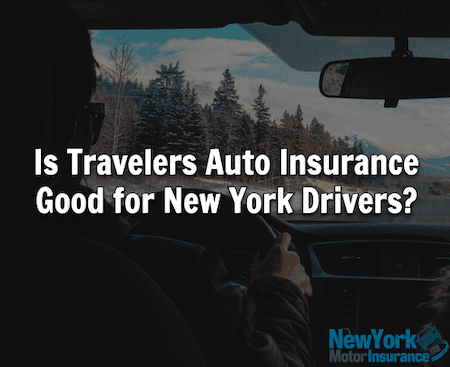 Reliable auto insurance is essential for anyone driving in the state of New York. You never know what might happen on the road – even the most cautious drivers could get into an accident. When selecting an auto insurance company in New York, you have plenty of options. Travelers is an insurance company that offers affordable rates for many New York drivers. Here's what you need to know about Travelers before taking out a policy.
About Travelers
Travelers is a national insurance provider based in New York City. In addition to car insurance, they also offer home insurance, commercial property insurance, and much more. They have a very long history – they were initially founded in Hartford, CT in 1864. They were the first provider in the US to offer automobile insurance. They grew dramatically in the 1990s when they bought Primerica and merged with Citicorp. Today, Travelers has offices in every US state.
Travelers' Pricing in New York
When it comes to pricing, Travelers is one of the most affordable car insurance companies in New York. This makes it a great option for those who are looking to save some money on their monthly payments. Travelers makes the list for cheapest pricing in a number of different categories – good drivers can save money, but so can drivers who have poor credit or a less than perfect driving record.
Travelers isn't always the absolute cheapest option on the market. GEICO and Allstate are more affordable than Travelers in many categories. However, prices can vary widely depending on your unique profile as a driver. Every car insurance company calculates their rates differently, so you may get very different quotes from different insurance companies. To find the most affordable policy for you, you'll want to get quotes from a few different providers and compare your options.
What Kind of Coverage Does Travelers Offer?
Travelers offers standard car insurance coverage types. This includes everything you need to meet the minimum car insurance requirements in the state of New York, such as bodily injury coverage, property damage liability coverage, and no-fault coverage.
New York is a no-fault state, which means that insurance companies are responsible for covering bodily injury costs regardless of who is found at fault in an accident. However, drivers pay property liability costs depending on who is at fault. Many drivers opt for personal injury protection coverage to build on New York's no-fault requirements.
Additionally, Travelers offers some add-on coverage types that aren't required but can be very useful in an accident. For example, they offer comprehensive and collision coverage, which many drivers use. Comprehensive coverage pays for damage that does not happen as the result of a collision, such as weather damage or vandalism. Collision coverage pays for damages as the result of any collision, including one-car collisions. They also offer gap insurance, which pays for your loan or lease if your car is totaled, as well as new car replacement coverage. This pays for the cost of a new car if your vehicle is totaled within the first year of ownership.
Additionally, Travelers offers some of the best home and business property insurance on the market. If you need property coverage, you can bundle it with your car insurance coverage to save money and get a good deal.
Does Travelers Offer Discounts?
Travelers does offer discounts for their customers. When applying for any insurance company, customers should always ask about discounts to save as much money as possible. Travelers offers discounts for insurance more than one car on your policy, bundling home and auto insurance, or paying online. They also offer discounts for things you may be doing already, like having a good driving record, having good grades, owning a home, or taking a driver training course. You can even get discounts relating to your car – they offer discounts for hybrid cars and brand new cars.
Additionally, Travelers offers a number of other programs that can help you save money. They have an accident forgiveness program, which covers one accident and one minor violation every year and a half and prevents your rates from going up. They also offer the app-based IntelliDrive telematics program, but it is not yet available in New York State.
Is Travelers Financially Stable?
Travelers is a financially stable company. They have a long history of paying out insurance claims. They currently have an AM Best rating of A++, which is the highest possible. AM Best is a company that rates the financial stability of insurance companies. This means you can trust them to pay out their claims, regardless of the current economic climate.
What Is Travelers' Customer Service Like?
Travelers gets good reviews for their customer service. They get fewer complaints than average compared to other insurance companies of their size. They have a robust online presence, and it's very easy to get a quote online. Customers can also file a claim online or via phone, and once the claim has been filed, you can track its progress online. They have an app that you can use to manage your policy as well.
For those who prefer to work directly with an agent, Travelers can provide that experience as well. They have offices in cities and towns throughout the United States, and they also sell their products through thousands of independent agents and brokers. Because they are such an established company, they make it very easy to customize your policy to suit your needs.
Final Word on Travelers Insurance in New York
Travelers is a great option for drivers in New York who are looking for robust yet affordable coverage. They are a very established and trustworthy company, so you can feel confident knowing that they offer the coverage you need to stay safe. Their prices in New York are competitive, and they offer solid customer service.