Is Liberty Mutual Auto Insurance Good for NY Drivers?
Last Updated on October 2, 2021
Liberty Mutual is an auto insurance company that has a strong presence in New York State. They are a widely trusted insurer and have a range of coverage options available. If you're trying to decide on an auto insurer in New York State, you might be considering Liberty Mutual. Here's what you need to know before you take out a policy.
About Liberty Mutual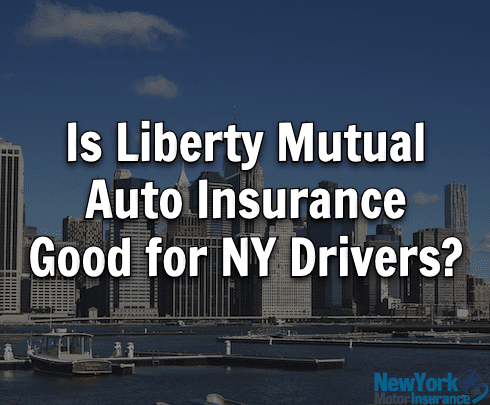 Liberty Mutual is one of the largest insurance companies in the United States. They have a global presence and offer various forms of auto, home, and commercial insurance. They were founded in 1912 and are based in Boston, Massachusetts. Since they are a mutual company, their insurance customers are technically considered shareholders. They run local insurance companies in 19 countries outside of the United States as subsidiaries.
Liberty Mutual Pricing in New York
Liberty Mutual is neither the cheapest nor the most expensive car insurance provider in New York. The average monthly premium for a driver in New York is $261. This is more expensive than companies like Progressive or GEICO but less expensive than providers like Esurance or Allstate. Of course, pricing will vary depending on a number of different factors, such as your driving record, your location, or the type of car you have.
What Kind of Coverage Does Liberty Mutual Offer?
Liberty Mutual offers a wide variety of coverage types. They offer the minimum required insurance coverage in New York State, which includes liability coverage for both property damage and bodily injury, as well as no-fault coverage. Personal injury protection is also very common as New York is a no-fault state.
Because New York is a no-fault state, your insurance company is required to cover any medical costs that happen as a result of an accident, regardless of who is at fault. Financial liability for property damage is still determined by who is at fault in the accident.
Liberty Mutual also offers common add-on coverage types, such as collision coverage and comprehensive coverage. While not mandatory, many people opt to get these types of coverage because they can protect you in the event of things like single-car crashes, vandalism, or natural disasters. Collision coverage pays your damages if you are involved in any collision, regardless of fault. Comprehensive coverage covers damages that do not happen as the result of a collision.
Liberty Mutual also offers a number of unique add-on coverage types and features. Some of these include:
Gap insurance: This type of coverage protects you financially if your car is totaled, but you still owe money on it in the form of a lease or a loan.
Accident forgiveness: This feature prevents your monthly premium from going up if you are in an accident. It's only available to those that don't already have accidents or other traffic violations on their record.
New car replacement: This coverage protects you financially if your car is totaled a year after you purchase it.
Deductible fund: This feature allows you to contribute money to a fund to cover the cost of your deductible, which can come in handy if you need to file a claim unexpectedly.
Does Liberty Mutual Offer Discounts?
Liberty Mutual has an excellent selection of discounts, which can help New Yorkers save even more money on their car insurance policies.
Liberty Mutual offers many standard discounts relating to your car, driving habits, or policy, such as a discount for having a good driving record, insuring multiple cars, bundling home and auto insurance, or having safety features on your car. Liberty Mutual also offers discounts for paying your bill electronically or opting to pay the entire premium upfront. Liberty Mutual even offers a discount for having a hybrid or electric car to encourage environmentally-friendly decisions. Additionally, Liberty Mutual offers discounts for owning a home, getting good grades, being a member of the military, or being a member of certain professional groups.
Is Liberty Mutual Financially Reliable?
Liberty Mutual is a financially sound company. They have an 'A' rating from A.M Best, which is a company that rates the financial strength of insurers and other key financial institutions. While this is not the highest possible rating, this is a very solid rating which indicates that Liberty Mutual is financially stable. They will be able to pay their claims regardless of the current financial climate.
Does Liberty Mutual Offer Good Customer Service?
Liberty Mutual gets more complaints than average for a company of its size. However, Liberty Mutual does offer many ways to manage your policy online. Their website is very user friendly and has a number of helpful features. You can use their website to get a quote, pay your premiums, view your insurance ID, and file a claim. They also have a mobile app, which offers many of the same features. Once you've filed a claim, you can track its progress through the app or website, and contact Liberty Mutual if you have any questions. You can also easily request roadside assistance through the app in an emergency. The Liberty Mutual app also integrates with Amazon Alexa devices.
Pros and Cons of Liberty Mutual
Overall, Liberty Mutual is a reliable company for New York drivers. While their rates aren't the lowest on the market, they are still very reasonable. They also offer an excellent selection of discounts, so good drivers, in particular, can save money on their premium. It's also very easy to set up your entire policy online, and you can customize it using the many different policy features that they offer. You can also file claims and pay your bill online. However, Liberty Mutual's DIY approach may not be the best for someone who wants more customer support. They receive more complaints than average and may not offer the best customer service. In general, Liberty Mutual can be a good choice for New York drivers, but it may not be the best or most affordable choice for everyone.